Missouri Moves To Allow Discrimination Against Women Who've Had An Abortion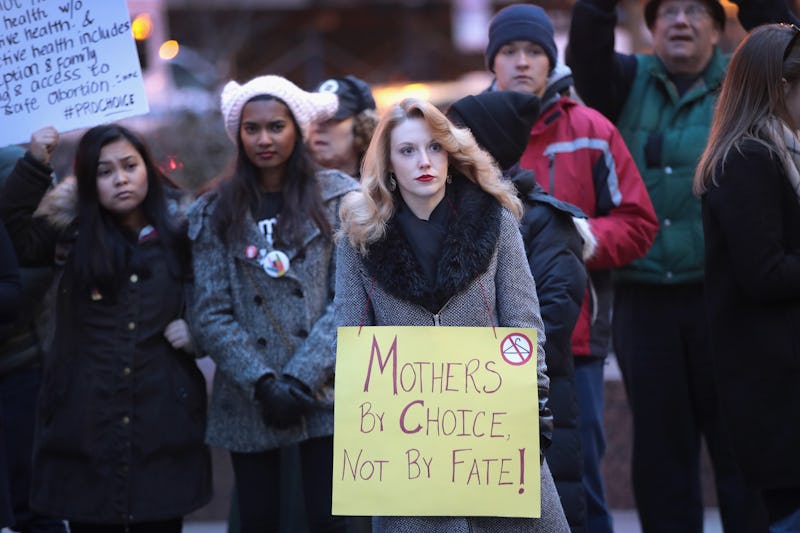 Scott Olson/Getty Images News/Getty Images
Women's rights and health services in Missouri could take a nosedive after the state Senate voted on Wednesday to pass a bill that would force unwarranted inspections on abortion providers, allow discriminatory hiring practices, and give law enforcement power to the attorney general. The legislation could effectively enable the legal discrimination of Missourians if they've had an abortion or use birth control.
For starters, the bill would overturn St. Louis' ordinance banning discrimination in housing and employment based on "reproductive health decisions." If nullified, employers and landlords would be allowed to refuse employment or tenancy to women who are pregnant, use contraceptives, or have had an abortion. Opponents of the St. Louis ordinance say it infringes on the religious rights of faith-based employers.
On top of that, health clinics that provide abortions could also face more scrutiny. The bill would require state health departments to conduct annual unannounced inspections at abortion facilities. (Arizona signed a similar law in 2014 permitting unwarranted inspections during working hours.) Lawmakers who support the requirement argue that clinics shouldn't have anything to hide and that the surprise inspections are for the safety of the patients. Those who disagree say this gives inspectors permission to enter abortion facilities with the intention to harass patients and providers.
But laws need enforcement, and this bill has got that covered, too. One section of the legislation would grant power to the state attorney general to prosecute abortion law violators. Missouri's current attorney general Josh Hawley, who was on the legal team that represented Hobby Lobby in arguing for an exemption to provide contraceptive coverage for employees under Obamacare before the Supreme Court, is a vocal anti-abortion proponent. Current law enforcement falls to local prosecutors, but the bill's supporters distrust local prosecutors in more liberal areas, such as St. Louis and Kansas City, to enforce anti-abortion laws.
This legislation is the latest in Missouri's onslaught of anti-abortion bills. It comes in response to a federal judge's decision to strike down a previous attempt at regulating abortion providers on the grounds that the regulations were unconstitutional. After this decision, Gov. Eric Greitens called for state lawmakers to convene in a special late night legislative session behind closed doors.
This bill, sponsored by Republican Sen. Andrew Koenig, must still go through the House, where it will likely pass. A Greitens administration official described the bill as "a good start" and said that he hoped the House will improve it with stronger restrictions. Recent history indicates that the Missouri House would be in favor of abortion restrictions.
The Missouri House convenes next week, where they will either approve the legislation without changes and pass it on to the governor, or negotiate with the Senate for adjustments.