Anyone Shipping Hailee Steinfeld & Niall Horan Will Appreciate This Sweet Update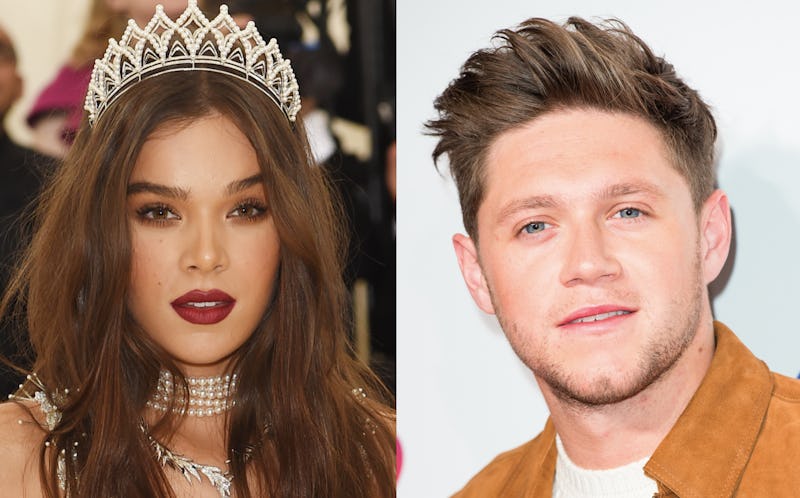 Jamie McCarthy/Getty Images Entertainment/Getty Images; Jeff Spicer/Getty Images Entertainment/Getty Images
Long distance relationships are tough, regardless of whether or not you're a celebrity. It's probably a little bit easier for celebrities to pick up and travel 2,000 miles to see their significant other on a whim though, which is reportedly how far Niall Horan flew to see Hailee Steinfeld, who he's been rumored to be dating for several months, according to Elle. (Bustle reached out to Steinfeld's rep and Horan's agent for comment, but did not receive an immediate response.)
Horan has been jet-setting around the globe on his Flicker World Tour for the last several months, and wrapped up a two-show stint in Mexico City on July 14. A few days later on July 17, Horan was apparently spotted hanging out with Steinfeld in New York, where the pair got in some shopping at Saks Fifth Avenue, Elle reported.
New York is more than 2,000 miles from Mexico City, so if you fly non-stop, that's a solid five-hour trip. Five hours might not seem that long of a trip to see your (rumored) boo, but keep in mind that Horan has pretty much been performing in a new town, almost every day since his tour kicked off in March.
Not only that, but once he arrived in New York — which was, at the earliest, July 15 — he only had about three days of downtime before his next scheduled performance in Texas on July 18. That's exhausting just to think about, but it's also a super sweet gesture for someone he may or may not be dating.
Jeff Spicer/Getty Images Entertainment/Getty Images
Ethan Miller/Getty Images Entertainment/Getty Images
A source for Us Weekly implied that Horan and Steinfeld are an item, and claimed to the publication, "Niall flew to New York City to hang out with Hailee during his three-day break from tour ... He's in New York alone — no staff, crew, friends, etc." The source added that he and Steinfeld were reportedly spotted "holding hands, smiling and looking very happy."
Neither Horan nor Steinfeld have publicly commented on or confirmed their relationship status, but Horan called her "the loveliest person on the planet and one of my best friends" in an Instagram photo of the pair in December 2017. Rumors of a romance between the two first surfaced after they caught the London production of Hamilton together in January, Elle noted, and by May a source for Us Weekly claimed that Horan and Steinfeld were spotted "making out all night" at a club in L.A.
If the reports are true and the two young stars are a couple, it's pretty unlikely that fans will hear it from Steinfeld any time soon. The 21-year-old spoke to Us Weekly about the initial dating rumors back in January, telling the publication,
"I feel so lucky that [my fans] care enough about me to know what I'm doing every second of every day, but I think that sometimes it's hard for people in general to realize that there are boundaries to a person's life and personal life. I am a very private person. I do love that I have the opportunity to share with them what I'm comfortable with and they're there to listen and support me."
That's more than fair, and it's totally understandable that Steinfeld would want to keep her love life to herself. From afar, it seems like her *relationship* with Horan is still going strong though, even if that relationship turns out to be strictly platonic.
Most people probably wouldn't fly 2,000 miles to go shopping with their "friend" in between an exhausting and physically demanding work schedule, but ... Horan and Steinfeld definitely aren't "most people," so, it's hard to know for sure. Hey, as long as they're happy, right?