Hailey Baldwin Casually Uses Moisturizer Made From Her Own Blood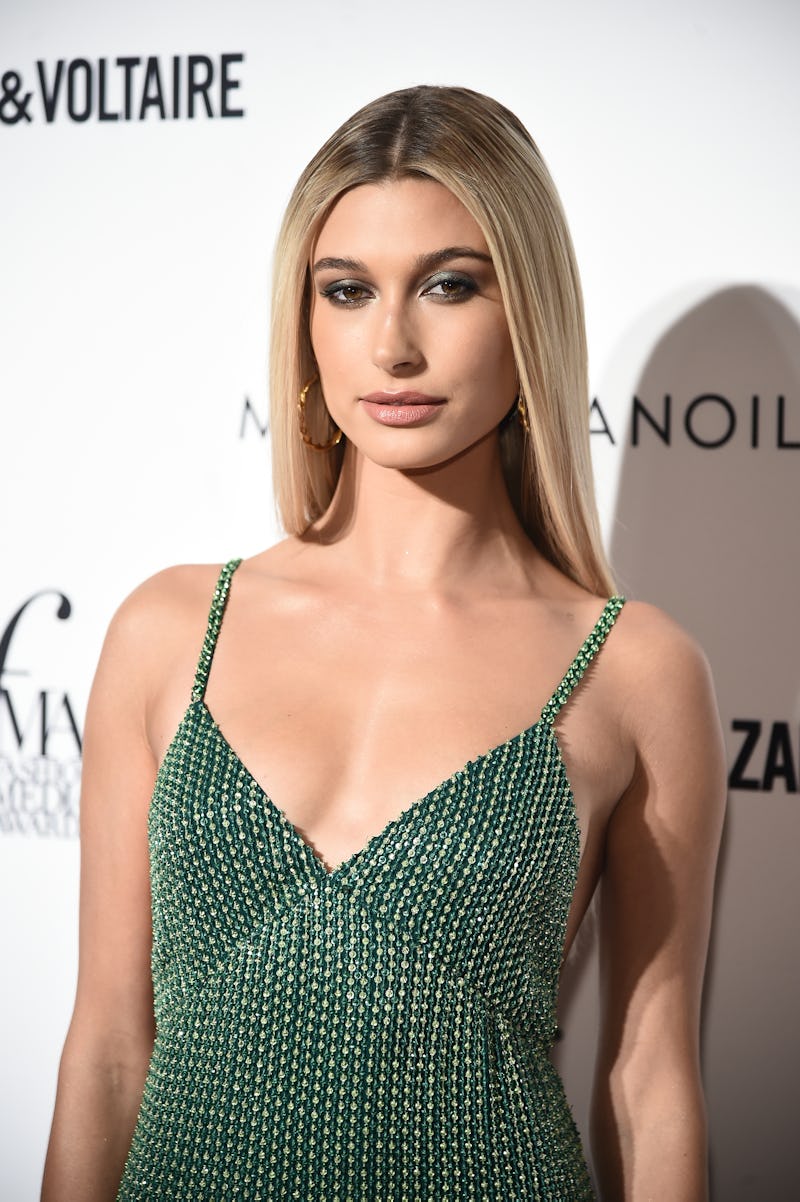 Steven Ferdman/Getty Images Entertainment/Getty Images
Sometimes when it comes to skincare, eyebrow raising ingredients are involved to try to coax out the freshest, healthiest skin possible. Case in point: Hailey Baldwin uses Barbara Sturm's MC1 Blood Moisturizer, which uses the owner's literal blood. It's like something out of a dark fairy tale, where the beautiful but evil queen bathes in blood to keep herself looking youthful and immortal. Apparently there is some truth behind that tall tale.
In an interview with Elle about Baldwin's new upcoming Bare Minerals ambassadorship, the model dished on everything from her earliest memories with the brand (her mom used to wear it) to some of her skincare secrets. That's when she dropped that she uses the blood-infused face lotion.
Dr. Sturm has spent over a decade creating a scientific line of Molecular Cosmetics that use our bodies own proteins to keep skin looking fresh and healthy. Her products are clean and non-toxic, believing that synthetic chemicals can create inflammation and work against skin health. Fans of her line include models and celebrities alike, like Rosie Huntington-Whitely, Cher, and Gwyneth Paltrow. And with that kind of following you have to assume that the goods in the collections won't come cheap, especially when your own blood is involved.
"She creates these blood creams where she'll pull the blood out and put your plasma in the cream. It's not red, but they split it so it's the plasma from your blood," Baldwin explains, putting our worries at ease about smearing wet blood across our cheeks. "She takes my blood and stores it, so I'll do it once and then go back to restock every couple of months. You can never be too young to care about your skin. I don't know, I'm a weirdo and love sci-fi beauty."
Blood plasma contains platelets and white blood cells, which carry growth factors that tell our cells to rejuvenate and amp up their collagen-making, resulting in our skin staying healthy and elastic. If you think this all sounds familiar, it's essentially the same science behind the now-iconic "vampire facial" that Kim Kardashian West helped to put on the map, which consists of microneedling the skin before spreading the blood around the face. Dr. Sturm takes the blood and processes it through a special vial that stimulates the blood to react like you've been injured, releasing those naturally healing properties.
But this isn't just to create elasticity. Plasma also carries anti-inflammatory properties that will fight things like acne and eczema. "My patients were always asking me for recommendations, so I'd tried everything that was out there — and never found the right solution," Dr. Sturm told Goop. "To create that first blood cream, I worked with anti-inflammatory scientists from Harvard, and the Universities of Miami and Pittsburgh on both ingredient science and anti-aging cellular protection."
But as you can imagine, such an intense, scientific product won't come with a bargain price tag. According to Well + Good, the Blood Moisturizer costs around $1,400 per jar. It looks like smearing blood across the face isn't for everybody.