Hailey Baldwin First Post-Engagement Interview Reveals How She Feels About Internet Haters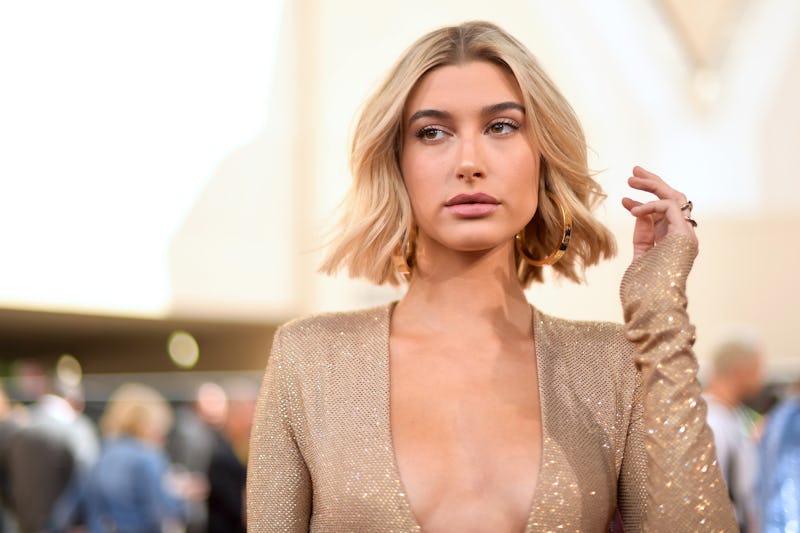 Matt Winkelmeyer/Getty Images Entertainment/Getty Images
It's been roughly two months since Hailey Baldwin and Justin Bieber first announced their engagement. Since then, folks on the internet have been buzzing with comments about the couple — and not all of those comments have been supportive. But judging by Hailey Baldwin's first post-engagement interview, it sounds like the star is doing her part to rise above the antagonists on social media, and focus on reveling in the happiness this romance seems to be affording her instead.
First off, as far as the engagement goes? Baldwin wants fans to know she's thrilled. "I'm beyond excited," she gushed during an interview with Stellar, an Australian magazine, whose report was published over the weekend on September 1. For those who've made a habit of checking up on Baldwin and Bieber's respective social media accounts as of late, the model's candid enthusiasm shouldn't come as a surprise. A quick scan through either party's Instagram feed reveals quite plainly that the two are "beyond excited" (not to mention beyond smitten) pretty often when in each others' company.
But as tends to be the case when it comes to many of the world's high-profile relationships — unfortunately — Baldwin and Bieber's romance certainly hasn't come without its share of backlash. Some internet users continue to leave hateful comments on Baldwin's social media posts even now, months after the engagement was first announced.
But, during her recent conversation with Stellar, Baldwin said she's not letting the pettiness bring her down. In fact, judging by her comments, it sounds like she's managed to put those negative comments out of her mind. (To the extent that that's possible, of course.) When the publication asked her how she's been impacted by the deluge of fan-fueled attention — not to mention all the bitterness — Baldwin said it hasn't gotten to her quite yet. "I don't think it's affected me really," she told Stellar. How's that possible? Baldwin continued with a bit of advice we all might benefit from, saying,
"I have learned to just try my best to ignore the negativity at this time so that I can enjoy this season of my life."
Speaking of blissfully romantic life seasons, it sounds like Baldwin might have borrowed that sweet turn of phrase from Bieber himself. Those who've been following the couple's relationship updates in the news these last few months will probably remember Bieber's heartfelt engagement announcement, which the star posted to Instagram Monday, July 9.
"Hailey I am soooo in love with everything about you!" Bieber wrote, kicking off the sweet post's lengthy caption. "So committed to spending my life getting to know every single part of you loving you patiently and kindly." Then, after continuing on to say that Baldwin makes him a better man and complements him the way he does her, Bieber wrote, "Can't wait for the best season of life yet!"
At the time, Baldwin seemed to comment on the engagement (albeit, pretty vaguely) via Twitter, where she expressed the upmost gratitude for Bieber and their relationship. "Not sure what I did in life to deserve such happiness but I am so utterly grateful to God for giving me such an incredible person to share my life with!" Baldwin tweeted.
And that was pretty much the last fans heard from Baldwin on the subject of her and Bieber's relationship. Until now, of course. So, while neither half of the couple has been shouting about their relationship in the press these last few months, Baldwin's recent comments certainly suggest the romance is still very much alive between them, and it's going to take a heck of a lot more than some hateful Instagram comments to rain on her parade.