This Syrian Refugee's Oscars Appearance Is Vital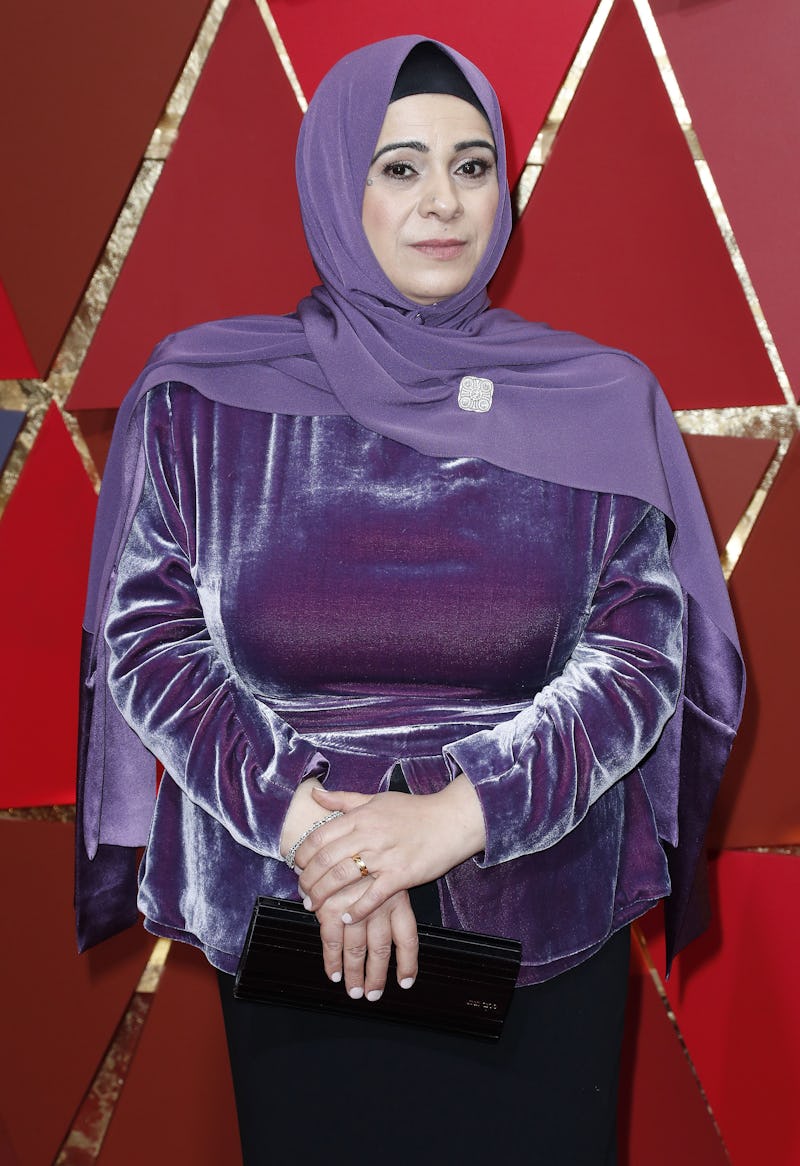 Gracing the red carpet on Sunday night at the Oscars was Hala Kamil, a Syrian refugee whose story is detailed in the documentary short Watani: My Homeland. Her story of her journey to the Oscars is as inspiring as it is devastating, and if it hadn't been for the halting of the Donald Trump's travel ban, she wouldn't have been able to attend.
Filmmaker Marcel Mettelsiefen has been documenting Kamil since 2013 as she went from living in war-torn Aleppo with her husband and children to building a new life in Germany. Her husband, Abu Ali, was kidnapped by ISIS, Kamil said, and she doesn't know whether or not he is still alive. "I make it for me and for him, and I dream [that] he stands near me and we speak about Syria and about the children, as in the past," she told PBS' Frontline.
Her husband plays a large role in her journey to the Oscars as well. When Trump tried to ban people from seven Muslim majority countries — Iran, Iraq, Libya, Somalia, Sudan, Syria, and Yemen — from entering the United States, many people, like Iranian director Asghar Farhadi, said they would not attend the Oscars. Kamil, however, seized the opportunity to further tell her story and show how badly Syrians are in need of support right now, not rejection from a country that could help them the most.
Kamil, who showed up at the Oscars absolutely slaying in a Brandon Maxwell (that's Lady Gaga's stylist) outfit, released a statement describing how she and her husband — who she refers to as her "soul mate" — used to watch the Oscars each year "sipping coffee together as we always did."
To think that over three years after I last saw my husband, I'll be traveling to that same ceremony we watched together, brings tears to my eye. But to be reminded of what I have lost is also a reminder of what I have held on to; my four children.
It's also a reminder of what keeps me strong, and what drives me to speak up for beloved homeland and its people.
Maxwell posted a photo of Kamil at the Oscars celebrating her, writing, "To me, every woman is a star and every star has a story. Hala's story sincerely touched me and I am truly honoured that I had the privilege to create this look for her celebrating this momentous occasion."
And, reminder, that's an occasion Kamil would never have gotten to celebrate if Trump's travel ban was still in place. Kamil's presence at the Oscars speaks volumes, and everyone should be listening. In her statement, she wrote of how traveling to the United States is so important to her and how grateful she is that she can reach people with her message of "peace, unity and understanding." She wrote:
I want to tell the world about a small country called Syria, a country that has been burnt alive, its people torn up from the soil they once thrived on. All this destruction and displacement needs the concerted effort of the whole world working together, to help these people back to their roots, the roots they hold so dear. All these people want is peace and the right to live.
Are you listening?