Hallmark Has Cards To Celebrate Transgender People In Transition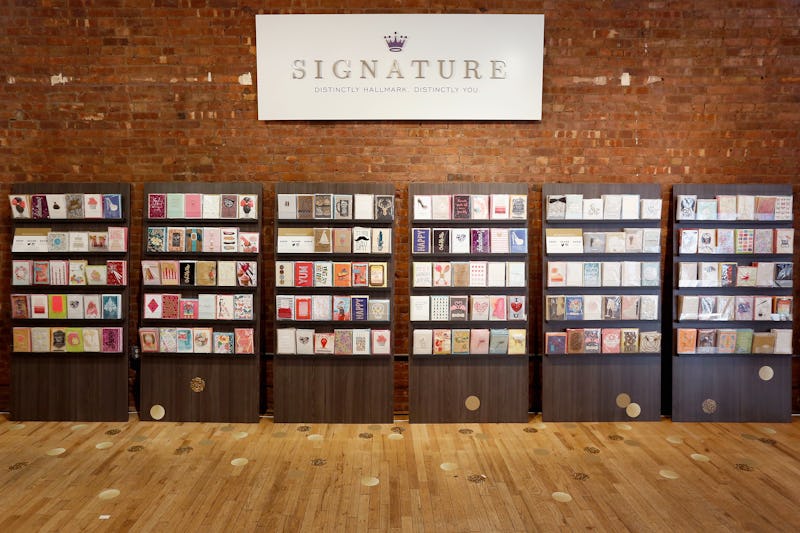 Brian Ach/Getty Images Entertainment/Getty Images
For every major life event, there is a greeting card. Getting married, graduating from school, turning another year older. Most every major milestone in your life has likely been accompanied with at least one card. Now, people can celebrate another part of life not often mentioned in mass media, let alone the greeting card aisle: transitioning. Greeting card company Hallmark now offers cards specifically for the transgender community.
Twitter user, Renata Sancken, shared a photo of one these cards on Twitter after she discovered it in a CVS, and the tweet has since been liked over 22,000 times. The card depicts an image of a butterfly on the cover and reads, "You're becoming who you've always been." The inside simply says, "How wonderful is that?" The message is short but significant as noted by Sancken, who captioned the image, "I've never seen Hallmark cards for gender transitioning before!" jokingly adding "Capitalism triumphs over hate??"
The message of the card itself could apply to essentially anyone who's ever needed a little encouraging, which I suppose is in part the point. We all need reassurance that we are who we're supposed to be. What makes this card special and significant is the card pocket it's sitting in. Under the "Encouragement" card section, its label reads "Transgender/Transitioning." Can the card's message speak to anyone? Yes, but it's specifically meant for a community whose stories are often silenced.
While the card has just recently gotten attention, this specific greeting card was introduced in 2015, as clarified by Hallmark in a statement to Bustle. "Hallmark is committed to helping people share what's in their hearts with those they love, and we strive to be inclusive and relevant with our products," a representative for Hallmark tells Bustle. "We are committed to reflecting people's real lives and enriching their relationships, and our mission includes all people."
Hallmark currently offers a range of LGBTQIA greeting cards online as well as in stores. You can buy the above card for transitioning on Hallmark.com, in case you don't want to brave the card aisle. They also offer congratulatory cards for coming out as well as cards with messages more specific to people who transgender, like a card that reads, "You are trans-tastic."
There are about 1.4 million adults who are transgender in the U.S., according to recent estimations. About 0.7 percent of people aged 13 to 17 are transgender. This translates to about one in every 137 teens. This population of 1.4 million is more likely to experience mental health conditions like depression and suicide, according to multiple studies. The estimated 150,000 youth in the U.S. who are transgender are at higher risk than their peers for attempting suicide. Social stigma compounded with lack of individual support make the trans community disproportionately more vulnerable in multiple ways. This is why any sort of positive visibility is significant, be it in pop culture or the card aisle.
"We know how increasingly diverse our connections to each other are, and we're here to help people express love, celebration, support or recognition in a wide range of situations," a Hallmark representative tells Bustle. While seemingly simple, a small reminder that you matter can be life saving.