Halsey Fans Had Her Back After She Called Out This Bisexual Stereotype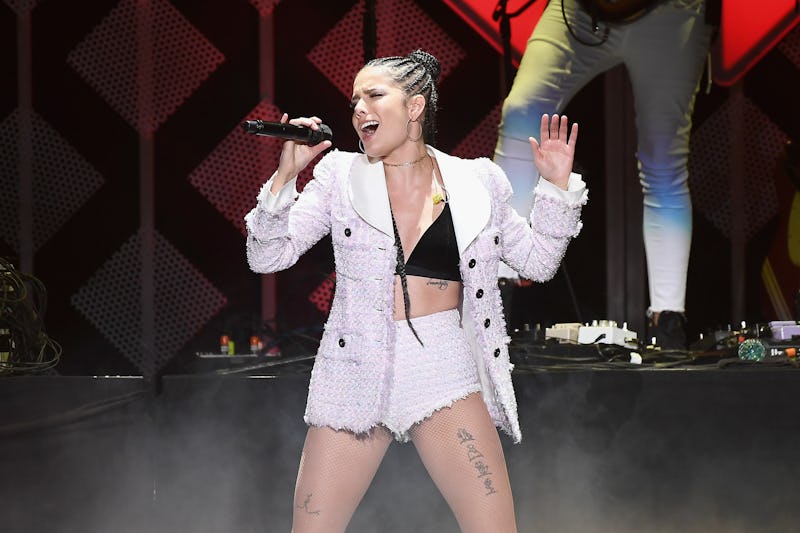 Marcus Ingram/Getty Images Entertainment/Getty Images
Ashley Frangipane has never shied away from discussing her sexuality. And yet, despite having spoken openly in recent years about identifying as bisexual, some people have continued to weigh-in on how she lives her life. The singer, more commonly known as Halsey, spoke out about being bisexual in a recent tweet that expressed her frustration at how people define the term. The 23-year-old singer is currently dating rapper G-Eazy, which, according to her tweet, makes her less of a bisexual in some people's eyes. Fans on Twitter immediately came to her defense, clapping back at old-fashioned notions of sexuality.
On December 18, somebody clearly said something that rubbed Halsey the wrong way. The singer shared a statement on Twitter that read:
"So if I'm dating a guy I'm straight, and if I date a woman, I'm a lesbian. The only way to be a #True bisexual is to date 2 people at once."
The sarcastic tone of her statement apparently didn't quite translate for some fans, though, so the singer clarified her comment by replying to her first tweet with a simple follow-up that read: "This was a joke."
Many Twitter users (including actor Evan Rachel Wood) expressed their support for the singer, applauding her effort to shed light on how common it is for bisexuality to be misunderstood and inaccurately judged.
This isn't the first time Halsey has had to defend her sexuality to the public. In an interview with Paper in June 2016, the singer spoke candidly about her experience as a bisexual pop star, and how bisexual representation in music has been disappointing. "Pop music can often be really ostracizing," she said. "It's just a shame that it's so hard for marginalized or minority people to get the same pop music experience as people who are heterosexual or generally part of the majority. They deserve the same pop music experience."
When asked about her perception of straight female pop artists implying bisexual behavior to build interest in their songs, Halsey called the tropes "so f*cking damaging to bisexuality and its place in society."
Several months later — less than a year after she first started climbing the charts — Halsey also called out a BuzzFeed article that talked about her sexuality and the way she presents herself as an openly bisexual performer. In regards to her 2016 VMAs performance alongside The Chainsmokers, the article questioned her appearance, as well as the nature of her on-stage interaction with The Chainsmokers' Andrew Taggart through the lens of how female pop stars are expected to look and act.
According to MTV UK, the article didn't go over well with Halsey and she responded to it in a series of tweets that have since been deleted:f
well @BuzzFeed sorry I'm not gay enough for you.
tiresome analysis of my 1 year in the public eye and the ignorance of 8+ years of sexual discovery to determine if I'm truly queer. [And it] is part of a mentality so engrained in the erasure of bisexual "credibility" even within the lgbt community.
You've been an ally and this article just makes me sad. Even in its laughable self awareness of its own stereotyping.
Clearly, Halsey is going to continue to stand up for herself, her sexuality, and her beliefs no matter what. And as shown by all of her comments on her bisexuality, until everybody is ready to relax and accept others as they are, bisexual fans who look up to can keep counting on Halsey to speak up.