Halsey's Instagram About The VS Fashion Show Is All About Supporting The LGBTQ Community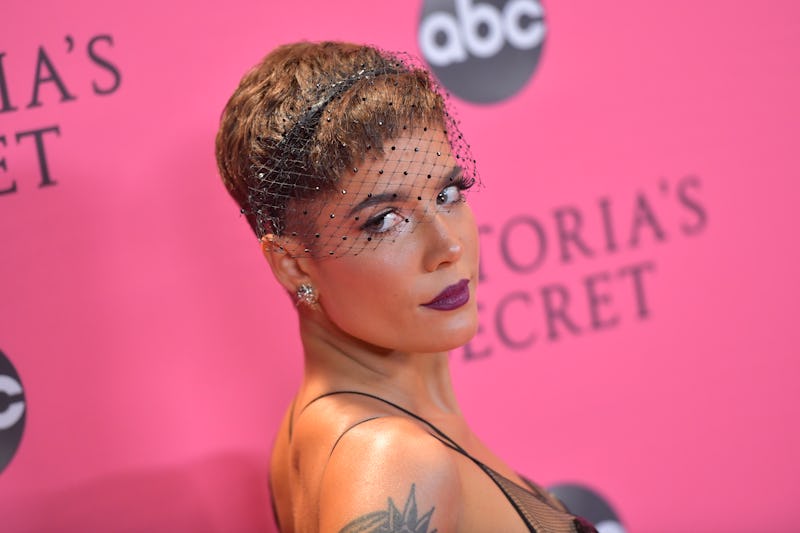 Roy Rochlin/Getty Images Entertainment/Getty Images
After performing at Victoria's Secret Fashion Show, Halsey shared her opinion on a recent statement made by the brand's chief marketing officer that brought criticism to the brand. In an Instagram post on Sunday night, Halsey responded to Victoria's Secret for CMO Ed Razek's comments about not casting transgender models in the fashion show, all while voicing her support for the LGBTQ community. (Bustle reached out to Victoria's Secret for comment on Halsey's post, but did not receive an immediate response.)
Although the fashion show was filmed in early November, it didn't reach TV screens until Sunday night, which is when Halsey decided to share her thoughts on the comments from Razek that came out on Nov. 8, starting with how excited she was to be part of the show. The singer wrote:
"I have adored the Victoria's Secret Fashion Show since I was young. Performing this year alongside other amazing artists, and hardworking models/friends was supposed to be the best night of my year. However, after I filmed the performance, some comments were made regarding the show that I simply cannot ignore. As a member of the LGBTQ+ community, I have no tolerance for a lack of inclusivity. Especially not one motivated by stereotype."
She then offered her support to the transgender community and announced that she made a donation to GLSEN, an organization that works to create safe and accepting school environment for LGBTQ children, and shared a link to their website in her caption. She added:
"If you're on my page because you watched my performance tonight, please allow me to instead direct your attention to GLSEN: an organization that offers services aimed at protecting LGBTQ+ youth. And with respect to those youth targeted by these comments in a world where they have been made to feel 'other', I have made a sizeable donation in their honor. If you are a trans person reading this, and these comments have made you feel alienated or invalidated, please know that you have allies. We stand in solidarity, and complete and total acceptance is the only 'fantasy' that I support."
Halsey statement is a direct response to Razek's Vogue interview, where he explained that although they've considered putting transgender models in their show before, he didn't think they "should" go through with it in the future. He said:
"It's like, why doesn't your show do this? Shouldn't you have transsexuals in the show? No. No, I don't think we should. Well, why not? Because the show is a fantasy. It's a 42-minute entertainment special. That's what it is. It is the only one of its kind in the world, and any other fashion brand in the world would take it in a minute, including the competitors that are carping at us. And they carp at us because we're the leader. They don't talk about each other. I accept that. I actually respect it. Cool."
Later, after receiving backlash, Razek issued another statement through Victoria's Secret's official Twitter account, saying:
"My remark regarding the inclusion of transgender models in the Victoria's Secret Fashion Show came across as insensitive. I apologize. To be clear, we absolutely would cast a transgender model for the show. We've had transgender models come to castings... And like many others, they didn't make it... But it was never about gender. I admire and respect their journey to embrace who they really are."
Bella Hadid, who walked in the show, shared a screenshot of Halsey's post on her Instagram Story, adding a heart emoji.
Celebrities including Ariana Grande and Shay Mitchell have liked Halsey's Instagram post, and plenty of others on Twitter voiced their support.
So far, Razek has yet to respond to Halsey's statement. But regardless, the singer has made very clear where she stands.