H&M Is Now Selling Wedding Dresses That Start At $129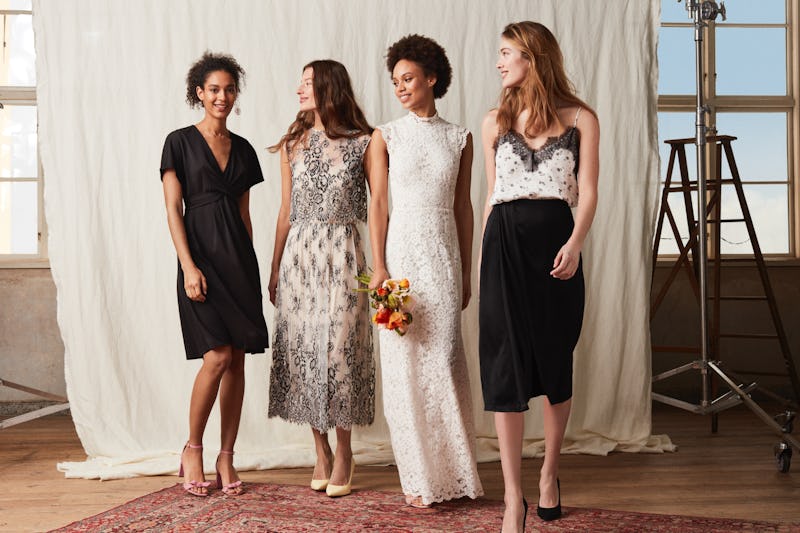 Courtesy H&M
Wedding season is almost here and this fast fashion brand is here to make it a little easier for everyone involved. H&M created an online Wedding Shop that's filled with everything from wedding dresses starting at $129 to outfit for bridesmaids, flower girls, and even just guests. The entire collection is available online right now, so you can start planning your big day accordingly.
Even people that haven't had to plan a wedding themselves know how hectic one can be. That's why H&M's Wedding Shop is so great. It's got a collection of classic-meets-trendy colors, fits, and fabrics to make dressing for the event a little bit easier. These aren't just dresses inspired by wedding attire though. They were designed specifically with brides in mind.
Ready for the best part? Wedding dresses start at just $129 and cap out at $349. While all of the gowns are classing, the cuts of them make them super modern as well. There aren't any over-the-top princess dresses, but you will find a mix of lace and ruffles that you might actually want to wear again.
There are even shorter styles thrown into the mix that you can wear to the reception. Or, you know, have all of your besties match you on your big day. The possibilities are pretty much endless.
Wedding dresses aren't the only items available in the Wedding Shop. The brand also cam up with dresses, tops, and jumpsuits for the wedding party as well as guests. There's everything from gorgeous satin and lace camisoles and v-neck tops to patterned two-pieces. You can also dress your adorable little flower girl in a piece from the line.
You don't have to worry about what shoes to wear with the outfits, either. The collection also includes 11 different shoes styles ranging from flats and classic heels to satin and bedazzled footwear. The styles are sleek, sophisticated, and totally wearable. The line also offers matching shoes for the little ones in the wedding party.
Just to make your life a little bit easier, the Wedding Shop includes accessories and makeup items from H&M as well. These accessories are perfect for pretty much any day of the week, so you can wear them beyond the wedding day. There's hoop earrings, flower crowns, and a layered necklace set.
The Wedding Shop just launched on Mar. 29, but some of the sizes are already selling out online. Because with prices and styles this good, it's hard to resist. Unfortunately, the sizes of the collection are pretty limited though. As of now, the items only come in sizes two to 14.
Bustle reached out to the brand to see if they plan on extending sizes. Just for a comparison, the brand's line goes from size two to 16. It's plus size section carries sizes large to 4X. There are currently not plus size wedding styles available on the online shop.
There's also the drawback that the Wedding Shop is only available online. That means that you aren't able to try the styles on before you buy them, which could be a problem for wedding dresses. Of course, with prices this affordable, paying a little extra for an at-home hem is always an option.
Buying a dress for the big day at a fast fashion brand isn't for everyone, but it's definitely awesome to have the option. Not only are the looks more affordable than dressed that come from bridal stores, they also serve as great inspiration for color schemes and styles. Because let's be honest, the more options the merrier when it comes to wedding season.