Here's Why Sean Hannity's Advertisers Are Dropping Like Flies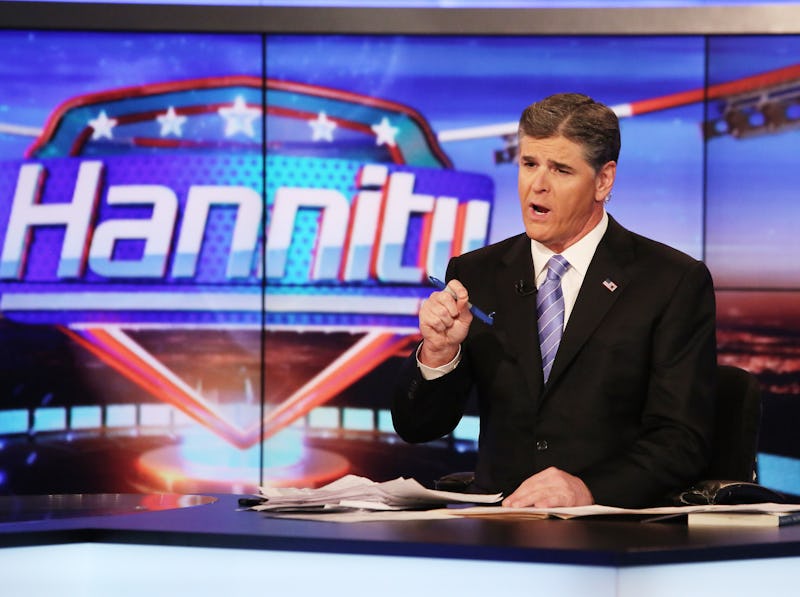 Paul Zimmerman/Getty Images Entertainment/Getty Images
Sean Hannity's eponymous television show on Fox News has some of the strongest rankings among cable news programs. But after two controversial radio programs, one of which featured an interview with senatorial candidate Roy Moore, a number of advertisers are bringing their business elsewhere. Not every company conceded that Hannity's interview with Moore was why they removed ads, but they made their announcements following pressure on social media.
Moore, for background, is embroiled in accusations, published in The Washington Post, that he pursued relationships with four women when they were teenagers. According to the Post report, Moore would have been in his early thirties at the time. Among the accusers is a woman named Leigh Corfman, who says she was 14-years-old when Moore allegedly molested her. Moore has vehemently denied these accusations, describing them as "completely false and a desperate political attack." He is currently running in a special election to fill Attorney General Jeff Session's vacant Senate seat in Alabama.
On Thursday, Hannity discussed the accusations against Moore with cohost Lynda McLaughlin on his nationally syndicated radio program, The Sean Hannity Show. During the segment, Hannity described Moore's interactions between Corfman and the other women in the report as "consensual." He also discussed the ways in which he believes alleged victims persuade companies to lend a level of credence to allegations of sexual assault:
I can tell you another thing that is a common practice. People make a allegation at, for example, big corporations. Big corporations, they make a business decision, "All right, if I pay $200,000, this goes away. OK, you're out of here, we're done with you, it's all over," even though they don't believe it happened.
But then they're going to have somebody that comes in and says, "This is going to be the cost of litigating this," and the person - the other - the accuser's attorney is going to work pro bono, and that means "for free," and they're going to see this to the ends of the earth unless they can get out, and blah blah blah blah.
The next day, Hannity had Moore on the show to discuss the allegations himself. Hannity jumped right into the topic and offered Moore a lot of space to defend himself. Again, as he has in several statements, Moore denied that any of the allegations were true:
I don't know Miss Corfman from anybody. I never talked to or never had any contact with her. Allegations of sexual misconduct with her are completely false. I believe they are politically motivated. I believe they're brought on to stop a very successful campaign.
Moore went on to explain that he "dated a lot of young ladies," and acknowledged knowing at least two of the women named in the Post report. When Hannity asked Moore if he remembered dating young teenage girls while in his early thirties, Moore responded, "Not generally, no."
Repeatedly, Moore said that it had been 40 years since the alleged events had taken place and that he had trouble remembering specific dates. Moore lamented that the media and many establishment Republicans, who have largely said he should step down from his campaign if the allegations are true, aren't presuming his innocence.
In the following days, at least six advertisers have publicly announced that they will not be running ads on Hannity's Fox News cable show, Hannity. Among those who have made announcements are Keurig, Realtor.com, fashion label ELOQUII, 23andMe, and Nature's Bounty.
Back in August, Media Matters launched a campaign that encouraged advertisers to cease running ads during Hannity's program. The organization contended that Hannity's show "is essentially supporting a Trump propaganda operation." Media Matters Angelo Carusone sent out a tweet on Friday, encouraging consumers to contact brands which still advertise during Hannity's show and request that they pull their commercials.