Hanson's New Christmas Music Video Is Here & It Will Make You Forget It's November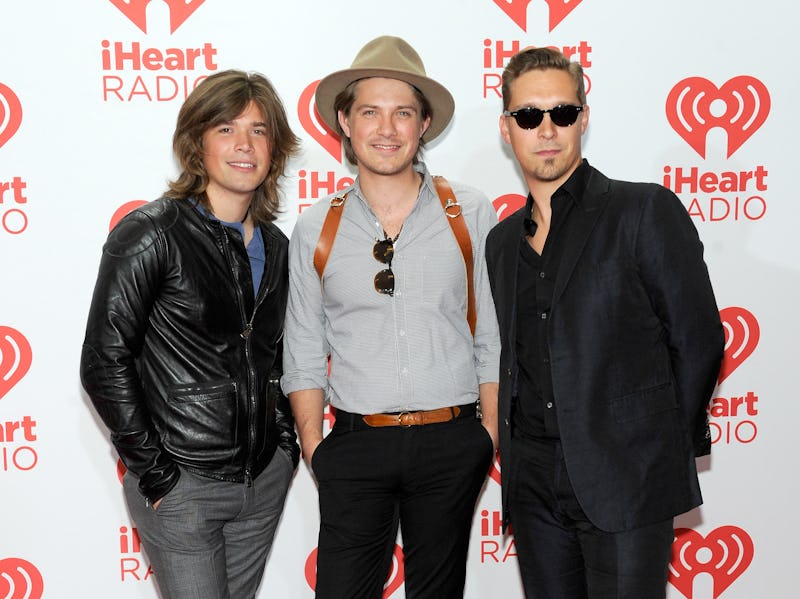 David Becker/Getty Images Entertainment/Getty Images
Isaac, Taylor, and Zac Hanson want to make sure you have yourself a MMMBoppy little Christmas. Hanson released a lyric video for "Finally It's Christmas," the title track off of their second Christmas album, and it's a holly, jolly, yuletide-y, ba duba dop clip. You better not pout and you better not cry, because the long-awaited follow-up to 1997's Snowed In has hit the shelves, there's a new lyric video for "Finally It's Christmas," and Santa Claus is skating to town.
The lyric video for the merry and bright pop-rock song opens with Santa getting ready for the day. He puts on his glasses, straightens out a few errant mustache hairs, pulls on his boots, and grabs the sack of gifts that he left by the front door of his apartment. It's just another day in the life for St. Nick... or so he thinks.
Things take a turn for the delightful when a thoughtful mystery person turns tradition on its head and leaves a wrapped present for Santa Claus on a park bench. When St. Nick realizes his name has been scrawled on the tag, he opens up the shiny parcel and finds a pair of fresh roller skates. This gift is not only a gift to Santa, but a gift to anyone who watches the video. Because from that moment on, Santa roller skates. And it is a thing of joy.
With that bright red gift sack still slung over his shoulder, Kris Kringle zips around Los Angeles effortlessly. And no, this isn't a casual stroll through the city. Mr. Claus has somewhere important to be. And that somewhere important is the Santa roller skating party at Moonlight Rollerway in Glendale, Calif. Santa spins up the ramp to the iconic rink and throws his arms up in the air like he just won a trip to Fleming's in an office holiday party raffle. Once Father Christmas gets into the building, he skate-dances all over the rink. And he absolutely crushes it.
And just when it seems like the video couldn't get better, some more skate-wearing Santa Clauses join Mr. Claus on the floor. And like Mr. Claus, the rest of the Santas are incredibly adept at cutting a roller rink rug. The season of giving is upon us.
And it sounds like the gentlemen of Hanson have some more nestled in their sleeves: Last Friday, the band tweeted that the lyric video "is just a warm up for the official music video coming later this month!"
Uh, wait. The skating Santas are just a warm up? You mean the will the official music video for "Finally It's Christmas" will somehow outdo a group of Santas shredding a rink floor like they're at the North Pole's X Games? Wow. The presents keep rolling in.
After teasing the record's release for some time, Finally It's Christmas dropped on Oct. 27. The album includes original Xmas songs by Hanson, a few holiday standards, plus covers of beloved contemporary pop tunes like "Wonderful Christmastime" by Paul McCartney and Mariah Carey's "All I Want For Christmas Is You." Throw it on your Christmas playlist, like, right now. Your roasted chestnut-loving heart will thank you.
Sure, it may seem a little too early to start putting together your holiday song mix, but know that it's never too early to get into Hanson's first Xmas album in 20 years. So go ahead and let this collection of holiday jams roll into you ears like Santa the skating maestro rolls down the sidewalk. A Hanson Christmas to all, and to all a good night at the roller rink.