'Harlots' Proves That Period Pieces Can Still Be Diverse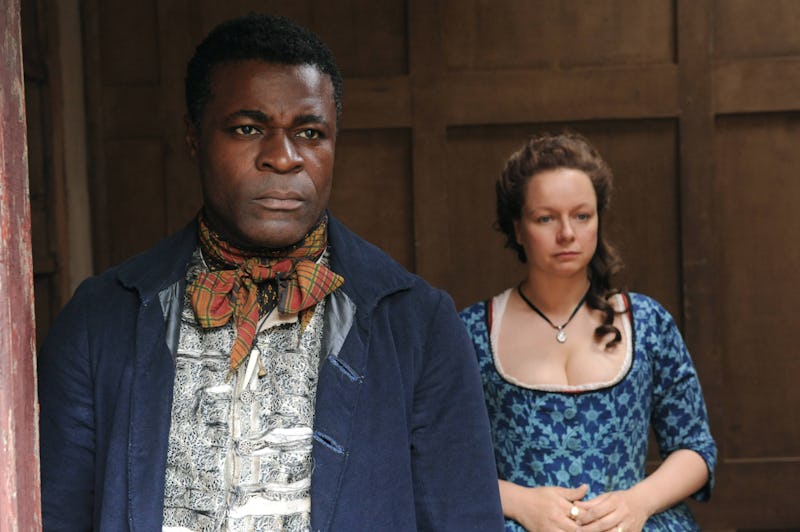 Liam Daniel/Hulu
Harlots brings a feminist perspective to Georgian-era sex workers in London, but even 18th century feminism can and should be intersectional. One of my favorite thing about Harlots is the racial diversity of the characters, something that is sorely lacking in period drama. In an interview with Bustle, co-creator Moira Buffini discussed how Harlots shows what London was really like in 1763. "We wanted to just tell it how it was," she says. "That's been lovely for us, to really ensure that its properly diverse in terms of its ethnicity, casting-wise."
The main character Margaret Wells has several black women working for her, and has a biracial son with her current partner. Too often, films purportedly assume that people of color didn't exist in Europe until, like, the 1980s. I'm exaggerating slightly, but that's what it feels like. And, because this is often how the movies we see are cast, audiences then also think its natural for stories set hundreds of years ago to have all-white casts, when that doesn't reflect reality at all. Think of Passion of the Christ, Amadeus, any Jane Austen adaptation, and far too many Shakespeare adaptations. That's why shows like this, and movies like Belle and the 2011 adaptation of Wuthering Heights are essential to better representation in the future.
So, Harlots' cast is "absolutely accurate to the time," according to Buffini. "London was the most [cosmopolitan] city on Earth, we think, at the time." It still is one of the more diverse cities in the world.
In order to create the world of Harlots, Buffini did extensive research along with her writing partner and co-creator Alison Newman, whose front room became "just stacks and stacks of books," reports Buffini. "Maps of Georgian London all over the walls. We listened to contemporary music of the time. London is full of Georgian art and architecture. We really immersed ourselves in the world."
The attention to detail, she thinks, gives it a more contemporary feel in an unexpected way. This world feels lived in, and not stuffy like one would expect a costume drama to be. "The people look like they're wearing their own clothes," Buffini says.
As for racial and ethnic diversity in particular, "that's something we'll definitely continue to explore and keep our eyes on as we hopefully move forward into Season 2," she says, "with a bit of luck. Fingers crossed."