Harrison Ford Says Carrie Fisher Was One Of A Kind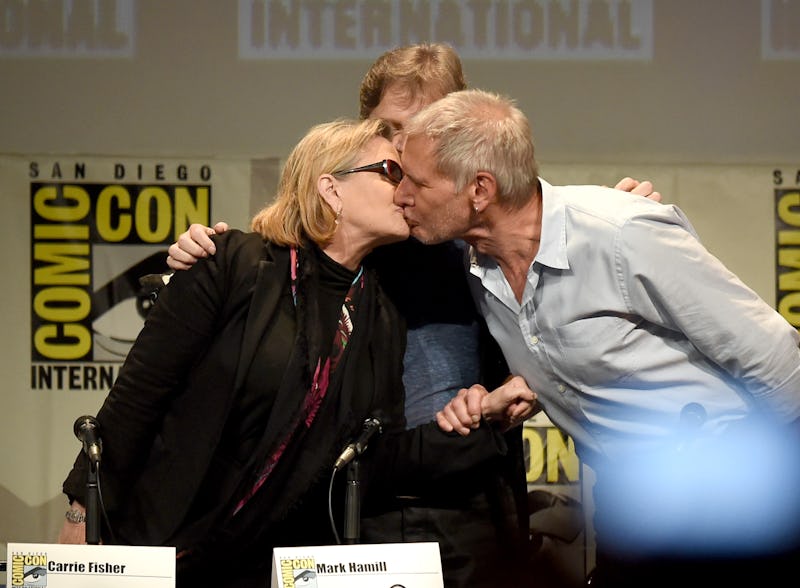 Kevin Winter/Getty Images Entertainment/Getty Images
Devastating news for Star Wars fans the world over, Carrie Fisher died Tuesday morning, days after she had a heart attack on a flight from London to Los Angeles. She became unresponsive just 15 minutes before landing and was removed from the flight by medical personnel and rushed to nearby UCLA Medical Center where she was treated and then died. The news was shared by her daughter's publicist, and family, friends, and fellow actors have begun to learn the news. Her old co-star from the original trilogy, Harrison Ford's reaction to Fisher's death reminds us of their long-term connection and how important their onscreen relationship remains important to so many.
"Carrie was one-of-a-kind … brilliant, original," Ford said in a statement to Bustle. "Funny and emotionally fearless. She lived her life, bravely...My thoughts are with her daughter Billie, her mother Debbie, her brother Todd, and her many friends. We will all miss her."
This is the second statement that Ford has made in as many days. On Christmas Eve, Ford made a statement to news outlets while Fisher was still in the hospital immediately following her heart attack. "I'm shocked and saddened to hear the news about my dear friend. Our thoughts are with Carrie, her family, and friends," Ford said.
The two movie stars, of course, met on the set of the original Star Wars film. Fisher at the time was just 19 years old, and she soon reportedly got to know Ford better than most people on the set. Just a month ago, Fisher said the two actually allegedly had an affair during filming, a claim Ford has not commented on.
Fisher claimed they spent the night together after a birthday party for the film's director George Lucas. She first shared that with People magazine in promotion of a new book that is a compilation of the diary that she wrote while on the set: The Princess Diarist. "It was Han and Leia during the week, and Carrie and Harrison during the weekend," Fisher told People. Fisher said she warned Ford she was going to make her claim public and said he joked about it. "He's incredibly private," she said. "I feel really bad about doing that to him. But yes, I told him I found the journals and I was going to publish them, and he sort of went, 'Lawyer!'"
The two had reconnected for the filming of the most recent Star Wars installment, Episode VII The Force Awakens which debuted in 2015. In it, Fisher reprised her breakthrough role as Princess Leia, who is now a general for the Resistance. Ford played Hans Solo once again, and the story revolves around their son, who has turned into a not-so-nice jedi (think a possible Darth Vader 2.0).
Fisher and Ford's first return to the Star Wars universe since the original trilogy was a fitting way to honor their on- and off-set relationship — a relationship that we are reminded of now with Fisher's death. She will be missed, not just by Ford but also by other friends and family — in particular her daughter, Billie Lourd.
Lourd noted in a statement Tuesday that her mom was "loved by the world and she will be missed profoundly." As a Star Wars fan, I know that to be true.