We Went To The New Harry Potter Exhibit In New York & It's Just As Magical As You Imagined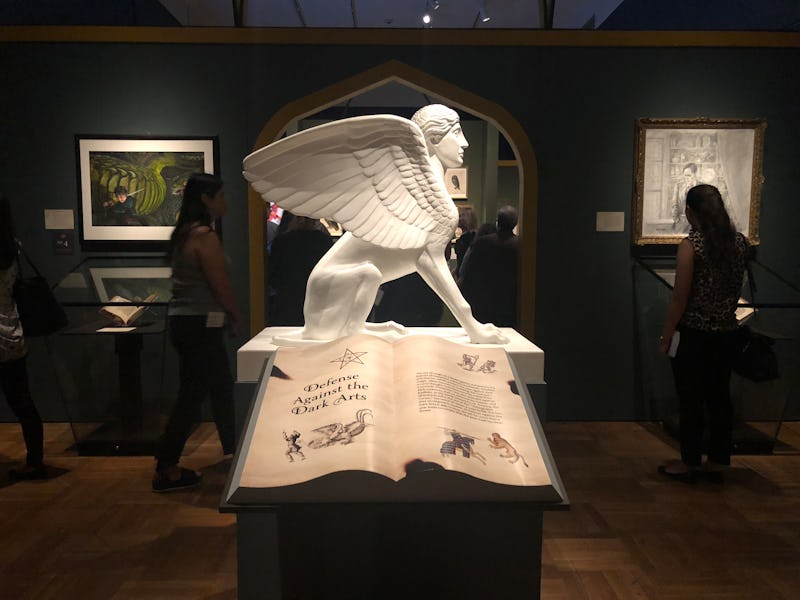 Photo courtesy of Cristina Arreola
I have, on more than one occasion, referred to New York City as "magic," but I always meant it figuratively. Until now. Beginning on Friday, Oct. 5, The New-York Historical Society's "Harry Potter: A History Of Magic" exhibit will bring literal magic to Manhattan.
The exhibit, which originally ran at The British Library in London, includes a treasure trove of rare Harry Potter documents and illustrations (some of which are from the personal collection of author J.K. Rowling) as well as items on loan from Scholastic and Bloomsbury, the publishers of the Harry Potter series, and from museums from around the world.
"Harry Potter: A History of Magic" is divided into sections, which mimic the classes of Hogwarts: Charms, Potions, Astronomy, Care and Keeping of Magical Animals, Defense Against the Dark Arts, etc. Each of these sections contains both J.K. Rowling's creation process and a history of the magic that shaped her fictional world. For instance, in the section on Potions, you can view historical texts that discussed potions classes long before Hogwarts was created. As you tour the space, you can examine crystal balls, read from ancient spell books, and play with special exhibits, like an interactive cauldron. It's an enlightening, illuminating, and yes, magical exploration of the real-life history that inspired what is arguably the most beloved fantasy series of all time.
Book your tickets now — the exhibit only runs through January 2019. Here's a little bit of what you can expect: