The Actor Who Played Cornelius Fudge In 'Harry Potter' Has Passed Away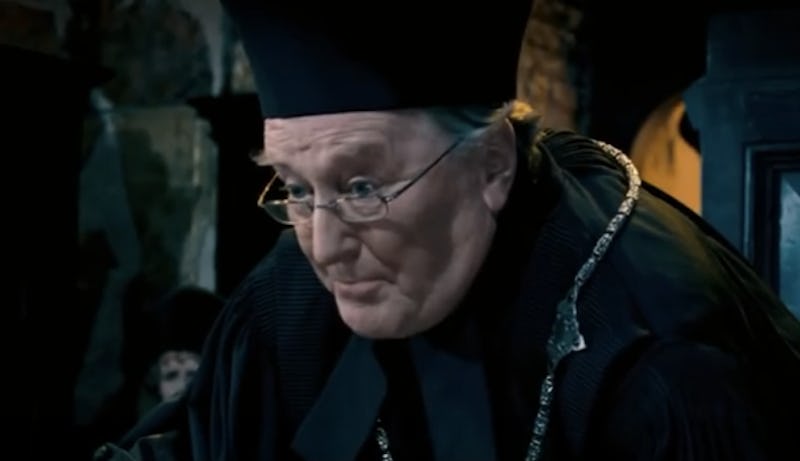 Warner Bros. Pictures
On Thursday morning, BBC reported that the actor who played Cornelius Fudge in Harry Potter, Robert Hardy, died at age 91. And, yes, Minister Fudge was nothing if not a controversial character in the Harry Potter universe, but his role was an impactful one — and Hardy played it to perfection.
If there's one thing Harry Potter's story taught us, it's that wizards and Muggles need to set aside their differences and live together in peace. Despite the fact that we may see and experience the world differently, we should let those diverse voices enhance our world, not tear it apart, because only through embracing those differences can learn from each other and grow together. Every single actor who helped bring that story to life and who played a part in teaching us that valuable lesson through Harry Potter is a cherished human being, even though very few fans would list Cornelius Fudge as among their favorite characters.
As the Minister of Magic, Fudge just wanted to keep the peace for his already terrified peers. He did what he thought was best for his community, and his mistakes were valuable lessons for those who came after him. It's never easy to play any sort of villain-like character, but Hardy's nuanced portrayal of Fudge created a complicated, multidimensional person who did the best he thought he could despite increasingly terrifying circumstances.
As a connoisseur of history himself, Hardy's legacy will live on in what is likely influential magical stories of our time. Hopefully, the lessons he and the others in the Harry Potter series taught us will continue to help us be brave, loyal, ambitious, and wise in our own lives.
Hardy had a long and illustrious career before and even after the Harry Potter franchise. He first became an actor with the Shakespeare Memorial Theatre after his service in World War II and continued playing a number of roles both large and small for years, often best known for his multiple portrayals of Sir Winston Churchill. He especially endeared himself to British audiences beginning in the late '70s and again in the late '80s thanks to his starring role in the popular series All Creatures Great and Small. And his contributions to the Harry Potter universe, at this point, go without saying. He will be sincerely missed.