Harry Styles' Fashion Muse Is Shania Twain & Honestly, Same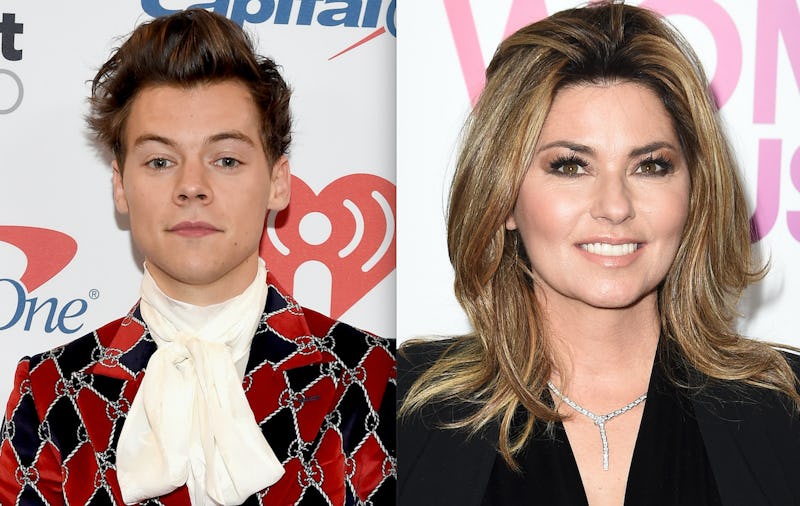 David Becker/Getty Images; Nicholas Hunt/Getty Images
It's no secret that Harry Styles is, well, stylish. He's rocked heels, prints, and impeccable suits — and that's just in the last week alone. It turns out that Harry Styles style inspiration comes from a seemingly unexpected source — country singer Shania Twain. According to an interview with Entertainment Tonight, the crooner and her history of bold '90s outfits is Harry's current style muse. Once you see a collection of some of his best outfits, it will all make complete sense.
Styles might only be 23 years old, but he's got his personal style nailed down. From his oversized hats down to his heeled boots, you never know what colors or prints to expect from the singer. It's like the bolder the better. Apparently, he learned everything he knows from someone who wrote the bolder is better rule — Twain.
The country singer is known for her head-to-toe cheetah attire, metallic pants, and genius texture-and-print combinations. To no surprise, Styles has become known for the same quirky qualities. Since going solo, he's incorporated some of Twain's favorite styles into his own looks, like with his love for cheetah print.
Both Twain and Styles are not afraid to take risks with their looks, which is part of the reason that they pull it off so well. And, you know, they both happen to be extremely talented, too.
It's one thing to have style inspiration and it's another thing to have someone that inspires you to go bold. Styles calls Twains his "main influence" in his interview, meaning that she's more than just someone that he likes to dress like.
"I think both music and fashion, [my] main influence was probably Shania Twain," Styles said in the Entertainment Tonight interview. "Yeah, I think she's amazing."
Both singers have the confidence in themselves, and neither of them follow the trend of the times. They just put on what makes them feel good and rock it. That's the true definition of someone who is stylish, if you ask me.
Between the bright colors, bold prints, and quirky combinations, there's no denying that the two are style twins. The best part is that Styles never directly copies Twains looks. Instead, he takes inspiration from the different risks that Twain made famous on red carpets and in her iconic videos.
Fans are obsessed with the comparison between the two singers. Most people can instantly see the parallels between the singers' wardrobes and are dying to see more lookalike styles from the two. I will warn you though, once you see the comparisons there's no going back.
Can someone convince Styles to pose like this? Because I'm pretty sure he already owns every piece of clothing in this photo.
So what you're trying to say is that Styles is basically your not-so long lost love? Get in like, sister.
For real though. I wonder how many printed suits and cheetah print shirts will fly off the shelves now.
There's a long line of bold printed celebs out there, so it's nice to see the tradition continue on.
Harry Styles: Winning people over with his style since 1994.
There's not a lot of things about 2017 that have made sense, but this magical fashion pairing is definitely something that does.
If you're anything like me, you've been trying to nail down Styles great fashion choices for a while now. I guess there was a method to the madness after all. It really makes you stop and think who inspires you to dress the way you do. If nothing else, there will be a lot more people wearing cheetah print now.