James Corden & Harry Styles Kissed (Again) & The Singer's Fans Are Obsessed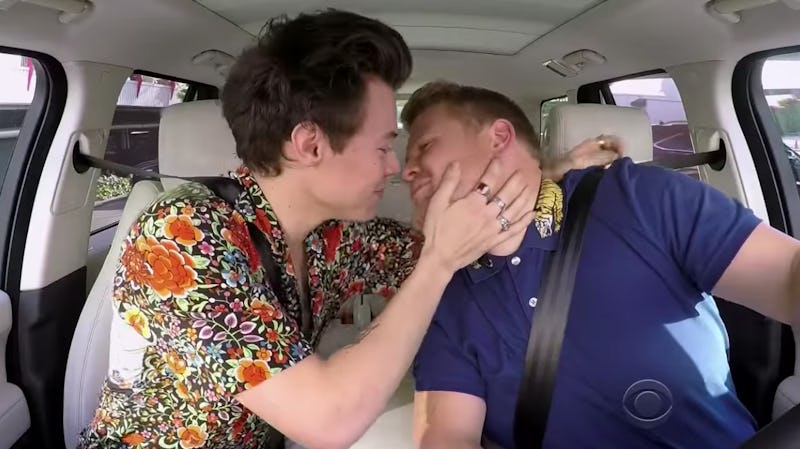 The Late Late Show With James Corden On YouTube
Just when fans think they couldn't possibly love Harry Styles more than they already do, he goes and does something like this. In a new Christmas-themed edition of Carpool Karaoke, Harry Styles kissed James Corden right on the lips, because what would be a better way to celebrate the holiday season than that? And now that the full video is out, fans are already losing it about this adorable moment.
In honor of his last shows of the year, Corden took the opportunity to make a big compilation of himself with some of his most memorable guests in 2017, all singing along to "Santa Claus Is Coming To Town." (There's also a version with different celebs singing along to Mariah Carey's "All I Want For Christmas Is You".) Even though Styles' part in the video is clearly getting all the attention, plenty of other celebrities are featured, too, like Sam Smith, Katy Perry, and Miley Cyrus. Everyone truly gives their all while singing, but no one is quite as committed as Styles.
In fact, Corden's kiss with Styles is definitely what's getting the biggest reaction from fans, and it's easy to see why. Honestly, as cute as the entire video is, nothing can beat that kiss they share toward the end, when they're wishing each other a merry Christmas. For those unaware, Corden and Styles have always had a close, fun friendship — including when Styles hosted The Late Late Show for him — and as you'll see, this isn't the first time they've kissed.
One of the biggest things fans are pointing out is the fact that the kiss shows how comfortable Styles is with his sexuality. He did fully embrace the moment, and it only highlights the kinds of comments he's made on the subject in the past. In an interview with The Sun earlier this year, Styles said he "never really felt the need" to label his sexuality, and said, "I don't feel like it's something I've ever felt like I have to explain about myself."
"It's weird for me — everyone should just be who they want to be," he said. "It's tough to justify somebody having to answer to someone else about stuff like that."
It is pretty cool to see Styles being so unabashedly himself — even if that means laying a wet one on a certain late night host. He's not afraid of what anyone thinks of him, because he's secure in himself, and that's an awesome example for him to set for the fans who look up to him.
And that's not all fans are pointing out about his kiss with Corden. In fact, this is just what made many of them realize that when it comes to Styles and his former One Direction bandmates, the late night host is living out so many of their dreams.
So many good points being made here. Who doesn't want to grow up to be James Corden at this point? This is an excellent example of what it means for someone to be living their best life.
This fan is questioning what Corden did to deserve a kiss from Styles — something a lot of people are likely wondering after they watch the video. Whatever he did, the rest of us need instructions on how to do the same thing with the same results.
Some fans had to throw it back to their first kiss, lest we all forget that this happened, too:
And in case you want to relive the kiss without watching the entire video, don't worry — gifs have already been made to preserve this moment forever.
Most of Styles' fans will never get the chance to be in Corden's place, but at least we fans can live vicariously through him. Clearly, he got the ultimate Christmas present, and since it was caught on film, it's a gift that was given to us all. Merry Christmas, everyone.