Harry Styles Has An Amazing Mick Jagger Impression On 'SNL'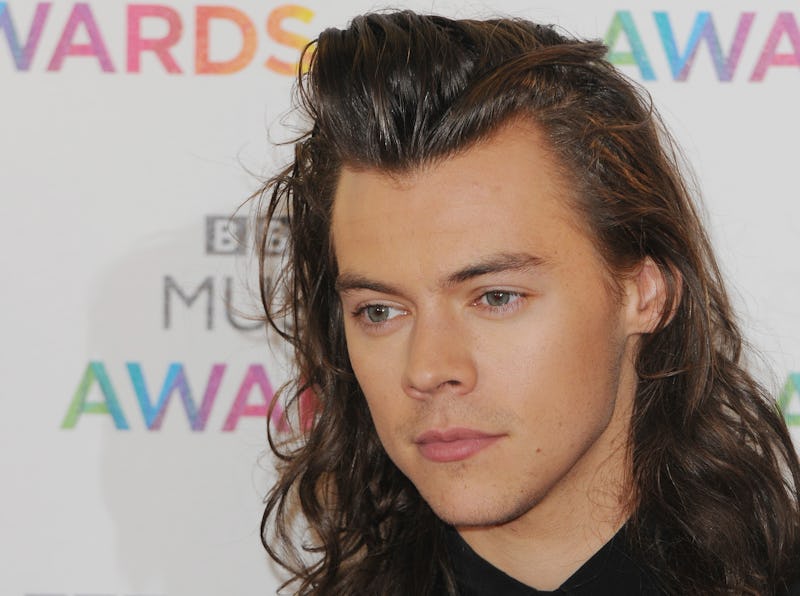 Eamonn M. McCormack/Getty Images Entertainment/Getty Images
Fans are well-aware of Harry Styles' signing talent, but the British musician can be super funny, too. The former One Direction singer got to show off his comedic talents on the April 15 episode of Saturday Night Live. Harry Styles played Mick Jagger on SNL during a Family Feud parody and his impression of the legendary musician is amazing. I didn't recognize Styles at first — I thought perhaps this spot-on impression of Mick Jagger was the work of a new SNL cast member. But it soon became apparent that it was the former One Direction singer that was totally nailing all of the Rolling Stones singer's trademark mannerisms. It was truly impressive and showed off Styles' acting chops.
The Family Feud parody is a recurring sketch on SNL, but this was a time-traveling edition, which featured celebs from both 1977 and 2017. Styles donned a long-haired wing and white suit as he moved just like Jagger and totally nailed the Rolling Stones singer's own voice. "Hello, Steve," Styles' Mick told Kenan Thompson's Steve Harvey. "Lovely show, it's a bit funny." There was even a bit of a reference to Styles' own solo career. Thompson's Harvey tells Styles' Jagger that he was a fan of the Rolling Stones, but the host enjoyed his solo work more.
In response, Styles' Jagger wiggles and makes some Jagger-like expressions before saying, "Solo? why would anyone in a successful band go solo?" he says in the sketch. "That is insane." How meta, considering Styles just recently launched his own solo career with his new single "Sign of the Times."
Later in the sketch, Thompson's Harvey approaches Style's Jagger for a guess at the survey and Styles as Jagger gives a hilarious roundabout answer for "Having Sex," which does end up being on the board for the 1977 celebs.
Styles' hilarious impression just shows that the musician is a hilarious actor, too.