Harry Styles Doesn't "Feel The Need" To Label His Sexuality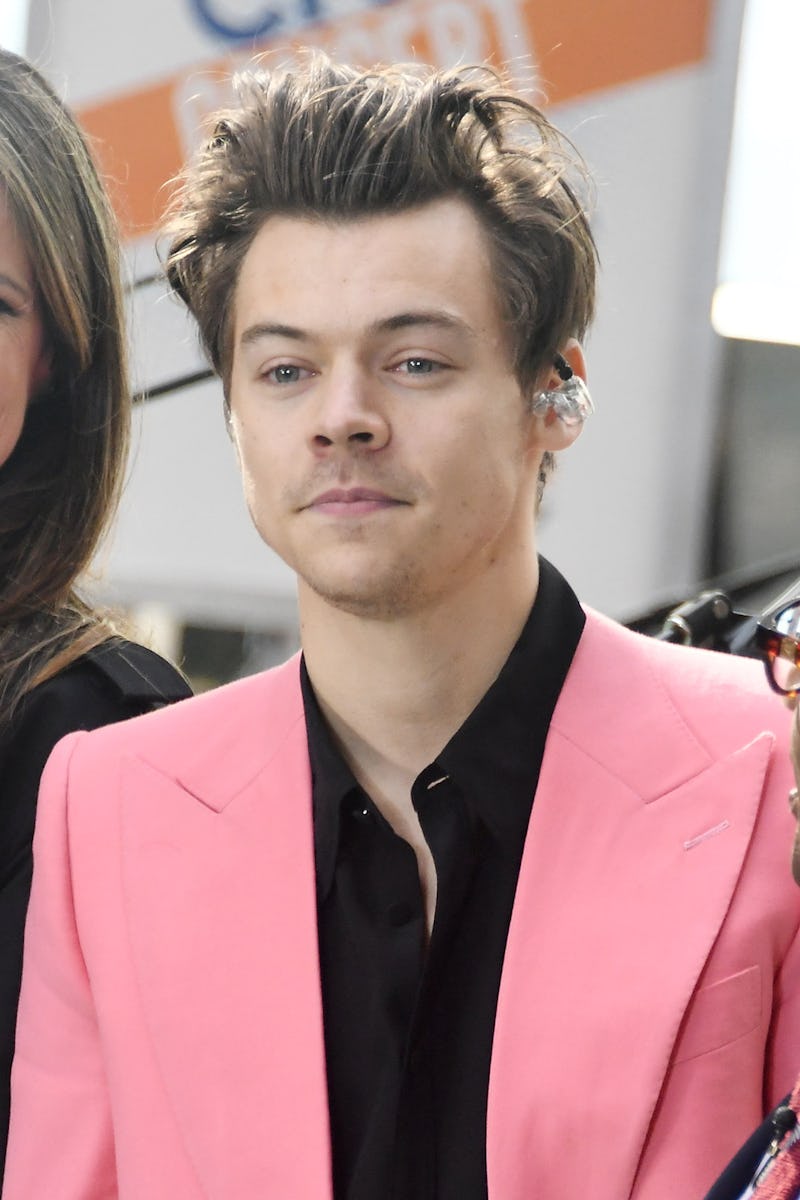 Mike Coppola/Getty Images Entertainment/Getty Images
If you haven't noticed, Harry Styles is having a bit of a career moment. The star recently performed on Saturday Night Live, debuted his self-titled solo album, and is now embarking on a worldwide tour. It's not surprising that the singer has been in high demand for interviews, and, in the past few months, fans have learned a lot more about him. Like, for example, in a recent interview with The Sun, Styles said that he hasn't "felt the need" to label his sexuality.
The Sun reporter Dan Wootton brought up the more frank discussion of sexuality in pop music that seems to be happening lately, citing Miley Cyrus coming out as pansexual as an example. To this point, Styles noted in the interview that a star coming forward and being open is meaningful. "Being in a creative field, it's important to be ­progressive," he told the publication. "People doing stuff like that is great."
When Wootton asked if the singer has labeled his own sexuality, rather than getting defensive or choosing to defining himself then and there, the star replied, "No, I've never felt the need to really. No."
It's a personal question, and, while Styles never described his own exact thoughts on his sexuality, it's clear that he doesn't feel he has to share those details, and, further, it's clear that he supports others who choose not to. He added, "I don't feel like it's something I've ever felt like I have to explain about myself."
More and more, young stars are refusing to put their sexuality in a box, and it may be representative of how the younger generation in general is moving toward understanding a more fluid concept of sexuality where strict labels aren't everything.
In addition to Styles, some other stars have refused to pin down their sexuality in recent years. For example, Kristen Stewart long refused to label herself. In 2015, she told Nylon magazine, "I think in three or four years, there are going to be a whole lot more people who don't think it's necessary to figure out if you're gay or straight. It's like, just do your thing." Since the interview, she's discussed being more open about dating women and made an important statement by referring to herself as "so gay" on SNL. Other stars who have opened up about their fluid concept of sexuality and gender include Ruby Rose and Amandla Stenberg.
In previous generations, sexuality has been viewed as something concrete, and when stars like Stewart, Rose, Stenberg, and Styles refuse titles or embrace fluidity — whether that be embracing themselves or making it clear that they accept it in others — it helps change the public perception. It's important that people outside of Hollywood see sexuality as something nuanced and complex; if not, people who don't identify as simply gay or straight or any overly specific labels between and beyond risk further erasure and marginalization.
As for Styles, in recent months, he has been slightly less shy with his political views in general. He endorsed the Women's March on Washington on social media in January and has spoken out against Brexit. It's always meaningful when a celeb with as large an audience as Styles' stands up for a community, and, to many who are still still figuring out their sexuality or who don't identify with one specific label, his comment will likely resonate.
As the singer's tour and press cycle continues, he'll hopefully continue to stand up and share his perspective on important issues. And, as he grows as a musician and a cultural figure, these statements will only become more important.