Harvey & Bob Weinstein Are Being Sued For Alleged Sex Trafficking At The 2014 Cannes Film Festival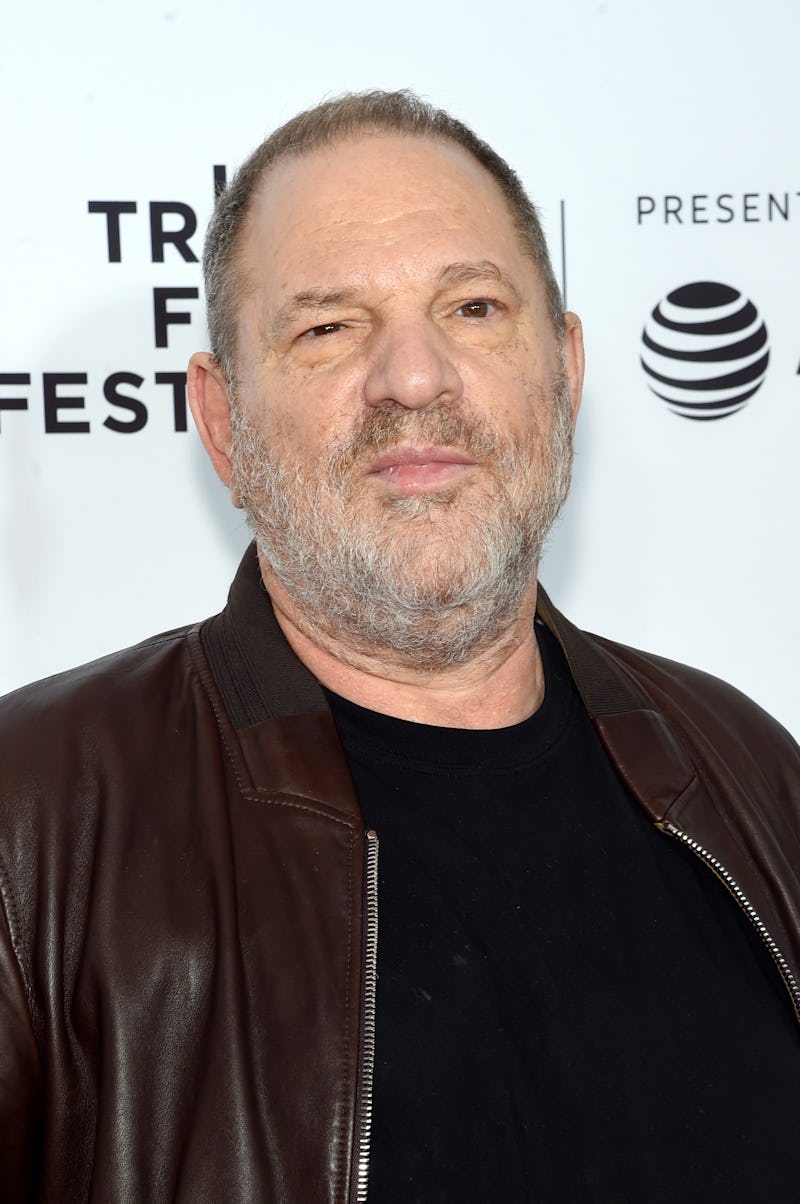 Jamie McCarthy/Getty Images Entertainment/Getty Images
On Nov. 27, Deadline reported that a civil lawsuit has been filed against Harvey Weinstein, his brother Bob Weinstein, and their production company, The Weinstein Company, LLC. In the legal documents obtained by Deadline, former Britain's Next Top Model contestant and actor Kadian Noble is suing Harvey and Bob Weinstein, and their company for alleged sex trafficking. The legal paperwork, which was filed in U.S. federal court in New York by Noble's lawyer Jeff Herman, stated the following allegations, which, if true, may have violated criminal and civil federal sex trafficking statues:
Harvey Weinstein, travelling in foreign commerce, recruited and enticed a young aspiring actress, Plaintiff Kadian Noble, with the promise of a film role, knowing that he would use means of force, fraud or coercion to cause her to engage in a sex act in his hotel room. Defendants, Bob Weinstein and The Weinstein Company LLC, participated in this venture of Harvey Weinstein, knowing, or in reckless disregard of the fact, that he would use force, fraud or coercion to engage aspiring young actresses in sexual activity.
A rep for Harvey issued the following statement to Bustle in response to a request for comment on the lawsuit:
"Mr. Weinstein denies allegations of non-consensual sex. Mr. Weinstein has further confirmed that there were never any acts of retaliation against any women for refusing his advances."
Bustle reached out to the Bob, and The Weinstein Company for comment on the lawsuit and allegations, but did not immediately hear back.
According to People, this type of lawsuit is seeking a civil remedy and a jury trial, which could result in rewarding the plaintiff money for monetary damages. The lawsuit complaint continued, alleging that Harvey had promised Noble a role in a film and, that in February 2014, Harvey allegedly invited Noble up to his hotel room at Le Majestic Hotel in Cannes, France. According to the lawsuit, Harvey allegedly began massaging Noble, had her allegedly walk around the room for "audition purposes," and then allegedly called another Weinstein Company producer to speak with Noble.
The lawsuit stated the following allegations:
The TWC producer told Kadian that she needed to be "a good girl and do whatever he wished", and if she did, then "they would work" with her further. Harvey Weinstein then pulled Kadian closer and groped her breasts. Kadian resisted, exclaiming "No, Harvey, No!" However, at the same time Kadian felt compelled to comply because of the tangible and intangible benefits Harvey Weinstein offered to advance her career, which she would receive from a favorable relationship with him ...
Harvey Weinstein then forcefully grabbed Kadian's hand, placed it on his penis, and forced her hand to masturbate him. Harvey Weinstein used his other hand to control Kadian and defeat her resistance. Harvey Weinstein, once again, told her to relax and "everything will be taken care of for you if you relax."
Harvey is currently under criminal investigation for sexual assault allegations by police in the respective jurisdictions of New York, the U.K., Beverly Hills, and Los Angeles. Harvey's rep previously denied all allegations of nonconsensual sex in a statement to the New York Times, which reads, "Any allegations of non-consensual sex are unequivocally denied by Mr. Weinstein."
Noble is an English actor who has appeared in the 2012 film Riot on Redchurch Street, according to IMDb, and was a contestant on Britain's Next Top Model. According to a report in The Daily Mail, Noble is Jamaican born, has a young daughter, and, at the time of the report in 2010, was a single mother.
If you or someone you know has been sexually assaulted, call the National Sexual Assault Telephone Hotline at 800-656-HOPE (4673) or visit online.rainn.org.