Harvey Weinstein Is Fired As Sexual Harassment Allegations Pile Up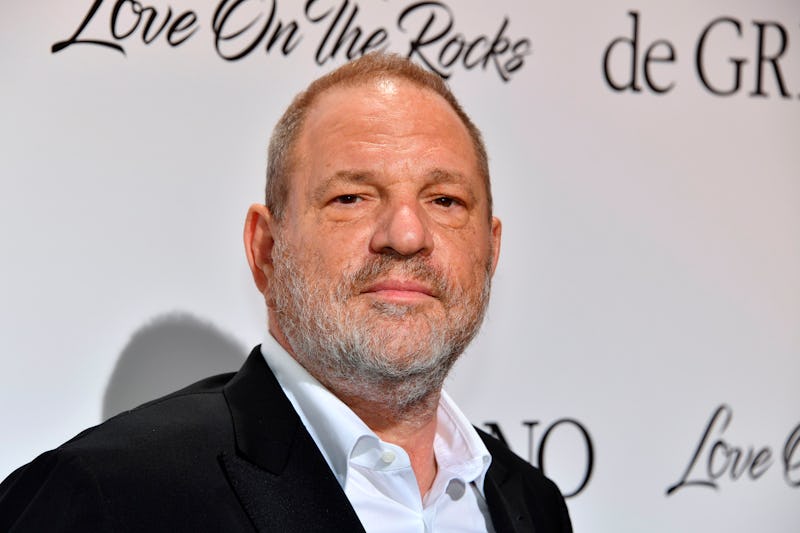 YANN COATSALIOU/AFP/Getty Images
According to The Hollywood Reporter, famous film producer Harvey Weinstein has been fired from The Weinstein Company. The company's statement said, "In light of new information about misconduct by Harvey Weinstein that has emerged in the past few days, the directors of The Weinstein Company — Robert Weinstein, Lance Maerov, Richard Koenigsberg and Tarak Ben Ammar — have determined, and have informed Harvey Weinstein, that his employment with The Weinstein Company is terminated, effective immediately."
Weinstein Company's statement arrives after a searing set of allegations appeared in The New York Times on October 5. The report, titled as "Harvey Weinstein Paid Off Sexual Harassment Accusers For Decades," detailed a disturbing list of accusations of sexual harassment against Weinstein.
The company attempted to do some damage-control after the accusations surfaced in media. According to The Times, at least one-third of its board stepped down in protest while the company claimed that it would initiate an impartial and unbiased investigation conducted by an external law firm. After the The Times' report, Weinstein reportedly took an indefinite leave of absence.
As criticism on social media mounted against the film producer, Weinstein responded to the publication's report. He said that he was "sincerely" apologetic for the "pain" he had allegedly caused his colleagues. "I appreciate the way I've behaved with colleagues in the past has caused a lot of pain, and I sincerely apologize for it. Though I'm trying to do better, I know I have a long way to go."
In addition to his apology, Weinstein told TheWrap that he intended to sue The New York Times for apparently not giving him "enough time to respond." In a statement to TheWrap, Weinstein said, "I mean every word of that apology. The reason I am suing the New York Times is they didn't give me enough time to respond."
Weinstein's former adviser, Lisa Bloom, had told TheWrap about the film producer's plan to sue the publication while also stating that Weinstein "denies many of the accusations as patently false."
"We said, 'What is it, tell us the allegations, we will respond. Harvey is going to be admitting some stuff,'" Bloom said. "Two days ago, after begging, they gave us a couple dozen allegations that spanned 30 years and a dozen countries. They said we have until 1:00pm today. We said 'Why?' They never said."
The New York Times responded to Weinstein and Bloom's statements and told TheWrap that it was "confident" in the authenticity of the allegations against the film mogul in its published report. It also claimed that Weinstein had "ample" time to respond to the accusations.
"We are confident in the accuracy and fairness of our reporting. Mr. Weinstein had ample time to respond to specific allegations, which dealt with events that he had first-hand knowledge of, before our story published," a Times spokesperson told TheWrap. "We published his entire response, which acknowledges a history he now regrets. But the real issue is whether the story is accurate. Mr. Weinstein has not challenged any facts in our story."
Two days after Bloom's statement appeared in the media, the adviser resigned from her position while tweeting, "I have resigned as an advisor to Harvey Weinstein. My understanding is that Mr. Weinstein and his board are moving toward an agreement."
Prior to Weinstein's termination, The Weinstein Company had stated that he would seek counseling for his "problems." The statement from the company's four board members - Lance Maerov, Tarek Ben Ammar, Bob Weinstein, and Richard Koenigsberg - said, "As Harvey has said, it is important for him to get professional help for the problems he has acknowledged."
If you or someone you know has been sexually assaulted, call the National Sexual Assault Telephone Hotline at 800-656-HOPE (4673) or visit online.rainn.org.