Harvey Weinstein Wants His Rape Charge Dismissed Because Of Emails His Accuser Sent Him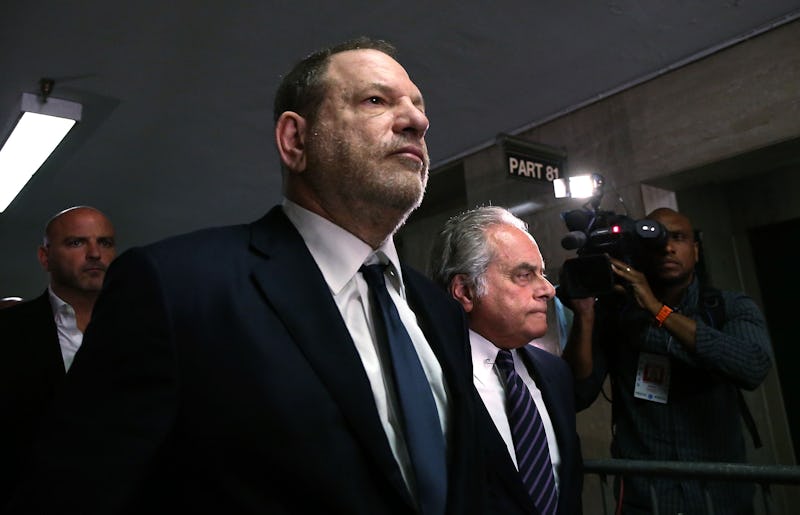 Spencer Platt/Getty Images News/Getty Images
According to an ABC News report, Harvey Weinstein's attorneys will ask for his rape charge to be dismissed on Friday. Attorneys for the disgraced film producer plan to argue that emails from the Weinstein Company, which has since been dissolved, show that Weinstein had a continuing relationship with his accuser and, as such, amount to "exculpatory communications."
"They are endearing, intimate, pleasant, flattering, friendly emails between her and Mr. Weinstein," Weinstein's chief attorney Benjamin Brafman said of the alleged emails, according to Variety. "If the grand jury had these emails, they would not have indicted."
More than 80 women have accused Weinstein of sexual misconduct, and a grand jury indicted him repeatedly earlier in the year on multiple charges of sexual assault. He's pled not guilty and says that all interactions he had with his accusers were consensual.
The emails in question were allegedly sent through the Weinstein Company's official email account, and they came to light to when the company filed for bankruptcy in March. The judge overseeing the bankruptcy case had issued a protective order prohibiting the attorneys in the lawsuit from releasing the alleged emails, but according to Variety, Weinstein's successfully convinced the judge to to let the alleged emails be used as evidence in his sexual assault trial.
According to ABC News, Weinstein's attorneys plan to ask the Manhattan judge overseeing the case to dismiss the first-degree rape charge on Friday on account of the alleged emails.
However, New York law defines first-degree rape as sexual intercourse that's carried out through "forcible compulsion," and makes no exception for accusers who have an existing relationship with the accused. In general, sexual assault is defined by a lack of consent, and having a non-sexual relationship with somebody doesn't constitute consent.
Nevertheless, in their bankruptcy court filing, Weinstein's attorneys argued that the emails are "material and exculpatory," and that the "failure of the district attorney to provide this evidence to the grand jury warrants a dismissal of the indictment." It's unclear what the alleged emails say, but according to ABC News, they only regard one of Weinstein's three sexual assault charges.
For over two decades, Weinstein was one of the most powerful people in Hollywood, having been involved with hits like Pulp Fiction, Silver Linings Playbook, Fruitvale Station and dozens more. However, his career was derailed in October 2017 when the New York Times and New Yorker reported that multiple women had accused him of sexual assault and harassment during his time in Hollywood.
Although he denied all charges of criminal misconduct, Weinstein acknowledged that "the way I've behaved with colleagues in the past has caused a lot of pain." Nevertheless, he was forced out of the company he co-founded within the week and later checked into rehab in Arizona. In what's since been dubbed "the Weinstein effect," over 70 high-profile men were accused of sexual misconduct in the month after Weinstein's accusers went public.
As of this writing, Weinstein has been charged with first-degree rape, third-degree rape, a first-degree criminal sexual act and two counts of predatory sexual assault stemming from multiple alleged incidents stretching from 2004 to 2013. He faces the possibility of life in prison if convicted.