Harvey Weinstein Is Out On Bail — And Apparently Has A New Gig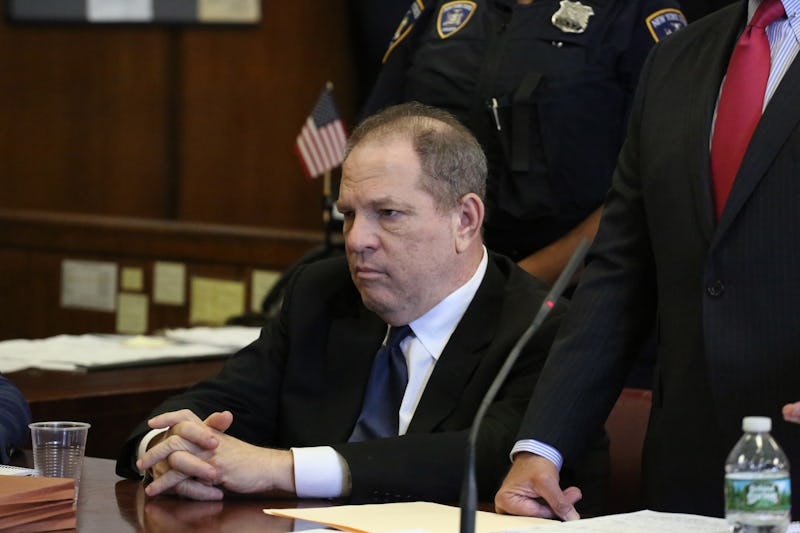 Pool/Getty Images News/Getty Images
Harvey Weinstein was released on bail Monday after pleading not guilty to yet another sexual assault charge — and it appears the disgraced former movie mogul is working a new gig, too. But while Weinstein's new job is far from his work green-lighting Hollywood hits, he's still angling to get a piece of the film business, according to his lawyer.
Weinstein's lawyer, Benjamin Brafman, was asked by reporters after the court hearing whether Weinstein is currently employed. According to Page Six, Brafman said, "Currently, he's primarily a paralegal to me." Brafman added that Weinstein is "reviewing scripts and trying to pursue additional projects in the future."
Weinstein has denied all allegations of sexual assault. He was released Monday on a $1 million bond, has to surrender his passport, and must wear an ankle monitor tracking his location at all times.
This is the third sexual assault charge that Weinstein has pled not guilty to in New York state court. According to The New York Times, this latest indictment against Weinstein includes two counts of predatory sexual assault. That means that if convicted, Weinstein could face a life sentence; the Times reported that Weinstein was already facing as much as 25 years in prison for previous charges.
Weinstein is accused of three separate sexual crimes in 2004, 2006 and 2013, according to the Times. The 2006 incident is the subject of the latest charges.
Despite the news that he's apparently reviewing scripts, the act of making movies might get a little complicated for Weinstein. He was banned for life from The Producers Guild of America and kicked out of Academy of Motion Picture Arts and Sciences to boot.
A spokesman for Weinstein said the former mogul isn't actively making movies, but has been offered "film-related opportunities from Europe and Asia but he is just making publicly traded portfolio investments now," according to The New York Post.
Brafman said that thanks to five weeks of investigation with Weinstein working as his "paralegal," he found evidence to support Weinstein's defense, according to NBC News. Brafman did not supply specifics but did mention "emails" and "witnesses."
"We have corroborative evidence in the form of witnesses, we have corroborative evidence, overwhelming evidence, in the form of email traffic. And the suggestion that Mr. Weinstein raped anyone, just based on what I've seen, just based on the evidence I've seen, is just a preposterous allegation," Brafman told reporters, according to The Associated Press. "So far, everything he has told us to look for we have found. And his denials are in my judgment being confirmed everyday by a lot of evidence we are finding that is independent of Mr. Weinstein."
Brafman also accused "Pulitzer-driven reporters" of going after his client.
"If we allow Pulitzer-driven reporters to decide this case, then it could be hopeless," Brafman said. "God help all of us if that's how the criminal justice system is allowed to work."
After Brafman spoke, feminist attorney Gloria Allred spoke to reporters. Allred is representing the woman from the 2006 incident, who remains anonymous at this time.
Allred said the woman will testify at the trial. But if Brafman wanted to actually prove the consensual nature of their interaction before the court, Weinstein would have to testify as well, according to NBC News.
"Are you really willing to have your client face the jury? I doubt that you will take that risk, Mr. Brafman," Allred said.
Weinstein's next court appearance is in September, according to The Associated Press.