Here's The Truth About Whether Migraleve Tablets Have Been Discontinued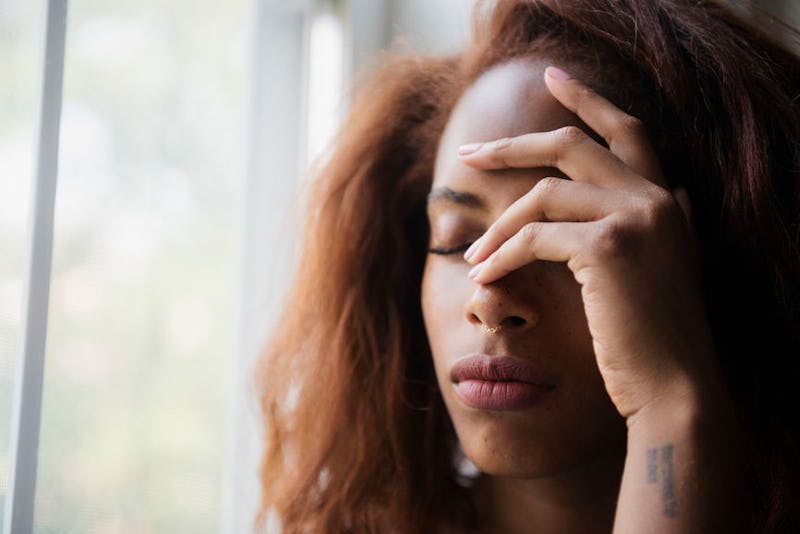 Jamie Grill Atlas/Stocksy
Over the past month, Twitter has been full of people complaining about a lack of migraine medication. According to those who suffer from regular migraines, Migraleve — tablets which contain paracetamol and codeine — have been out of stock in pharmacies for weeks, and in some cases, months. With no sign of the remedy making a return to shelves anytime soon, people are beginning to wonder if Migraleve has been discontinued in the UK.
Luckily, the answer is no. I spoke to a customer service representative for the healthcare company behind Migraleve, Johnson & Johnson. He stated that the company is aware that the lack of stock is an issue and are working to rectify it but cannot give a specific date as to when the tablets will once again be available for purchase. However, he said that Johnson & Johnsoon will be releasing an official statement some time this week explaining more about the problem. I'll update this post with the information as soon as it's available.
Eight million people in the UK suffer from migraines, according to Migraleve. As someone who has had migraines since secondary school, I can personally attest to the importance of readily available treatment. While I have had to resort to prescription-only medication, Migraleve is an invaluable resource for countless others. Without it, people are often forced to take unnecessary days off work to lie in a dark room until the migraine has passed.
Migraleve tablets come pink and yellow forms. The pink version aims to relieve the pain and nausea that comes with a migraine. For a particularly severe case, people can follow this up with the yellow tablet which continues to treat symptoms. Boxes containing 24 separate pink and yellow tablets are sold along with a box containing both colours together.
Several people on Twitter have complained that the pink tablets (which are advised to be taken first) have been out of stock for months. One woman said she has been unable to locate a box since July and explained how "it's the only migraine drug [she] can take and still be able to work." (Note the yellow ones appear to still be available at Boots.)
Another person tweeted that they had been told Migraleve was out of stock due to a "manufacturing issue" and that the company was "waiting on one of the raw ingredients from [its] suppliers." The email finished by saying the tablets would be available at the beginning of October. The same person later received an update saying stock is expected to be replenished in mid November instead. Others have said they have been told pink Migraleve will not be available in the UK until the middle of next year.
It's only human to think of Brexit in this situation. In July, the pharmaceutical industry said it was preparing to stockpile medicines in the event of a no-deal Brexit and urged the government to provide more accurate information.
"This industry has got one of the most integrated supply chains of any industry, so the ability to get our medicines moving freely across Europe is critical," Mike Thompson, chief executive of the Association of British Pharmaceutical Industries, told Sky News. Just last week, pharmaceutical companies asked patients themselves to consider stockpiling their own medication.
Until Johnson & Johnson's statement is released, the reason behind the missing Migraleve will remain a mystery. If you're struggling to cope with your migraines at the moment, it may be worth visiting your GP to find an alternative solution.
Other tablets on the market such as co-codamol do contain paracetamol and codeine but are often missing buclizine — a vital component of Migraleve — and pharmacies can also offer Buccastem for nausea. People have reported that these options result in the same effect, but it would be wise to consult a doctor first.