The 'Strictly Curse' May Have Struck Again, But Here's Why It's None Of Our Business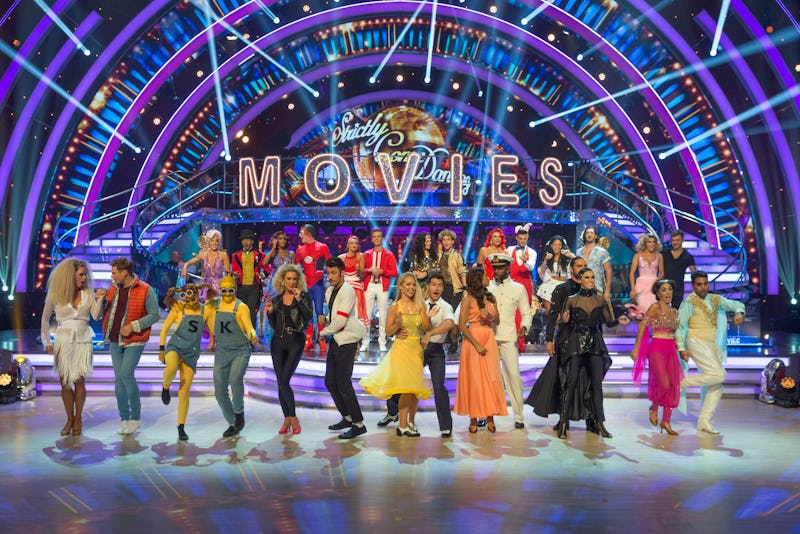 BBC/Guy Levy
The mandatory "Strictly curse" story of Strictly Come Dancing 2018 is upon us, after comedian Seann Walsh and professional partner Katya Jones were spotted kissing in photos published by The Sun. Social media and news reports alike have immediately concluded the duo are having an affair, despite Walsh's relationship with actor Rebecca Humphries and Jones' marriage to fellow Strictly pro Neil Jones. So is there any truth to the rumours? Have Seann Walsh and Rebecca Humphries split up? How about Katya and Neil Jones?
First, here's what's being reported: photos acquired by The Sun appear to show Walsh and Jones kissing after a night out in London. Further photos show Jones posing for a snap taken by Walsh, as well as the pair hugging. Neither Walsh nor Jones have responded to the speculation, while their partners Humphries and Jones have remained similarly silent. I've reached out to representatives for Walsh, Humphries, and Katya and Neil Jones. Katya issued Bustle a statement saying:
"I'm so sorry about any offence or hurt I may have caused with my actions. I wasn't thinking and it was a one-off mistake after some drinks. I love my husband and we are very happy together, this is not a reflection on our relationship."
Prior to that, the only acknowledgement of the situation from any of the involved appears to be a tweet liked by Humphries — and it's not especially revealing. According to The Sun, Hollyoaks actor Kirsty-Leigh Porter, a friend of Humphries, tweeted her a heart emoji, which Humphries liked. And that's about it. Before the reports broke, the actor watched Walsh and Jones perform a Matrix-inspired paso doble on Saturday night's live show — and when the pair just about nailed it, ultimately scoring an impressive 30 points, she burst into tears. Several hours after the story broke, Jones' husband Neil posted a clip of the pair's paso doble to his Instagram, writing in the caption that he's "really proud" of Walsh and Jones.
Newspapers haven't hesitated to invoke the "Strictly curse," the notorious impulse that purportedly compels celebrities and pros alike to abandon their existing relationships and launch into a new one with their dance partners. The curse, according to The Sun, is supposedly responsible for the separation of professionals Karen and Kevin Clifton, the relationship of newsreader Natasha Kaplinsky and former pro Brendan Cole, the marriage of actor Jimi Mistry and former pro Flavia Cacace-Mistry, and the relationship of rugby player Ben Cohen and former pro Kristina Rihanoff.
It's not the most unproblematic of concepts, however — a supposed "curse" is an awful lot of pressure to place on any relationship, and a pretty simplistic way to explain an affair, a relationship breakdown, or the start of a brand new partnership. So in the absence of any word from anyone involved, it's probably best to hold off on speculation about whether Seann Walsh and Katya Jones really are romantically involved, or how either of their partners feel about the situation.