Have We Already Forgotten Heather Heyer?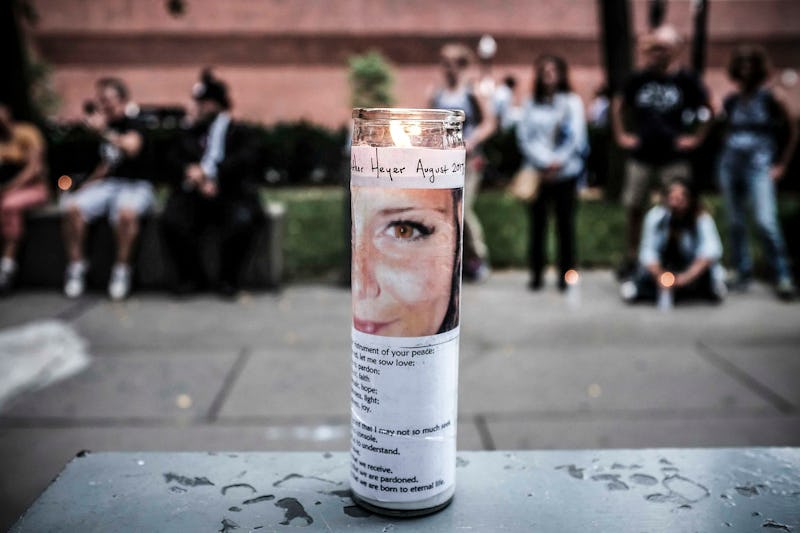 Spencer Platt/Getty Images News/Getty Images
CHARLOTTESVILLE, Va. — Nearly every day since August 12, Kelsey Stephens has visited the intersection where 32-year-old Heather Heyer was killed by a car in Charlottesville, Virginia. Among the dried flowers, stuffed animals and signs on the small-town stretch of road marred by bloodshed, pedestrians could usually spot Stephens — a retired nurse who calls "C'ville" home.
For Stephens the devotion is personal: while she's troubled by the violence and rhetoric white nationalists brought to her adopted hometown, she has her own complicated relationship with Robert E. Lee and the Confederacy. Stephens is a direct descendent of Alexander Stephens, Vice President of the Confederate States of America, the eleven states that seceded from the country during the Civil War.
"I've never been proud of it," Stephens said of her ancestry, steps from the memorial to Heyer in August. While the flowers and posters that lined the street are gone, Stephens says Heyer's memory, and the mark of a disturbing episode in Charlottesville's history, live on.
Only last week, white nationalist Richard Spencer and his followers made a surprise return to Charlottesville, tiki torches in hand, reprising their chant of "you will not replace us." But Stephens is determined to make sure that a message of peace and tolerance is louder. She likes to linger at the intersection and chat with strangers and passersby, keeping the discourse going — and Heyer's memory alive.
Stephens moved to Charlottesville two years ago from Louisa County, 30 miles east. She lives two blocks away from Emancipation Park, the site white nationalists chose to launch a rally around a statue of Robert E. Lee.
"I have never liked it, and I've seen it for years and years and years because I would come to Charlottesville to bring my kids in," Stephens says. "But it's always rankled me."
City officials temporarily draped the statue in a black shroud after white supremacists used it as a rallying point in August. Some residents, like Stephens, are calling for it to be moved.
"I think it would be well-placed in a Confederate Park museum. I don't think it should be destroyed," Stephens says. "I think it should go and I think in place of that, a statue should be made in honor of Martin Luther King, you know, or somebody else of magnitude."
HEYER'S MEMORY FOREVER LINKED WITH CHARLOTTESVILLE
New York residents Ismin Omarata and Joe Perez take occasional trips to Florida and stop to visit friends in Charlottesville along the way.
"It's just more surreal," Perez said, steps from the memorial to Heyer on downtown Charlottesville's 4th Street. "I've seen the videos and pictures, and seeing it in person is just kind of, like, impactful. It's not, like, a thing you see online anymore. It's right in front of you. It's weird and surreal."
"You can't ignore it anymore," Omarata said. "Now, this is right in front if you. This is in your community. You have to stand with her."
"What I see is a city devoted to healing, whatever it takes."
Local artist and landscape architect Jennifer Esser said she finds beauty in the haphazard memorial. "I came to be a witness, and I witnessed that girl getting killed," Esser remembered. "I saw her being pulled away on a stretcher and I couldn't tell what part of her body I was looking at. So walking up here, what I see is a city devoted to healing, whatever it takes."
KEEPING A PAINFUL MEMORY ALIVE
Susan Bro, Heyer's mother, received a standing ovation at a star-studded charity concert in Charlottesville at the end of September, telling the audience, "You make [Heyer's] death and her too-brief life matter even more." She urged the Charlottesville City Council to mount a sign on 4th Street in her daughter's memory, and in the beginning of October, the Council voted to rename a section of the street "Heather Heyer Way."
In the days since, Stephens has continued starting up dozens of conversations with strangers over the city's loss.
"We share whatever is on their mind. I'm a good listener," Stephens says, reflecting her quarter-century nursing patients back to health.
Nearly two months after Heyer's death, she's still visiting the intersection almost every day, striking up conversations with locals and travelers, and looking to build a bridge between America's past and her hopes for its future.