See How One 'Westworld' Star Is Helping To Transform Veterans' Lives In This New Doc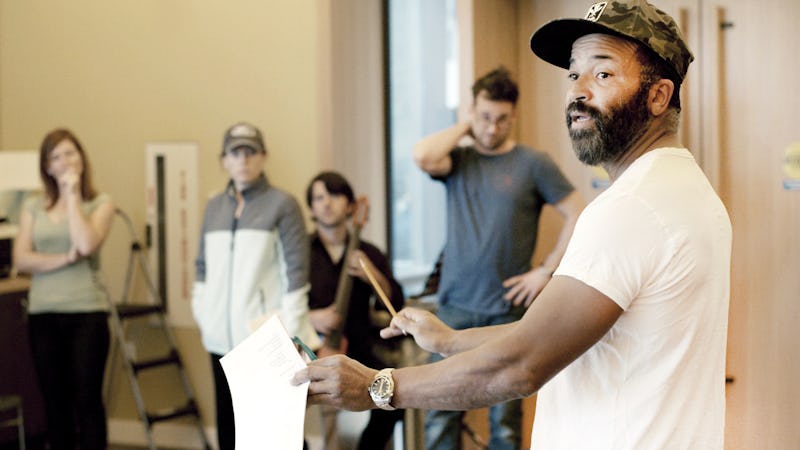 HBO
With Veterans Day approaching, it's a good time to take a moment and appreciate the sacrifices many people make — and have made over the course of history — in service to the United States. As we all know, veterans of military service can face extraordinary difficulties. According to the new HBO short documentary film We Are Not Done Yet, which debuts Nov. 8, up to 20 percent of returning soldiers from Iraq and Afghanistan suffer from Post-Traumatic Stress Disorder. Co-produced by Westworld's Jeffrey Wright, the film highlights what some soldiers are doing to heal, and how important art therapy can be to a returning veteran.
We Are Not Done Yet, directed by Sareen Hairabedian, follows 10 U.S. veterans and active-duty service members from a variety of backgrounds who come together at the USO Warrior and Family Center for a writing workshop led by poet Seema Reza and Community Building Art Works. The vets find an outlet and catharsis in their writing and, as a special project, Wright acts as their director to help them put on a live staged reading that leads to the intense release of emotions that these solders have been holding inside for years.
Many of the vets featured in the film don't immediately seem like the artistic or demonstrative type, which is why the outpouring of the writing and spoken word feel like such a positive turnaround. Many of the vets in the film feel abandoned by the United States Department of Veterans Affairs, citing the lack of mental health support since they returned. "I understand that the military keeps rolling," says Vainuupo "A.V." Avegaleo, a resident of American Samoa, "but they should also take care of the people that they break."
Some of the memories shared by the vets can extremely difficult to hear, the details jarring and violent, but their courage in sharing their stories, either out loud or through their writing, is a service it feels like we all owe them. "It's hard to do normal, human things when you're wearing your trauma on your sleeve," says Marine Joe Merritt. When he returned from war, his father encouraged him to talk to him if he needed to, but it was easier said than done. "It's hard to just say, 'Hey dad, I saw people burn to death. Can you pass the mashed potatoes?'"
All the more poignant right now are the film's accounts from female veterans who have PTSD as a result of sexual assault they experienced during their service. Early in her career, one army vet was inappropriately touched by a higher-ranking officer, and when she reported it was told, "Do you understand this gentleman has served honorably?" She dropped that complaint, but says she has been raped several times. Combat may be the leading cause of PTSD among men in the military, but sexual trauma is the leading cause of PTSD among female vets, according to the Journal of Military and Veterans Health. Army vet Valerie Stemac feels as if she has to prove she deserves the medical treatment the VA provides since she doesn't have any visible ailments. "I have to put on my sexual assault as like a badge that I belong here, that I deserve medical care," she says.
But projects like the one the film highlights are definitely working. According to a study cited by the Department of Veterans Affairs, expressive writing actually helps to reduce symptoms of PTSD. Other forms of art therapy, like drawing and painting, the Journal of Military and Veterans Health reports, can be a beneficial accompaniment to regular therapy and vets who participate in those activities may "be at less risk for developing greater PTSD symptom severity." But just letting the veterans in the film speak for themselves about the project says it all: "This might have been the most beneficial thing I've done in my life out loud," say Merritt after their emotional performance.
For all the rigidity that military service brings to mind, those who do serve need just as much emotional support and unrestrained catharsis as any of us. We Are Not Done Yet shows just how important the arts can be to that process.