Heidi Cruz Would Like Some Appreciation For Supporting Ted's Political Career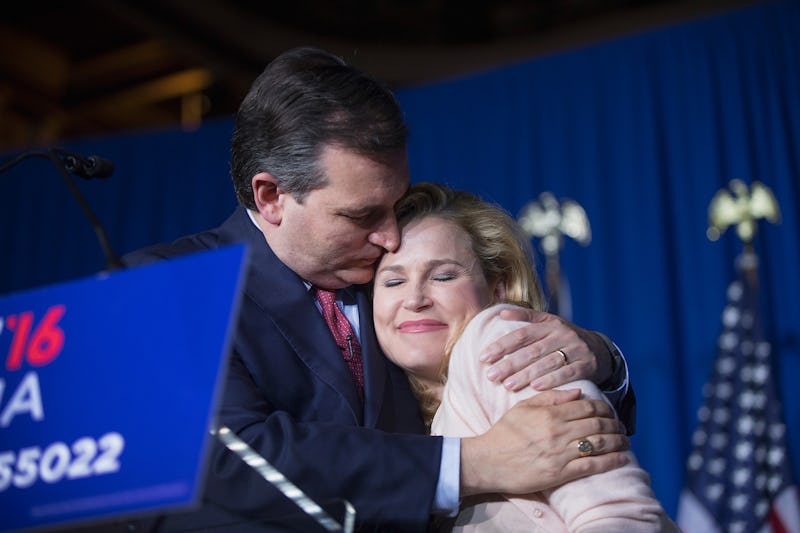 Scott Olson/Getty Images News/Getty Images
Even the families of noted conservative senators can break gender stereotypes. After all, positions in government generally bring home less money than the private sector offers. Ted Cruz's family, it turns out, is a good example of this. Heidi Cruz's family role as a political spouse involves a lot — being the breadwinner while also representing her husband on the campaign trail — and according to an in-depth interview with The Atlantic, Heidi would like a little bit more appreciation for her efforts.
"I really feel mission-driven on what he's accomplishing. It does take some supportiveness, you know," Cruz told The Atlantic's Elaina Plott. "Six to seven years in it, with me being the primary breadwinner — it's like, 'Uh, yeah, this is when people say thank you. I'll now take that appreciation.'"
"Yeah, we're seven years into this, and we're not buying a second home anytime soon," she added.
While she's so far only been known nationwide as the wife of the senator and erstwhile presidential candidate from Texas — and, unfortunately, as the butt of one of then-candidate Donald Trump's demeaning jabs — Cruz has a professional life of her own. And it's an extremely successful one.
Cruz, according to The Atlantic, is a Harvard Business School graduate, and a former member of the George W. Bush administration. She only left the East Coast because of Ted's political ambitions, but the move to Texas didn't force her to entirely give up her career. She stepped in as a vice president at Goldman Sachs in Houston in 2005, according to her LinkedIn profile, and she later became a managing director at the firm in 2013.
Her husband's 2016 presidential run, however, led her to take a career break — but she told The Atlantic that she joined the campaign with her own reasons in mind.
"I realized early on that if I didn't do this for my own reasons, and I did it to help Ted … that I could very easily resent everybody," Cruz said. Her motivations, she said, were the Tea Party principles that she and Ted both believed in, and that she believed Ted would bring about in the country if he did come to occupy the Oval Office.
The political spouse told The Atlantic that she remembers her daughter Caroline telling her that leaving her job was "a bad deal" for her. Given the scrutiny that she ended up having to face on the campaign, whether in the form of Trump's insults or simply through her position as a softening figure for a politician roundly disliked even by his peers, her daughter may have had a point. When Ted dropped out of the race, Cruz told The Atlantic that she wasn't entirely disappointed.
"I don't know that I even shed a tear," she said.
Despite the break, her career doesn't seem to have taken a permanent hit. She came back to Goldman Sachs in 2016 in a specially created national role, as the Houston Chronicle reported at the time. Now, with Ted's surprisingly close midterm race against Democratic candidate Beto O'Rourke, Cruz is back in the role of campaign wife. She hasn't left her demanding job, though, so it's a little different this time around, according to The Atlantic.
"I really hope he wins his reelection," Cruz said. "I help out on the weekends where I can."