Heitkamp's Kavanaugh Vote May Have Helped Her Raise Serious Cash — But Will It Be Enough?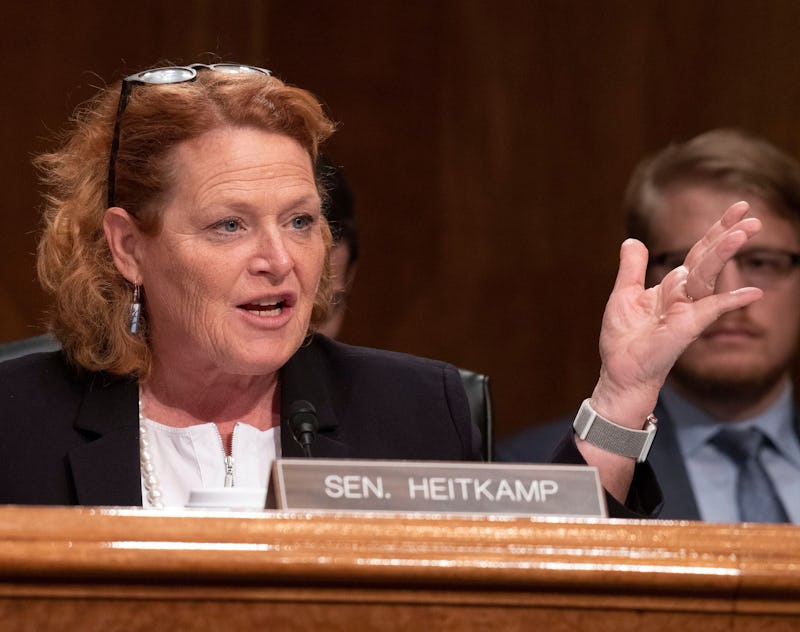 Shutterstock
North Dakota Sen. Heidi Heitkamp is perhaps one of the Democratic party's most endangered Senate incumbents as polls continue to show Republican Rep. Kevin Cramer holding a double-digit lead ahead of November's midterm elections. But while Heitkamp may be trailing Cramer in the polls, there appears to be at least one campaign area where she's ahead of the pack. According to CNN, Heitkamp's donations increased after she opposed Brett Kavanaugh's nomination to the Supreme Court.
Donors gave $12.5 million toward Heitkamp's reelection campaign in roughly the first two weeks of October alone, a significant uptick from the $3.8 million she raised from July to September, CNN reported. According to the cable news network, roughly 60 percent of the individual contributions that helped Heitkamp raise $12.5 million came from donors contributing in small amounts.
In contrast, CNN journalist David Wright reported that West Virginia Sen. Joe Manchin, the only Democratic senator to support Kavanaugh's nomination, managed to raise $313,000 for his reelection campaign over the same 17-day period in early October.
Heitkamp's post-Kavanaugh vote fundraising has reportedly left the Senate incumbent with $11.1 million to spend in the final 10 days before voters head to the polls for midterm elections, CNN said a report filed by Heitkamp's campaign with the Federal Election Commission showed. A filing from Cramer's campaign showed he had less than $1 million left to spend.
It's unclear, however, whether Heitkamp's post-Kavanaugh vote donations came from North Dakota voters or from out-of-state supporters. In fact, polls have shown that Heitkamp's opposition to Kavanaugh may not have been a move particularly popular with voters in North Dakota, a state President Donald Trump won in the 2016 elections.
Recent voter polls show Cramer, who once questioned whether a sexual assault allegation should serve to disqualify a Supreme Court nominee even if it was found to be true, has increased his slight lead to be one of double digits. A Gray Television poll released Wednesday reported Cramer held a 16-point lead over Heitkamp, according to The Hill. What's more, the poll also showed an uptick in the number of voters reporting to have an unfavorable opinion of Heitkamp, jumping from 41 percent in the outlet's previous poll to 52 percent Wednesday.
However, just 12 percent of voters polled in North Dakota as part of the Gray Television poll said that they considered a candidates' stance on Kavanaugh to be the most important issue, per The Hill.
Heitkamp has previously said that her decision to oppose Kavanaugh's nomination was not meant to be a partisan move. Rather, the North Dakota senator claimed she was prepared to support Trump's Supreme Court pick until she saw how he behaved when questioned by the Senate Judiciary Committee.
"I was deeply disturbed by the lack of judicial temperament and the lack of impartiality," she said earlier this month, as The Washington Post. "When he was put in a tough spot and asked a tough question, his response was to attack and double down."