Helen Hunt Responds To Bill Paxton's Death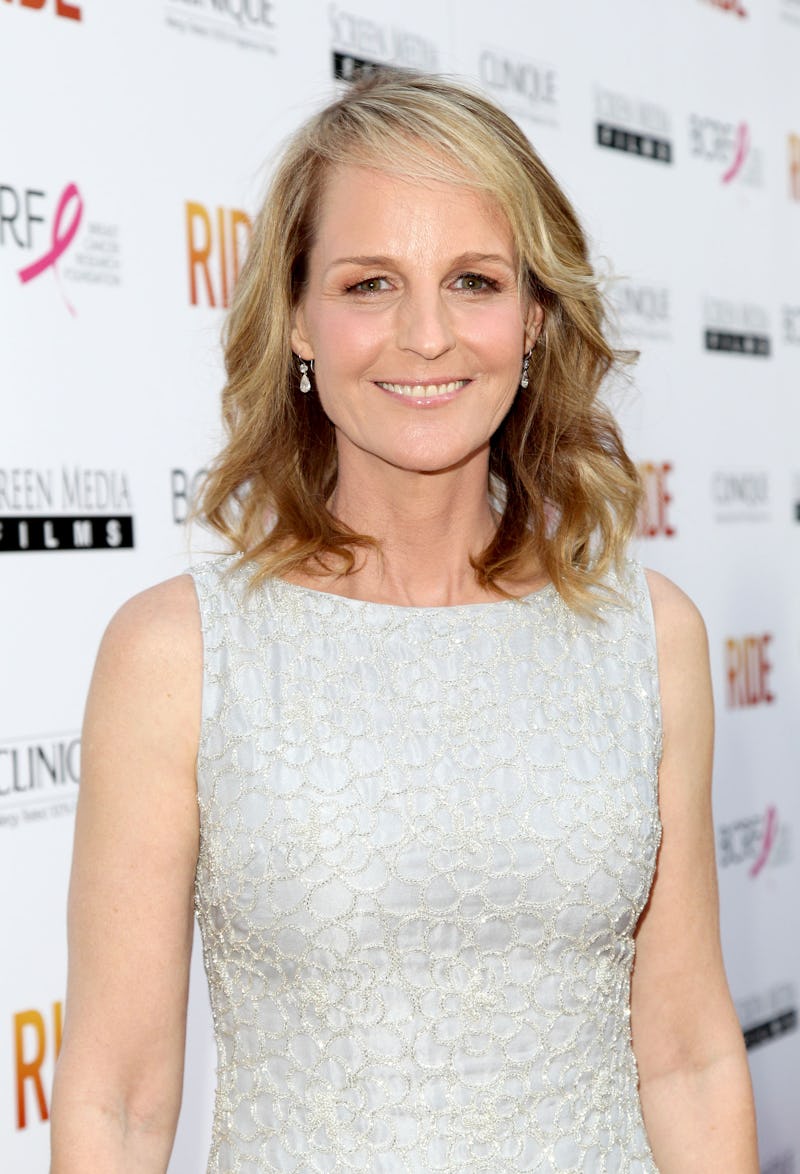 Rachel Murray/Getty Images Entertainment/Getty Images
On Sunday, prolific actor Bill Paxton passed away suddenly. Paxton was a true star, known for roles in films like Titanic and Aliens as well as on television series like Big Love and Hatfields & McCoy. The actor won an Emmy award for the latter, and was nominated for many other awards throughout his career. His presence in Hollywood will be missed, and many fellow celebrities reacted to Paxton's death online. One of Paxton's most notable roles was as Bill Harding in the 1996 film Twister, a disaster film where he starred along Helen Hunt as a storm chaser researching tornadoes. On Sunday, Hunt paid tribute to Paxton with a moving message that honors her former co-star beautifully.
Twister is an iconic disaster film, based on a screenplay by Michael Crichton and directed by Jan De Bont. The movie also had several noteworthy producers on board, including Steven Spielberg, Walter Parks, Laurie MacDonald, and Gerald R. Molen. When it came out in the '90s, it was acclaimed as a nail-biting thriller, and this is largely in part to Paxton's riveting lead performance. Paxton starred in many science fiction films, action movies, and thrillers, but Twister is remembered as featuring one of his best, most entertaining performances. So it's fitting that Hunt posted an iconic still shot from the movie on Twitter to show her love for the late actor.
The tweet read, "He made this movie great — he acted his heart out. What a talented man. My thoughts are with his family." The shot from the movie shows Hunt and Paxton bracing for the force of a storm. It's a moving tribute to the actor's talent, and to his loving family. Paxton had been married to Louise Newbury for 30 years, and they had two children. Paxton's son, James, is also an actor.
Paxton's loss was unexpected and tragic, and it was met with sadness from both his loved ones and Paxton's peers in Hollywood. Other stars tweeted about the actor's death on Sunday, including Rob Lowe, William Shatner, and Marc Maron.
Of course, given Hunt and Paxton's on screen history, the actor's tweet is particularly moving. Over the past few decades, Paxton has been a prolific and versatile actor. He's starred in everything from teen films like Weird Science to action movies like The Terminator, but it's his role in Twister that, for some like Hunt, was the most impactful of all.