These Hello Kitty Bath Bombs Have Hidden Treasures Inside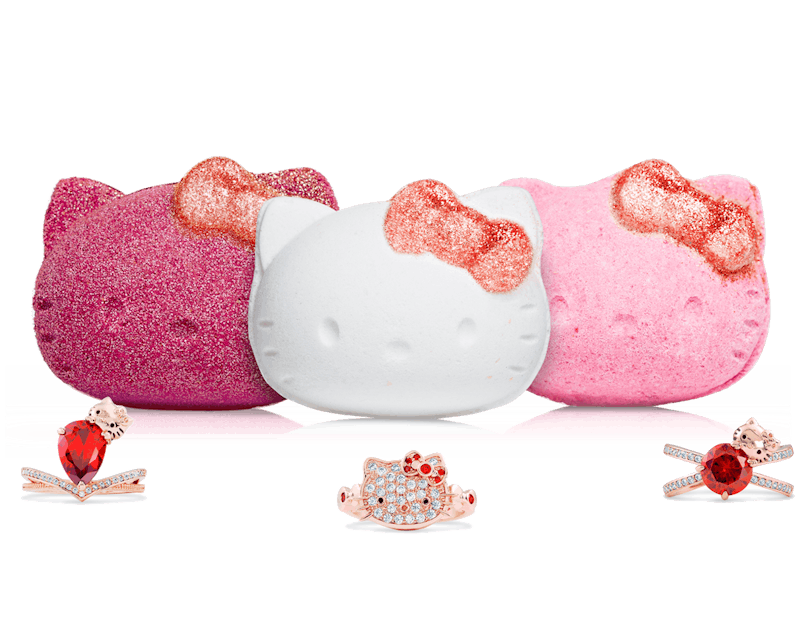 Courtesy of Fragrant Jewels
A bath bomb isn't just a bath bomb when the mysterious Hello Kitty is involved. Fragrant Jewels just released Hello Kitty Bath Bombs, and they are incredibly special. The tub trio features three almost-too-cute-to-use bath bombs in red, white, and pink iterations with rose gold mica bows and something special inside — a ring!
The bombs are formulated with skin-loving ingredients like shea butter and sweet almond oil so your skin will be soft and glowing. The aroma is a specially blended Hello Kitty fragrance, which features notes of guava, coconut milk, ginger blossom, and dewy cassis.
Like all bath bombs, this soap ball will turn your bathroom into a sophisticated spa. However, since the Hello Kitty bombs have rings inside, your tub also morphs into a jewelry store.
Here's how it works: You select your ring size when you order this bath Holy Trinity for $42.95. When they arrive, drop a tub treat into the water and watch as it turns a pretty color. The ring, nestled in a protective plastic container, floats to the surface and includes a secret vault code, where you have the chance to win another ring worth up to $10,000. Whoa!
This is the face of a skin care gift that keeps on giving.
It literally is fragrant jewels. And really pretty millenial pink water.
There is also a candle and bath bomb set, if that better suits your bathroom spa x jewelry store experience.
There are 10 ring styles, like this one, which boasts the signature HK head silhouette and bow. They were designed exclusively for this collection and are valued at $30.
Fancy, right?
These bath bombs are so extra, thanks to these rings.
There are some subtle variations in the ring styles.
In case you need further clarification on the "process," check it out. I may have just made the purchase myself.