Michelle Obama's Dancing Will Get You Through 2017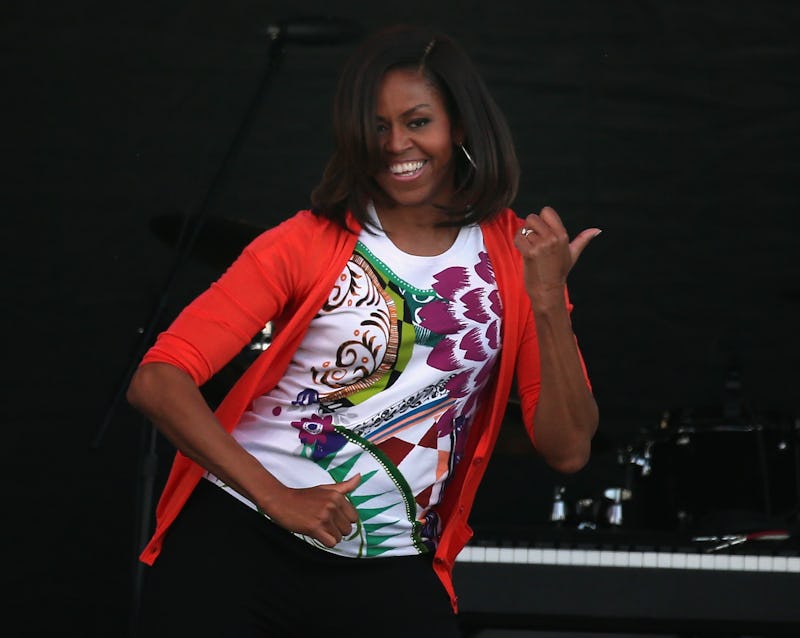 Mark Wilson/Getty Images News/Getty Images
As President Obama's second term winds down, now is a great time to look back at all of the joy the Obama family has brought to the country. And at a time when we're facing a Donald Trump presidency, we can use all of the positive feelings we can get. So, what better way to look back at the Obamas' legacy than remembering all the times Michelle Obama mom-danced her way through her role as First Lady.
During Barack's presidency, Michelle has been very active in supporting causes she believes in. She's encouraged healthy eating habits, promoted an active lifestyle for kids through the Let's Move! campaign, and created the initiative Let Girls Learn to assist girls worldwide in attending school. And along with all of these programs and initiatives has come a fun side from the First Lady that happens to include a willingness to get up and dance once in a while.
Whether it was for her famous "Turnip for what?" Vine that went viral or her "Evolution of Mom Dancing" with Jimmy Fallon, MObama knows how to let loose. Here, a look back at the times Michelle has danced her way into our hearts.
When She Co-Hosted With Ellen
In September, Michelle co-hosted The Ellen DeGeneres Show. After Ellen introduced her, Michelle danced her way out onto the stage, then took a minute to dance with Ellen herself. Wearing a gorgeous Gucci dress, the First Lady executed the moves flawlessly.
When She Busted Some Moves At The Easter Egg Roll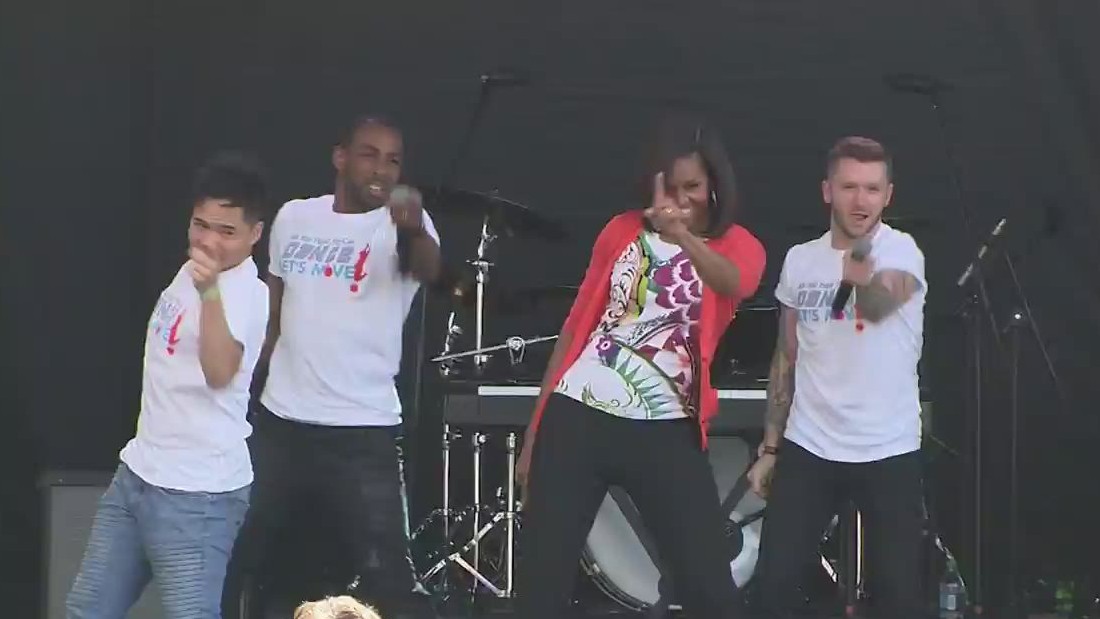 FLOTUS joined the cast of So You Think You Can Dance onstage in honor of the fifth anniversary of the Let's Move campaign.
When She & Barack Danced To "Thriller"
The POTUS and FLOTUS hosted Halloween at the White House and broke out their best Michael Jackson moves for a tribute to the singer.
When She Showed Jimmy Fallon Some Moves
Michelle was a guest on The Late Show With Jimmy Fallon to promote the Let's Move! campaign. The two capitalized on the popular Evolution of Dance video and riffed on mom dancing.
When She Reprised Her Mom Dancing Routine
FLOTUS returned to Jimmy Fallon's show to promote Let's Move! and Gimme Five challenge to show off another roster of mom dancing.
When She Taught Jimmy Fallon & Will Ferrell To Exercise
Michelle stopped by Jimmy Fallon once again to talk about Let's Move! as well as the Affordable Care Act.
When She Got Down With Some Stormtroopers
To celebrate Star Wars Day (May 4) Michelle and Barack danced to "Uptown Funk" with R2-D2 and a pair of Stormtroopers.
When She Danced To Beyonce
Michelle visited a school in D.C. to promote Let's Move! and danced to Beyonce's remix "Move Your Body," which she created for the campaign.
When She Freeze-Danced With A Pre-K Class
Michelle is clearly not the kind of First Lady who puts out an initiative and then doesn't follow up on it. One of her many events to promote Let's Move! included stopping at a local elementary school to dance with the kids there.
When She Sang With James Corden
In a very memorable episode of "Carpool Karaoke," Michelle joined James Corden for a drive around the White House where the two jammed to Stevie Wonder, Beyonce, and were joined by Missy Elliot.
As we get ready to say goodbye to the Obamas in January, it's difficult to think of someone else trying to fill Michelle's shoes. As an unflappable, kind, intelligent, and hardworking First Lady, she will be missed by so many Americans.