What Women On 'The Bachelor' Packed For The Show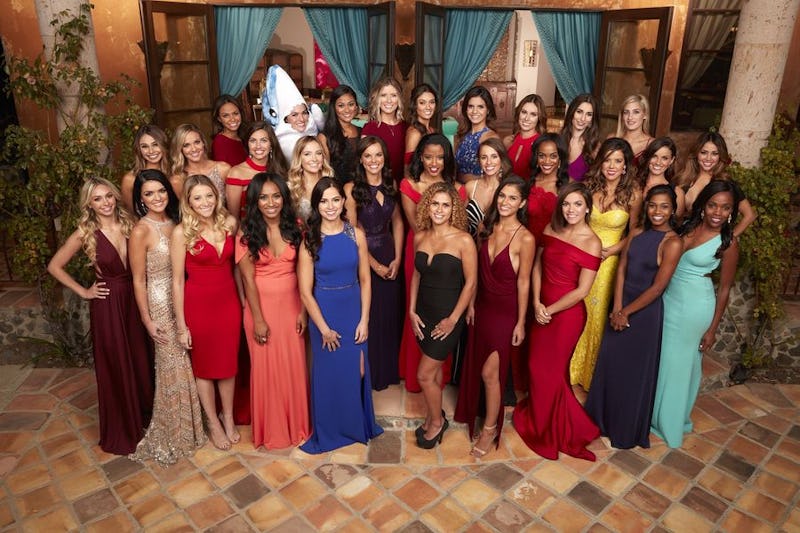 Behind the well-produced magic of The Bachelor, there's the nitty-gritty that, duh, these are real women traveling from all over. So before the ~shocking quotes and ~character revelations, each contestant is responsible for hauling all the stuff they need to set, making for some truly fascinating luggage decisions. When the whole world is watching, who do you want them to see? No pressure, but have your nanny pack well (jokes). Thanks to some investigative work by Glamour, we know exactly what Bachelor contestants packed to place their bets.
The mag got behind-the-scenes glimpses into four contestants' closets and makeup bags, and obviously they don't disappoint. Corinne, Raven, Susannah, and Vanessa walked cameras through what they brought and the thought process behind it all, from the difference between a pink and black Beautyblender to hopes for an occasion that could call for feathered dresses (classic The Bachelor).
One undebatable highlight: Corinne pouring out her huge makeup bag, playing to every makeup lovers' heart with Giorgio Armani Luminous Silk foundation, Kylie Cosmetics' LipKit in what looks like Posie K, and Tarte Rainforest of the Sea™ Aquacealer Concealer. An Internet makeup lover after our own Instagram heart. Could she be wearing Posie K here? Maybe. Just try and focus on her lips with the words "planned dancing" emerging from them.
Things keep up from there with Raven's very literal black and white approach — there's never been a more Bachelor reasoning for a white ruffled shirt than "cute conservative in the front, party sexy in the back." Other tips include pairing a black silk dress with a jean jacket, which, maybe. I'd like to see it.
Susannah took a leaner approach to packing for eight weeks, with a suitcase whittled down to the basics, like an elegant, deep-backed merlot gown and pale pink strapless feathered dress. I think we can all relate, which sounds sarcastic, but no, really! She says she's only been able to wear the feather dress once, and when else but The Bachelor to whip out your "back of the closet" dress. Get that second wear, Susannah.
Canadian Vanessa takes the screen next, walking viewers through her tiny makeup bag and three suitcases of clothing. She's got the goods, though — especially in Canadian brand Lise Watier's bronzer, which we don't have in the US so is automatically better. M.A.C. under eye concealer and an eyelash curler topped with Urban Decay's Perversion mascara round out her routine, and it's a good thing it's slim, because Vanessa packed for every possible climate. A well-prepared woman.
Ski jacket, tank tops, javelin-throwing bra, she's got it all.
Images: The Bachelor/ABC