How The Workday Was Affected By The Women's Strike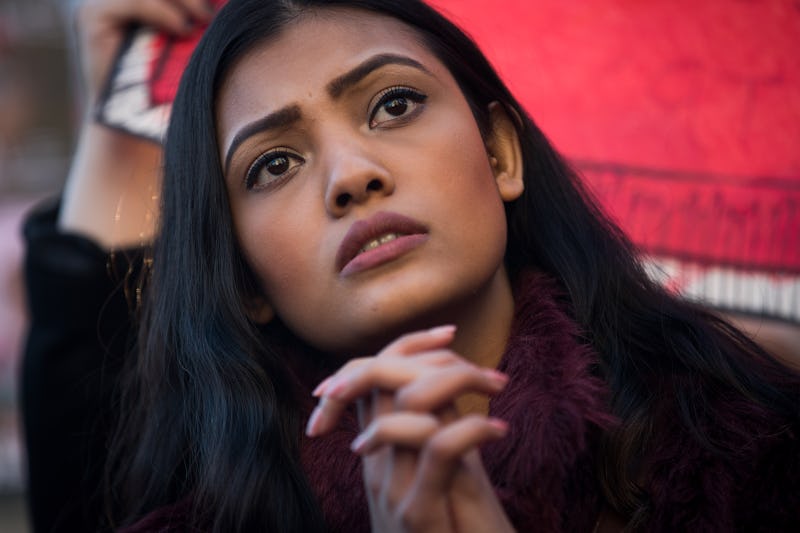 Drew Angerer/Getty Images News/Getty Images
International Women's Day has been observed for decades, but IWD 2017 was perhaps the most attention the celebration of women and women's rights has received in recent years. Women took part in events and demonstrations all over the world to mark the day. Large rallies and demonstrations took place in major U.S. cities like Chicago, Washington D.C., and of course New York City where, according to NBC News, 13 Women's March organizers were arrested during the protests. But just how did the Women's March Strike affect the workday in the U.S.?
That question is a tricky one to answer broadly in the immediate aftermath of the strike, but there are many indications that many workdays were stifled by the strike. For example, schools and school districts were hit particularly hard by IWD 2017 strikes. According to BuzzFeed News, several schools in were forced to close for the day in North Carolina, Virginia, and Maryland after overwhelming staff leave requests. And, as CNN reports, those closures left many working parents struggling to arrange for last-minute childcare.
The effect of the strike in other industries, though, is a bit harder to put together. As the Washingtonian reported, many D.C. restaurants stayed open on IWD 2017. But some made arrangements for women employees to take the day off and have their shifts covered by men. Several media companies (Bustle included) "went dark" on IWD 2017 to highlight the contributions of the women on their staffs, with many of those companies using social media to promote past work produced by women.
But of course, not every American woman could or wanted to participate in the strike by taking the day off work. Some folks showed solidarity while working by wearing red and/or donating to organizations that support women. Still others, such as conservative talkshow host Tomi Lahren, were outright opposed to the strike.
One of the few things we can be sure of about IWD 2017 is that American womens' participation in the strike was nowhere near 100 percent. If it had been, though, the economy would have taken a huge hit. According to the Center for American Progress, a full strike of all paid working women in the U.S. would have resulted in a $21 billion loss in the GDP with the state of California losing the most. And that's not even including the losses that would be due to womens' striking from the unpaid labor they do for their families. And, as VICE News found, nearly all early childhood care and education institutions and companies would have shut down.
The full picture of how the IWD 2017 strike affected the nation's economy will take time to realize. But perhaps the most immediate effect is that people everywhere were prodded to consider the value of women's labor, paid and unpaid, and its important place in their lives. With IWD 2017 now behind us, people have seen what a day without women can look like.
Here's to an even bigger IWD 2018.