Here's How To Help Flip Districts Blue, Even If Yours Is Red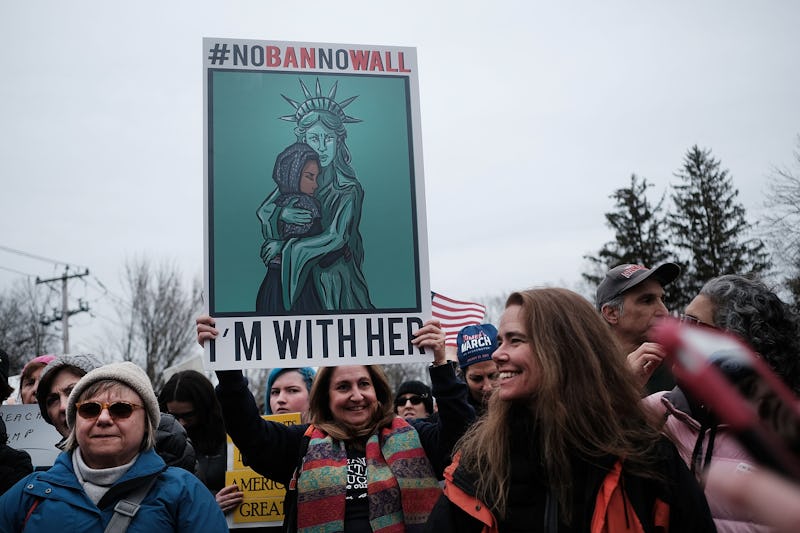 Spencer Platt/Getty Images News/Getty Images
Even if your arms are getting sore from holding protest signs and your voice is getting hoarse from calling your elected officials, you're not out of options to resist Trump. The 2018 midterm elections may seem far away, but in the pace of politics, they're relatively just around the corner — and they represent the next, best chance Democrats have to restrict Donald Trump's power. That's why grassroots resistance organization Swing Left has just launched a national effort to win back the House of Representatives for the Democrats.
Swing Left is offering Americans ways to get involved in flipping the House for the Democrats, even if your own district is hopelessly red or already very blue. Swing Left connects you to volunteer opportunities at the closest district where canvassing and voter registration efforts are needed. It was originally launched as a service to help connect would-be activists with the swing district closest to them, but has since evolved to a concerted, national effort to shift the House leftward.
With over 300,000 people signed up to help effect political change in local swing districts, according to the organization, Swing Left is looking to make the biggest impact it can on the upcoming midterm season.
Swing Left's co-founder, Miriam Stone, tells Bustle about her involvement in politics stems from her own disappointment in the election. Believing that progressive momentum would carry Democrats to victory, Stone admits, "I didn't do very much, or really anything at all, in the last election."
I really, truly believed that we would have our first female president. I really envisioned that that was the kind of world my kids would be growing up in, and when that didn't happen, I was really devastated and shocked.
Upset and surprised by the election's outcome, and worried for the future her daughters would have, Stone is now committed to resistance against Trump. "I really, truly believed that we would have our first female president," she says. "I really envisioned that that was the kind of world my kids would be growing up in, and when that didn't happen, I was really devastated and shocked. And I just felt immediately like, 'Oh, my God, I should have done more. Now is the time. I have to do something.'"
Now, she and the other member of Swing Left are transforming that shock into campaigning ingenuity. On Thursday, Swing Left announced the District Funds Initiative, a nationwide fundraising effort to create pots of money for each Democratic candidate for the House of Representatives. After primary season is over, each Democrat will have money waiting for them that's been raised by Swing Left's efforts, according to Swing Left's founders.
"This model of fundraising has never been done before in a congressional race," Stone say.
Stone says she hopes that having money already waiting for Congressional candidates will inspire people from diverse backgrounds to run for office. "Research has shown that for women and minorities, people tend to be intimidated by running for office, in part because of the challenge of fundraising," Stone says. "We think that's really gonna help attract people maybe who are younger, who've never done this before: people who might not typically run. So we're really excited about that possibility."
Swing Left will also be active during Democratic primaries in swing districts, but Stones says its policy is to refrain from endorsing candidates, focusing instead on improving voter awareness and turnout. "But once a candidate emerges [from the Democratic primaries], is elected by the district, we have a grassroots army waiting to support them," Stone says.
That "grassroots army" has already begun its work. A team of over 7,000 volunteer researchers has compiled field guides to each swing district — in English and Spanish — and is now working on identifying local activist groups with whom Swing Left can work, according to Stone. For example, in Georgia's Sixth district, which has an upcoming congressional election to replace now-Secretary of Health and Human Services Tom Price, Swing Left is partnering with local group Sixth District Task Force.
Swing Left's website has resources for every swing district in the country. The group provides a toolkit to host a house party to raise awareness and funds and offers email listservs for users to get updates about events in their area. Each swing district also has its own events calendar, where users can locate open fundraising and voter registration events near them.
Swing Left is aiming to get volunteers more involved with on-the-ground efforts, such as calling voters and canvassing door-to-doors. While such steps may be more time-intensive than other forms of political support, Stone is hoping that Swing Left will mobilize people, especially millennials, into stepping up their activism. After all, flipping the House really may depend on it, says Stone: "I think the work that will really win elections is also going to happen on the ground."