Here's What Nick & Vanessa Lachey Are Watching On Netflix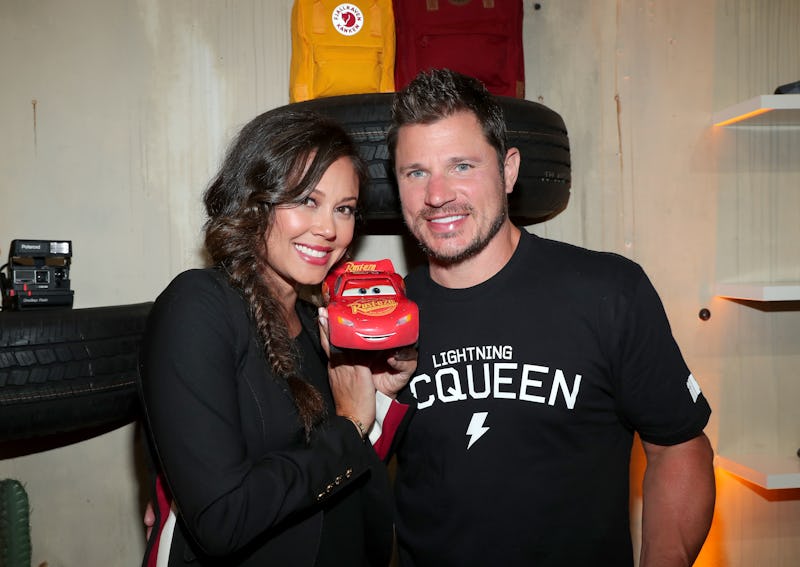 Rich Polk/Getty Images for Disney Consumer Products
If you've ever walked along Melrose Avenue in Los Angeles, you know that it's a great place for people watching, and the Disney Cars 3 x Sportie LA Fashion "Pit Stop" was certainly no exception. The Pop-Up kicked off with an amazing party that had a stellar guest list, including Nick and Vanessa Lachey. The couple now has three children, one of which is a newborn, so they are more than familiar with the Cars franchise. But when the parents aren't watching cartoons with their kids, they're doing what most couples do: catch up on Netflix.
Right now, the Lacheys are streaming episodes of 13 Reasons Why. Vanessa Lachey tells me, "We have to do shows that are Netflix, I think, because we can get to it [on] Monday or Tuesday.. or maybe we can get three episodes in one night." Nick adds in, "Most of our shows are either on-demand or on Netflix." Because when you're as busy as they are with a big family, the last thing on your mind is tuning into a show at a specific time on a specific channel.
Come July, the Lacheys will be married for six years. Their secret to making it all work is simple. "Communication. One hundred percent...talk about what's on your mind...what you love about the other person...what bothers you or what you take pride in, or what annoys you — the good and the bad — you have to communicate," Vanessa shares with me. They tell me that they share everything with each other, without holding anything back. The Lacheys also mentioned the importance of date night to keep them close and connected.
Having three kids can make scheduling a date night tough, as the Lacheys tell me it can be a task finding a babysitter for the night, but they try to make their plans as spontaneous as possible. "Concerts, too," Nick adds. Whether it's a concert or a dinner date to catch up over, the pair make it a priority to keep their one-on-one nights fun and exciting.
Even though Nick and Vanessa Lachey's lives seem picture perfect, there are still things they wish they would've known when they were younger. Nick's advice? Live in the moment. "Life can go so fast and fly by you and you look back and go, 'Wait a minute, did I even live that moment or was I kind of like, [just] along for the ride?" he shares. Vanessa's advice is equally inspiring. "Life gets better," Vanessa tells me. And hey, she's definitely one to listen to. "I get the guy, I get the kids, I get the life."
To learn more about the Sportie LA x Cars 3 "Fashion Pit Stop," which will be open until Sunday, June 18, click here.