Here's What The New Philando Castile Video Shows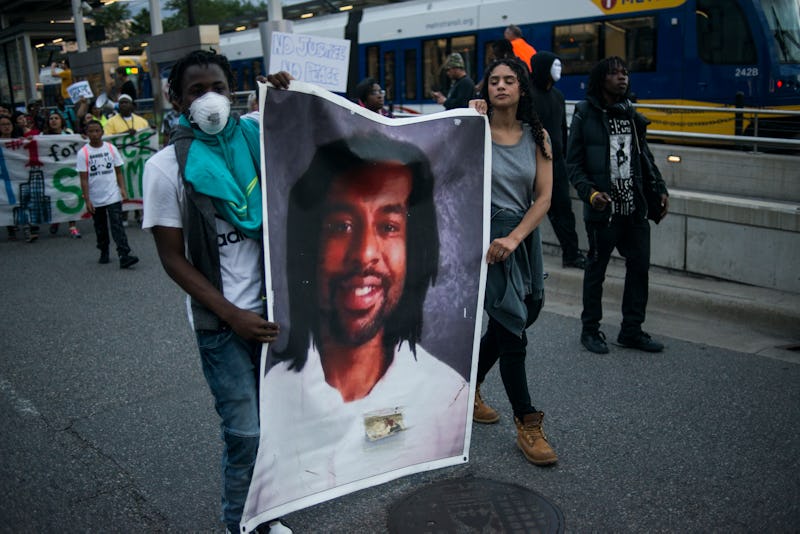 Stephen Maturen/Getty Images News/Getty Images
When a Minnesota police officer was acquitted last week in the fatal shooting of Philando Castile, the decision reignited debate over the use of deadly force by police. Castile died in July of 2016 at the hands of officer Jeromino Yanez during what had appeared to be a routine traffic stop. Days after the verdict was announced in Yanez's trial, new dashcam footage released on Tuesday showed Castile on video warning Yanez about a firearm in the vehicle.
The video shows Yanez pull Castile over. The 32-year-old had been driving with his girlfriend, Diamond Reynolds, and her 4-year-old daughter near St. Paul, Minnesota. Yanez told Castile that he had been pulled over for missing multiple brake lights. After explaining the burned-out brake lights, Yanez asked for identification from Castile, which Castile is seen in the video providing. Shortly thereafter, Castile is heard telling Yanez about a firearm in the vehicle.
"Sir, I have to tell you, I do have a firearm on me," Castile clearly said. Yanez replied with, "O.K.," and, "Don't reach for it, though."
The graphic video footage, reportedly taken by a dash-mounted camera in Yanez's vehicle, shows a disturbing scene. If you want to watch, it can be viewed on social media.
Tensions then appeared to escalate. Castile and Yanez talk over each other, making it difficult to know for sure what they were saying. However, it sounds from the video like Castile had tried to say, "I'm not pulling it out," at the moment just before Yanez began shooting. Several gunshots are heard, with screams coming from the car. The video continues on, showing the aftermath of the shooting. Some of those moments were previously shown in a live-stream started by Reynolds from the passenger seat of the car.
Yanez faced multiple charges, including second-degree manslaughter, for the fatal shooting. According to The New York Times, he was acquitted of all charges on Friday, after five days of deliberations. The dashcam video was reportedly considered in the trial, as well as the video taken by Castile's girlfriend. After the dashcam video became public on Tuesday, many social media users questioned the verdict.
A lawyer for Yanez told the Times, "The state didn't have a case in the first place." Although acquitted, Yanez will not return to his previous job — he was reportedly removed from patrol. The dashcam video ultimately wasn't enough to convince a jury that Yanez should be convicted for Castile's death.
By drawing attention back to the Minnesota case, however, the video has renewed concerns over the way that police officers respond to tense situations and the force that they deem appropriate in those situations.