Here's What Trump & Putin Said About Each Other At Their Photo Op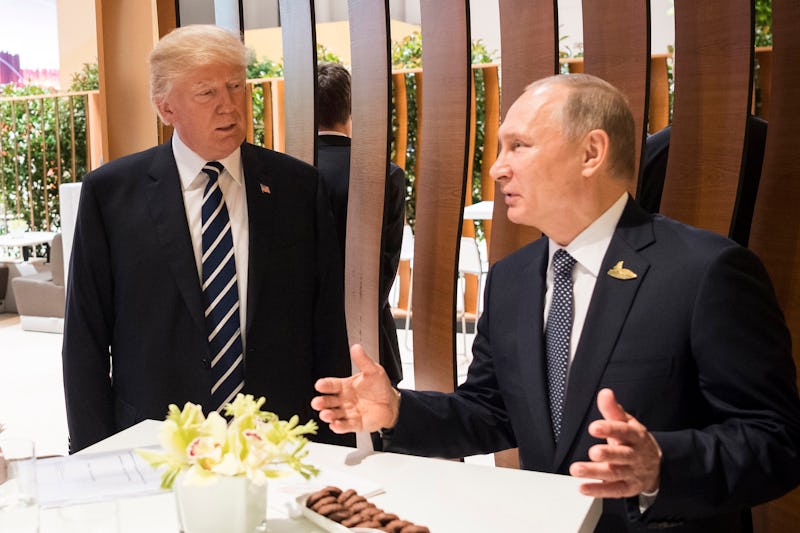 Handout/Getty Images News/Getty Images
In what was one of the most highly anticipated events in modern diplomatic history, President Trump held a sit-down with Putin before their G20 bilateral meeting on Friday.
"It is an honor to be with you," Trump told his Russian counterpart in front of a bevy of reporters.
"I'm delighted to be able to meet with you," Putin replied.
This is the first face-to-face meeting the two world leaders have had, though Trump frequently said he had a close relationship with Putin before becoming president, later contradicting himself. Before the meeting, the two held a brief sit-down and photo op, including a handshake.
Despite all the talk in the lead-up to the meeting, the photo-op was somewhat conventional, not so different from how Trump has met with numerous other world leaders. The two sat somewhat awkwardly at separate chairs, and both made brief remarks, translated back and forth between English and Russian. They expressed optimism that their bilateral meeting would lead to productive discussion and looked forward to positive results. Putin talked about how the two had spoken before on the phone, but said that meeting in person was better.
In some ways, how conventional the meeting was is news in and of itself. Russia and the United States have developed an increasingly adversarial relationship in recent years, with things like the Russian invasion and annexation of parts of Ukraine, Russian cyber-attacks during the 2016 U.S. election, and Putin's history of human rights abuses having strained relations. But unlike his predecessor, who had treated Putin with some guardedness whenever the two interacted, Trump greeted Putin as a friend.
Some took issue with Trump's use of the word "honor" when meeting publicly with Putin. When meeting with non-democratic leaders, U.S. presidents frequently go out of their way not to say or do anything that could be used for propaganda purposes by the autocrat they're meeting with at home. Think, for example, of Obama's awkward, non-handshake with Raul Castro in Cuba.
The freelance journalist Yashar Ali broke down how U.S. presidents usually treat interactions like this:
And Gary Kasparov, the former Russian chess grandmaster who became an anti-Putin dissident and fled Russia to the United States, pointed to how an image from the sit-down, where Trump and Putin shook hands, is already being plastered across Russian state-run media.
After the photo-op the two went behind closed doors for talks. What was supposed to originally be a 30-minute meeting stretched on to more than two hours.
As of press time, there were few details about what was discussed, but presumably, they had a lot to talk about.