Let Hillary Clinton Explain Why Misogyny Is "Darker" & More Toxic Than Sexism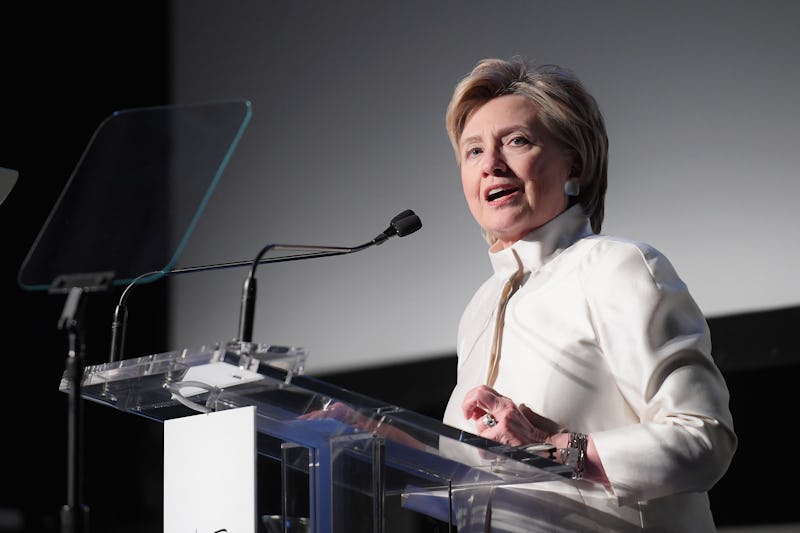 Dimitrios Kambouris/Getty Images Entertainment/Getty Images
In her new memoir, What Happened, out from Simon & Schuster on Sept. 12, Hillary Clinton shares all the ins and outs of the U.S. presidential election that still has American citizens and folks around the world scratching their heads in confusion. And while everything from the email server scandal to Clinton's signature pantsuits have been floated as reasons for the loss that seemed to surprise even Clinton's opponent, Donald Trump, in What Happened, Clinton points to another factor that politicians, political commentators, and plenty of American voters still choose to discount or ignore entirely: sexism and misogyny.
"This has to be said: sexism and misogyny played a role in the 2016 presidential election." Clinton writes in her memoir. It's a declaration that won't come as a surprise to most women. Though few places are as fraught with sexism and misogyny as Washington D.C. politics, gendered stereotyping, discrimination, and violence are something American women and women all over the world face every day, to varying degrees.
But what might surprise readers is that Clinton doesn't place the blame solely on Trump, even though he ran a "flagrantly sexist" campaign that even the infamous Access Hollywood recording couldn't thwart. Clinton writes:
Donald Trump didn't invent sexism, and its impact on our politics goes far beyond this one election.
If anyone knows the truth in that statement, it's Hillary Clinton, whose role in U.S. politics spans decades.
What Happened by Hillary Clinton, $18, Amazon
But in a moment of compelling insight, Clinton also writes about the differences she's observed between sexism and misogyny — calling misogyny "darker" than sexism.
Sexism is all the big and little ways that society draws a box around women and says, "You stay in there." Don't complain because nice girls don't do that. Don't try to be something women shouldn't be. Don't wear that, don't go there, don't think that, don't earn too much. It's not right somehow, we can't explain why, stop asking. We can all buy into sexism from time to time, often without even noticing it.
Essentially, Clinton seems to be explaining that sexism can be unconscious. Sexism is the systemic and often subtle implementation of beliefs that have been central to American culture since before the Mayflower docked somewhere near Cape Cod. "Sexism in particular," she writes later, "can be so pervasive, we stop seeing it." Misogyny, though, is something different. Clinton goes on to write:
Misogyny is something darker. It's rage. Disgust. Hatred. It's what happens when a woman turns down a guy at a bar and he switches from charming to scary. Or when a woman gets a job that a man wanted and instead of shaking her hand and wishing her well, he calls her a bitch and vows to do everything he can to make sure she fails.
Or, say, when a political opponent follows you around a debate stage, lurking over your shoulder and breathing heavily?
Readers who have experienced their own share of sexism and misogyny will understand, and might appreciate, the distinction Clinton makes — especially as a woman who has weathered both sexism and misogyny on the world stage, and lived to write about it.
To read all of Clinton's thoughts on sexism, misogyny, and the 2016 presidential election, check out What Happened, out now from Simon & Schuster.