Here's Why Khloe Kardashian's Hair Has Looked Completely Different Lately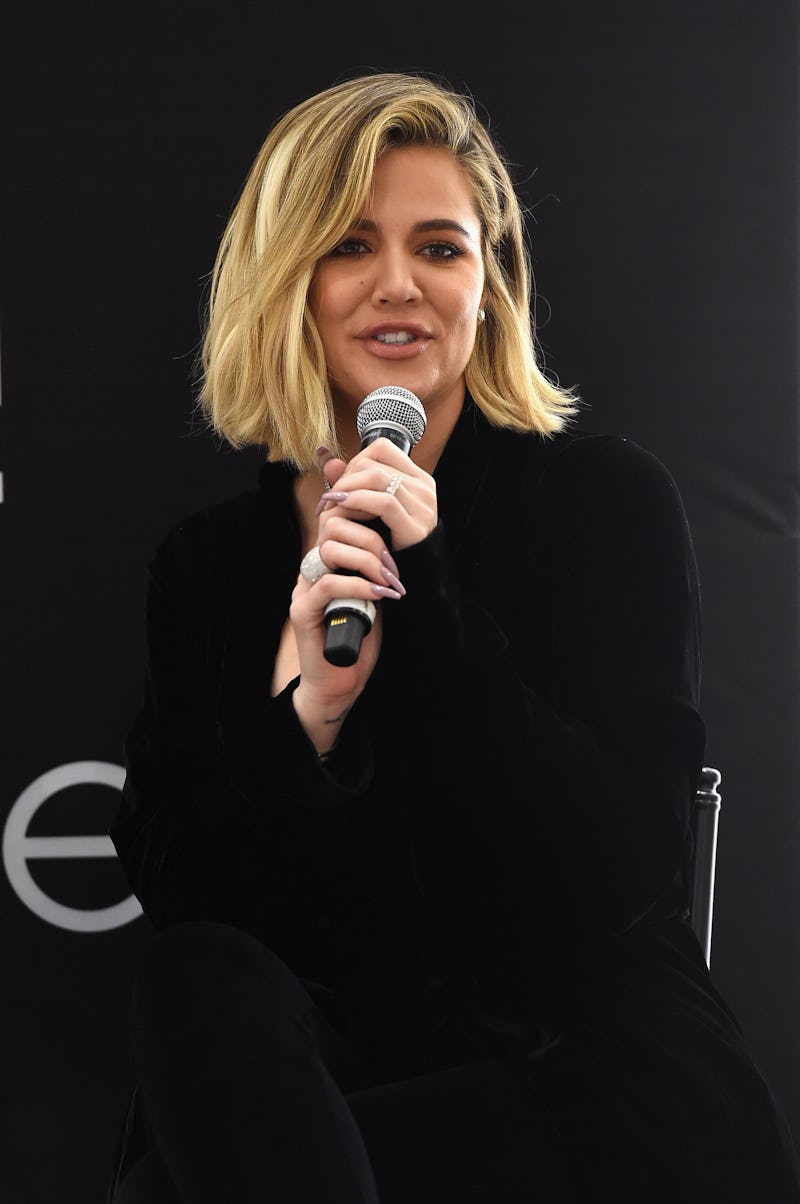 Jamie McCarthy/Getty Images Entertainment/Getty Images
So much change is afoot for Khloe Kardashian this year. While she long ago ditched her signature chocolate brown strands in favor of buttery blonde ones, Kardashian has been rocking natural curls instead of super stick straight hair as of late. And guess what? There's a really good reason for it and it's tied to the reality star's pregnancy.
According to PEOPLE, the Good American entrepreneur has had to ditch the Brazilian blowouts she loves, since the chemicals shouldn't be used while pregnant.
"I have been Brazilian blow drying my hair for years," Kardashian said on Snapchat over the weekend. "But now that I'm pregnant, I can't do that, so my curl is slowly coming back," she said.
PEOPLE noted that Kardashian said via Snap that she is welcoming the return of her natural texture, even though she admitted that it has been a bit frizzy and that it's always curlier underneath.
Kardashian's thick mane is gorgeous, no matter the texture, and it's fun to see her let go and just let it be. Judging by the many Insta photos she has been posting while gestating, the glorious, full, and curly crop of hair works for her! She has clearly been having fun while styling all that volume and all of those curls in a variety of super glam, '80s inspired looks.
Like so. Check out how she's cradling her baby bump, too. While Kardashian did admit on Snapchat that she committed to the Brazilian treatments because "you always want what you don't have," the messy, beachy texture looks so good on her.
Since you are likely curious, Brazilian blowouts can be a questionable practice, especially for expectant mothers, since there is a small amount of formaldehyde in the formula. InStyle's report notes that it's the same amount in your average nail polish. Regardless, since whatever is used, consumed, or absorbed by a pregnant mother is passed on to her child, it is best to be as safe as possible. We cannot blame Khloe for nixing the procedure until her baby, her first with boyfriend Tristan Thompson, arrives.
Of course the Twitterverse has weighed on on a curly-cued Khloe Kardashian and expressed a variety of opinions about her look.
This user expressed a sort of curly haired kinship with Kris Jenner's third child. They exist and they are awesome.
This is true. Khloe's big sister's Kourtney and Kim have been rocking super straight hair forever. It's refreshing to see Khloe divert from the coif path of her sisters.
There are plenty of people on the internet who feel this way.
Girls with curls are sticking together in the Twitterverse.
This fellow expectant mother is also seeking some tips on managing her natural curls. It wouldn't be shocking if Khloe fostered a beauty community for styling natural curls while pregnant. She certainly has the platform for it.
Oh, hey, if you need a refresher, here's another look at Khloe K. with her blown out blonde locks.
Let's not forget the wet-look waves she showed off a previous public event, which gave her fans a look at Khloe with curls. While she is no doubt using styling product or tools to help give further life to her curls, the Kardashian faithful has spoken — and it loves a curly-haired Khloe.