Here's What The Term 'Witch Hunt' Misunderstands About Harassment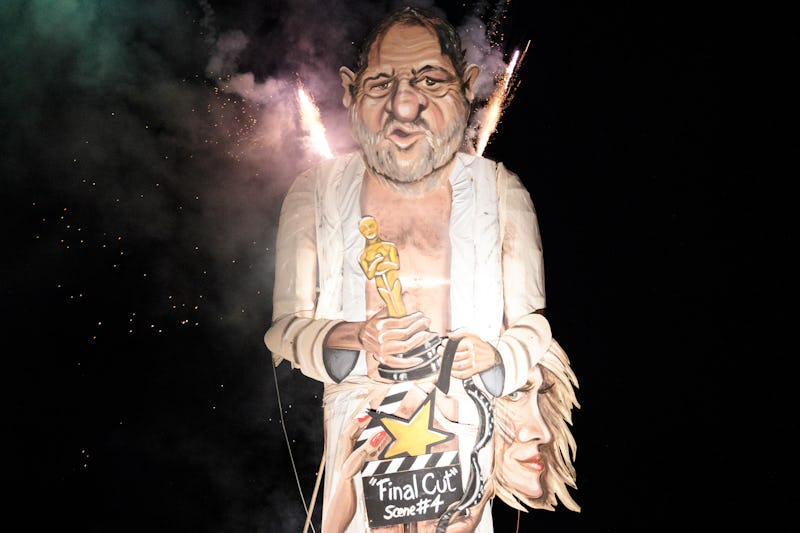 Jack Taylor/Getty Images News/Getty Images
It's not 1692, and yet, some men won't stop talking about "witch hunts". On October 5, the New York Times published an account alleging film producer Harvey Weinstein paid off sexual harassment accusers for decades. The article has ignited an ongoing conversation about the pattern of sexual harassment and assault in Hollywood, but some male commentators have called the response a "witch hunt". Not long after the story broke, Woody Allen commented that he feared a potential "witch hunt atmosphere, a Salem atmosphere" following the Weinstein allegations. (The director later walked back the comment and stated Weinstein was a "sick man".) In the period since, other stories were published warning against a supposed "witch hunt". (At the time of the NYT story, Weinstein and his reps declined to comment on any settlements; Weinstein has issued a statement via his spokesperson denying all claims of nonconsensual sex.)
On Monday, Stephen Galloway, an editor for the The Hollywood Reporter, wrote an article titled "Harassment, Scandal, and the Media: Is A Hollywood Witchhunt Brewing?". The piece arrives at several unfortunate conclusions, arguing that journalists shouldn't break stories about sexual predators based on the hypothetical chance of blaming someone innocent. It dismisses recent allegations as gossip and calls for "solid proof". When only between 2-8 percent of rape accusations are false, it's a strange argument.
The author opens the article by comparing the very-real allegations of abuse to an unrelated event in the 1980s in which the faculty at a preschool was falsely accused of conducting satanic rituals. This anecdote also only emphasizes the ugly history behind the phrase "witch hunt", which is more broadly defined as a "mass hysteria". Given that men certainly weren't persecuted during the Salem trials, it's a bitterly ironic choice of words. The phrase has become a coded way to say that women lie, and to dismiss serious accusations that challenge men in power. In this context it is being used by men to deny that, when it comes to harassment and assault in workplace settings, women have faced traumatic experiences on a large scale. This is a systemic issue, and there are no "witches" to be weeded out. The suggestion that these common experiences are even rare enough to go on a "hunt" for is worth criticizing in itself.
In the three weeks since the Weinstein allegations were published, over 40 women have come forward with allegations against the producer, and two more important news stories involving powerful men in Hollywood broke. Hundreds of women have accused the producer James Toback of sexual assault, and numerous men have come forward with allegations that actor Kevin Spacey made unwanted sexual advances following a report by BuzzFeed News in which actor Anthony Rapp told of an alleged sexual advance Spacey made toward him when he was 14 years old. House Of Cards cast and crew members have also accused Spacey of harassment on set and creating a toxic work environment, and Netflix suspended the star in response. (Toback denied the allegations in the Los Angeles Times' original story about the claims against him. Spacey responded to Rapp's allegations by claiming that he didn't remember the alleged incident, but apologizes if Rapp's account is accurate. He has not commented on any of the allegations that came out afterward; his former rep told Variety in a statement that he was "taking the time necessary to seek evaluation and treatment.")
Men who don't have a realistic understanding of how prevalent harassment is often find these allegations to be "shocking". In Galloway's THR article, he calls the recent revelations "mind boggling". These stories are disturbing, but predatory behavior by men in powerful positions is not shocking.
In the weeks following the Weinstein story, the #MeToo campaign encouraged women to share their stories of harassment and assault. The hashtag went viral, and the experiences shared across social media were a sobering, but not unexpected, reminder that sexual harassment and intimidation is commonplace in American society. A poll from ABC-News Washington Post found that in the United States, over 50 percent of women had experience unwanted sexual advances from men, 30 percent had dealt with this behavior at work, and 25 percent have experienced harassment from men in positions of professional authority. These numbers might surprise men, but for women, they represent a reality nobody has cared about for decades.
By using "witch hunt," Galloway implies that there are only a few men behaving this way out of the many who serve as gatekeepers in major industries. These reports call for a serious reevaluation of male behavior in society, and that will require pointing broomsticks at more than a few. Men can call out those men who feel this amounts only to a "witch hunt". George Clooney rejected the idea openly, emphasizing the need for a culture of accountability. Actor Joe Lo Truglio tweeted that the moment calls for men to reflect on their own behavior.
In order for these survivors to have justice, abusive men need to be held accountable. If the justice system won't punish abusers, the very least women can do is warn each other about their behavior. What's at stake is women's safety, and those calling this a "witch hunt" are insinuating, that is less valuable than the tarnished legacies of the likes of Spacey, Weinstein, and Toback.
Men feel compelled to call serious sexual assault allegations "witch hunts" or "moral panic" because they fear losing power and authority. "When Allen and other men warn of 'a witch hunt atmosphere, a Salem atmosphere' what they mean is an atmosphere in which they're expected to comport themselves with the care, consideration and fear of consequences that the rest of us call basic professionalism and respect for shared humanity," Lindy West wrote in a recent Op-Ed on the subject.
It can be difficult, even terrifying, for anyone to come forward with a report of harassment and assault. The justice system, and society as a whole, historically tends to disbelieve these stories. For the first time, these stories are coming to light and perpetrators of assault and harassment are facing tangible consequences. To dismiss this pivotal moment as a "witch hunt" denies that an enormous societal issue is being reckoned with at last, and will prevent an important shift toward accountability from happening.