Hidden Valley Ranch Just Dropped A Merch Line That Includes A Giant Inflatable Bottle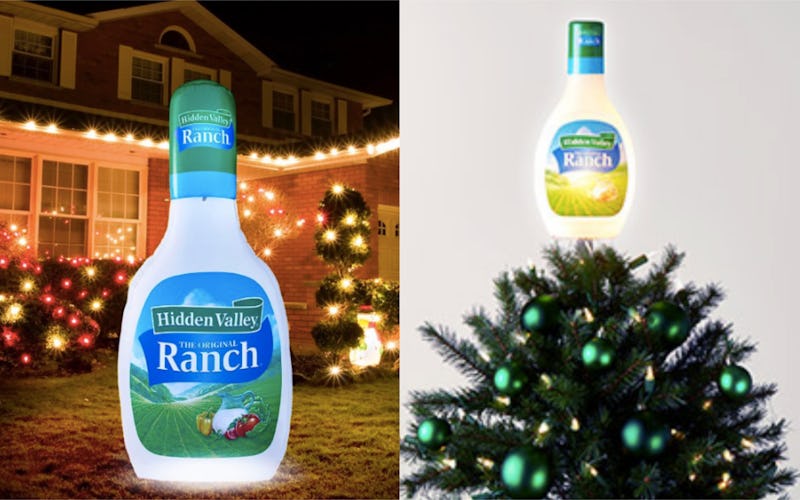 Hidden Valley
There are very few foods that appeal to adults and children alike. If you think about it, many of the things in your refrigerator that fall into this category are likely in the door — they are condiments! Ketchup, mustard, and mayonnaise come to mind, but one condiment rules them all when it comes to mass appeal: ranch dressing. If you are on the right side of history that knows ranch dressing is the perfect, most timeless condiment, now you can display your devotion to the world. A giant inflatable ranch bottle is only one of the things available in Hidden Valley's relaunched online store, among many other things your hand might accidentally slip and buy this holiday season.
Ranch dressing has far more uses than its intended role as salad dressing. It is a must-have for dipping everything from chicken fingers to pizza crust to baby carrots. It is so versatile, there is no wonder it has attracted such an array of devoted followers. True ranch heads know there is one company to rule them all when it comes to production of the dressing: Hidden Valley has mastered the tangy-to-creamy ratio needed for the perfect dipping sauce. So, it is no wonder they are behind the store full of ranch-themed items you never knew you needed.
The star of the lineup is a 6.5' salad dressing inflatable that comes complete with a blower and tethers. All you need to do is decide where on your yard you want it, and you'll be the envy of all your neighbors.
Of course, not everyone is able to display an outlandish inflatable salad dressing bottle on their yard. This is especially true if you live in a condo or an apartment and don't have a yard to begin with. But, Hidden Valley understands its fans come from a wide range of backgrounds, so it is giving ranch lovers options for declaring their devotion. Here are some other notable items you can get from the Hidden Valley Ranch online store.
Magnum of Ranch
The Magnum of Ranch is the champagne of ranch dressing. The " limited-edition bottle that comes in a custom-designed box perfect for any holiday occasion." Not to mention, it comes loaded with almost two liters of the stuff. The Magnum of Ranch will hit virtual shelves on Dec. 3.
HVR Waist Pack
Waist packs are one of the more surprising accessories to come back into style recently. If you have yet to hop aboard the trend train, use this as an opportunity to grab not only a fashionable waist pack, a Hidden Valley-branded waist pack. Who knows when this opportunity will present itself again?
Hidden Valley Ranch Tree Topper
Every year it is a struggle to decide whether to position an angel or a star on top of the Christmas tree. With a Ranch bottle-shaped tree topper you can have both at the same time.
If any of these items have piqued your interest, you're gonna want to hop to it; some things are already sold out! In the meantime, have ranch-y holidays to all.