Hilarious Father's Day Quotes That Prove Dad Humor Is The Best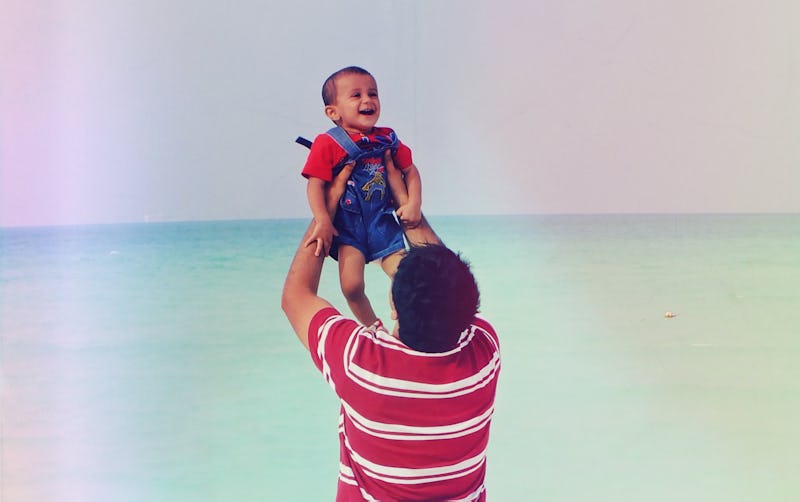 Enjoy a good "dad joke"? If so, then these 11 funny Father's Day quotes will have you busting a gut. Obviously, Father's Day should be spent celebrating your dad (and all the dads you know), but that doesn't mean you can't have a little bit of fun while doing it. Looking for something witty to write in a Father's Day card or a hilarious line to text pops? Then you've come to the right place.
These 11 funny quotes come from some of the most comedic dads on the planet, including Jimmy Fallon, Will Arnett, Ray Romano, and Jerry Seinfeld. Talk about some A-lister fathers in the funny department! The authors of these 11 quotes aren't afraid to poke a little fun at fatherhood, and I'm fairly certain that any and every father will at least chuckle from reading a few of them.
Make your dad smile this Father's Day by sharing one of these silly quotations with him on Sunday, June 18. After all your father's done for you over the course of your life, the least you can do is get him to release some endorphins. Think of it this way, those endorphins are basically like a free present. Genius, right?
1. "I have a Father's Day every day." — Dennis Banks
2. "When you're young, you think your dad is Superman. Then you grow up, and you realize he's just a regular guy who wears a cape." — Dave Attell
3. "My daughter got me a 'World's Best Dad' mug. So we know she's sarcastic." — Bob Odenkirk
4. "We wondered why when a child laughed, he belonged to Daddy, and when he had a sagging diaper that smelled like a landfill, 'He wants his mother.'" — Erma Bombeck
5. "I want my son to wear a helmet 24 hours a day. If it was socially acceptable I'd be the first one to have my kid in a full helmet and like a cage across his face mask." — Will Arnett
6. Dad taught me everything I know. Unfortunately, he didn't teach me everything he knows." — Al Unser
7. "Father's Day is important because, besides being the day on which we honor Dad, it's the one day of the year that Brookstone does any business." — Jimmy Fallon
8. "Fatherhood is great because you can ruin someone from scratch." — Jon Stewart
9. "Having children is like living in a frat house — nobody sleeps, everything's broken, and there's a lot of throwing up." — Ray Romano
10. "You can tell what was the best year of your father's life, because they seem to freeze that clothing style and ride it out." — Jerry Seinfeld
11. "When I was a boy of 14, my father was so ignorant, I could hardly stand to have the old man around. But when I got to be 21, I was astonished at how much the old man had learned in seven years." — Mark Twain
Images: Souparna Chakraborty/Unsplash