Hilary Duff Pees While Her Dog Sits In Her Pants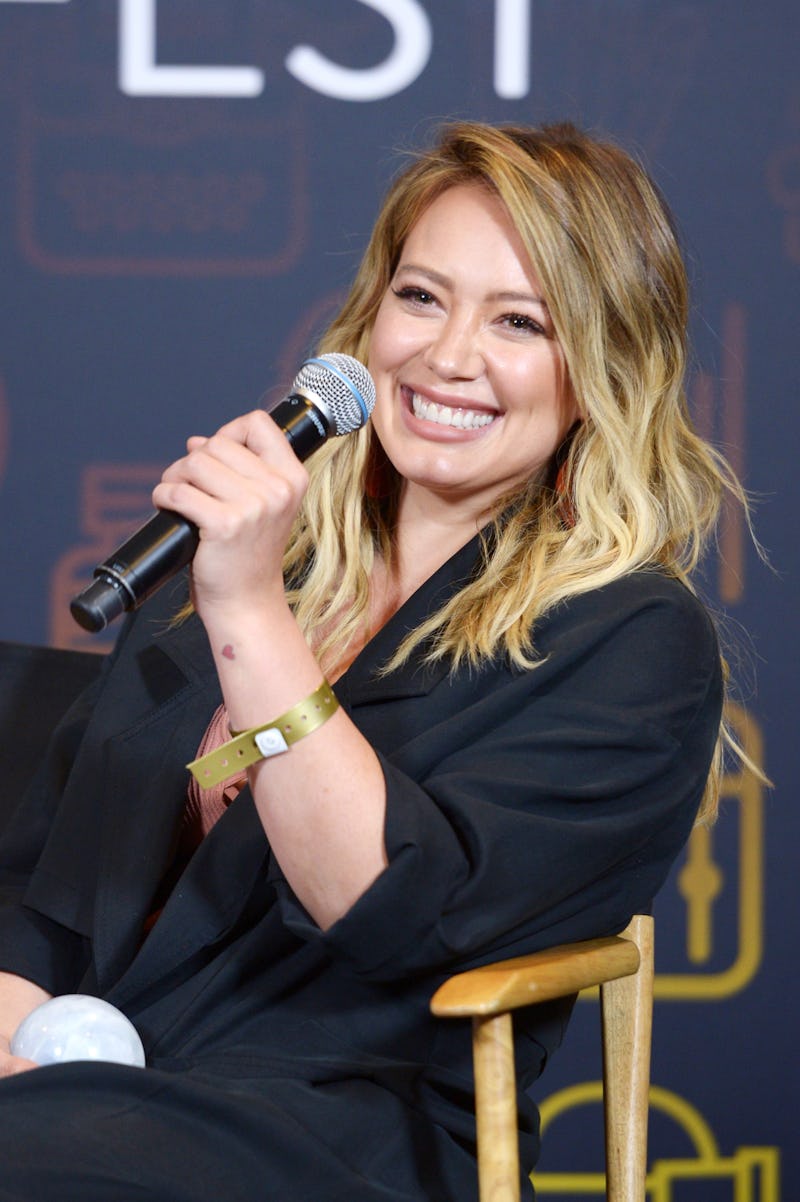 Matt Winkelmeyer/Getty Images Entertainment/Getty Images
Pets do the darnedest things, don't they? That can certainly be said here. Hilary Duff's dog accompanied her to the bathroom and got a lot more comfortable than you might expect. In an Instagram shared Tuesday, the Younger star showed that sometimes she just can't escape her new rescue pup, Momo, even when she needs to use the restroom. If you haven't seen the photo yet, prepare yourself.
At first glance, you may not even see Momo, but if you give the pic a second look you'll soon see his sweet eyes staring up at the camera. Do you see him? He is literally curled up in Duff's pants, while she is sitting on the toilet.
Next to the image, the former Lizzie McGuire actor wrote, "Can't even pee without this stalker finding me." It's no secret that pets sometimes follow their owners into the bathroom (and every other room they enter), but to actually do what Momo did? I don't know how often that happens.
Clearly, Duff didn't mind too much because she didn't tell him no or try to stop him. I mean, I probably wouldn't have either, to be honest. If I had a dog as cute as Momo and he did the same, I wouldn't scold him, but would absolutely take photographic evidence.
The 29-year-old singer/actor adopted Momo in early May. She announced her latest addition on Instagram by asking her fans what she should name him. It was between Momo and Bean. You obviously know the winner.
Duff adopted him from Love Leo Rescue, a Los Angeles-based dog rescue. Soon after she rescued Momo (formerly named Mojito), the organization shared an Instagram of him with his new owner and wrote, "Another win for #blackdogs everywhere. Mojito has found his forever home... happy in the arms of @hilaryduff ❣ This Little #chug went from "unwanted" -- to the best life ever. Thank you @hilaryduff for spreading the #adoptdontshop message and welcoming Mojito into your family. Happy life Mojito!"
Duff is constantly posting photos and videos of Momo, so be sure to follow her on social media, including Twitter, Instagram, and Snapchat. Trust me, it's worth it, especially when it's a picture of Momo doing something very unexpected.
Hilary, I thank you for this.