Hillary Clinton Made A Women's Rights Video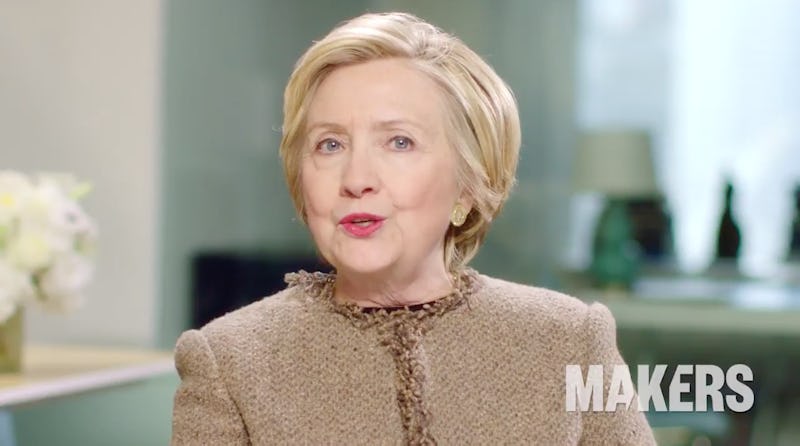 She's been relatively quiet since the election, but today Hillary Clinton showed us that she's not going away just yet — Clinton made a surprise statement about women's rights for the 2017 MAKERS conference.
This marks the first time Clinton has spoken on the record about women's rights since the inauguration and the Women's March on Washington. "We need strong women to step up and speak out," the former secretary of state said during her short but inspiring video message. "We need you to dare greatly and lead boldly."
Clinton's choice to speak about women's rights made it clear that she will continue her advocacy work regardless of the election results. It's especially telling that she chose to speak to attendees of the MAKERS conference, since the event is set up as a time when leaders come together to "elevate the conversation and raise challenges and solutions through action-oriented sessions," according to the conference website.
MAKERS describes itself as a "storytelling platform for the trailblazing women of today and tomorrow," according to its website. The platform boasts original videos and interviews from successful women from diverse fields, including Oprah Winfrey, Supreme Court Justice Ruth Bader Ginsburg, and now Clinton. The organization has also collaborated with Michelle Obama and other musicians including Missy Elliott to create the song "This Is For My Girls," in support of First Lady's "Let Girls Learn" initiative as well as Obama's #62MillionGirls campaign, which furthers female education around the world.
The former presidential candidate may have been quiet during the past few weeks, but she found a way to make a splash with her comeback speech. Clinton herself serves as a role model for millions of people across the nation, and she took the opportunity to encourage other women to play a similar role. "Set an example for every woman and girl out there who's worried about what the future holds and wonders whether our rights, opportunities and values will endure," Clinton said.
Clinton also referenced to her famous Children's Defense Fund Gala speech, saying, "Remember, you are the heroes and history makers, the glass ceiling breakers of the future. As I've said before, I'll say again, never doubt that you are valuable and powerful and deserving of every chance and opportunity in the world."
The 2017 MAKERS conference takes place from Feb. 6 to Feb. 8 at Terranea Resort in Rancho Palos Verdes, California. If you aren't there in person, you can watch a livestream on the MAKERS website.
Images: MAKERS Conference