Hillary Clinton Wants To Be "The President" For Halloween & We Need Photos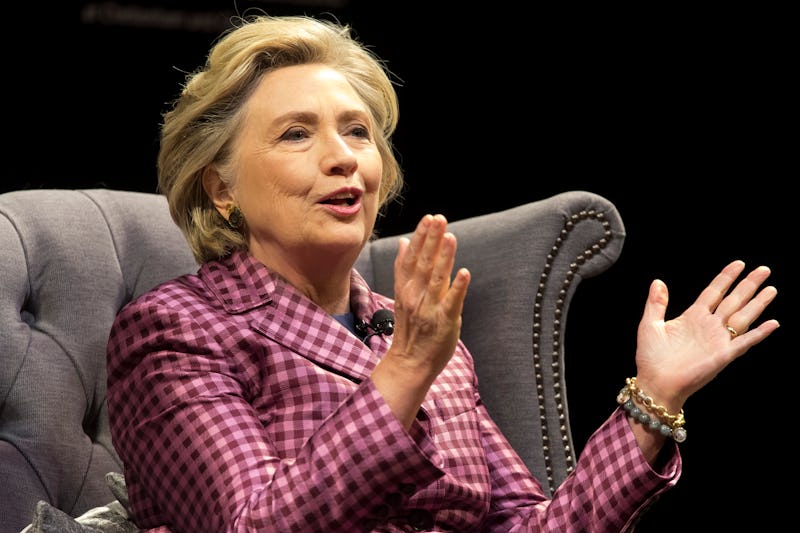 Matthew Horwood/Getty Images News/Getty Images
As she spoke to a large crowd of supporters at the Auditorium Theater in Chicago on Monday evening, former presidential candidate Hillary Clinton suggested that she will be the president for Halloween, prompting praise and laughter from the audience.
Clinton made the suggestion at a promotional event for her book, What Happened, which offers her personal take on her failed 2016 presidential election bid against Donald Trump. Clinton was asked onstage what costume she will wear for Halloween and, in response, she asserted, "I have to start thinking about it ... I think I will maybe come as the president!"
If Clinton were to dress up as the president for Halloween, she certainly would fit right in with conservatives' recent characterizations of her. As Business Insider reported, conservative news commentators and former Trump staffers have recently gotten into the strange habit of accidentally calling Clinton President Clinton — or referring to the Clinton administration.
For example, on Monday, Fox News host Sean Hannity accidentally referred to Clinton as "President Clinton" on air when discussing the Uranium One deal, an Obama-era uranium deal to which some conservatives have perpetually tried to link the Clintons, saying "Now that we have no Trump collusion, here's what we do have tonight. This is what the media will ignore. This is what matters, these are the facts, this is where the evidence comes in. What did President Clinton, or President Clinton wannabe, President Obama, and key members of the administration — what did they know about the Uranium One scandal?
Moreover, on Saturday, former Trump campaign manager Corey Lewandowski accidentally referred to the Clinton administration during an interview on Fox and Friends, while also discussing the Uranium One deal. In his interview, Lewandowski noted, "The speculation is so insane right now ... What we should be focusing on are the continued lies of the Clinton administration, the continued fallacies that they perpetuate." Lewandowski again made the same mistaken reference two days later during another interview on Fox Business Network, saying Clinton administration when he meant to say Clinton Foundation.
Clinton's suggestion that she dress up as president for Halloween and conservatives' mistaken references to her and her "administration" ironically also come at a time when President Trump's approval ratings are at an all-time low. The Washington Post reported on Monday that a joint poll conducted by NBC News and the Wall Street Journal on Sunday found that Trump's approval rating had hit a new low of 38 percent — an approval rating which is lower than any other modern-era president at a similar point in their first term. The poll also found that Trump is increasingly losing support among independents, whites and whites without a college degree, which constitute three groups of people whose support was crucial to him securing victory in the 2016 presidential election.
The Post further reported that a Gallup poll released on Monday showed similar findings. The Gallup poll revealed a Trump approval rating of 33 percent and a disapproval rating of 62 percent. Trump's net approval rating, which is found by subtracting those who disapprove from those who approve, reflected a new record low of minus 29.
Overall, Clinton's joke about dressing up as the president for Halloween certainly comes at a time when many are dissatisfied with Trump's presidency — and, ironically, at a time when, for whatever reason, conservative pundits seemingly keep accidentally referring to Clinton's (non-existent) presidency and administration. While Clinton was very likely being facetious about "dressing up" as president for Halloween, it would certainly be interesting if she did indeed follow through with her presidential costume.