Hillary Clinton Reportedly Refused To Fire An Adviser Who Was Accused Of Sexual Harassment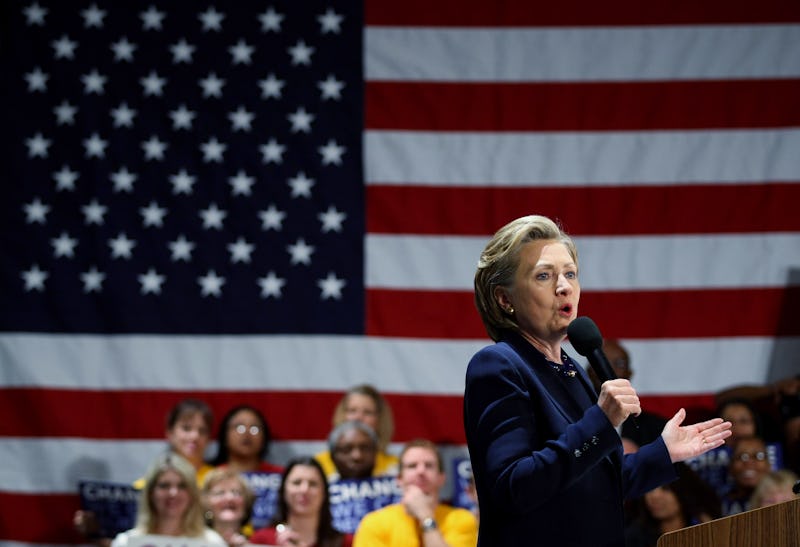 Whitney Curtis/Getty Images News/Getty Images
During Hillary Clinton's first run for president in 2008, a woman staffer on her campaign reportedly filed a complaint alleging that one of Clinton's senior advisers, Burns Strider, repeatedly sexually harassed her. According to a New York Times report on Friday, Clinton's campaign manager recommended that she dismiss Strider, but she decided to keep him on her campaign with a pay dock and an order to undergo counseling, while moving the female staffer to a different position.
Strider did not return the Times' request for comment, and a statement from the law firm representing the Clinton campaign in 2008 noted that "appropriate action was taken." Bustle has reached out to Strider for comment via his political consulting firm Eleison Group.
Strider worked on the 2008 campaign as Clinton's faith adviser. A cofounder of the American Values Network, he's also worked on over 100 political campaigns. According to his Eleison Group bio, Strider is "known as the 'faith and values' guru for the Democratic Party."
The New York Times interviewed eight former campaign officials and Clinton associates to gather the facts and details of the story. Those sources said that a 30-year-old woman working in a campaign office alongside Strider reported that he kissed her on the forehead, rubbed her shoulders, and sent "suggestive emails" to her.
The woman told Clinton's campaign manager, Patti Solis Doyle, of Strider's behavior. And according to the Times sources, Doyle discussed the situation with Clinton, and recommended that Strider be fired from the campaign.
Instead, Clinton opted to move the female staffer to a different position, temporarily dock Strider's campaign salary, and order him to attend counseling.
The Times notes that the woman has never spoken out about her experience. As is common in political campaigns, she signed a nondisclosure agreement that prevents her and other campaign staffers from publicly discussing the inner workings and experiences of the campaign itself. Doyle did not provide the Times with any comment.
Some of those interviewed reported being "troubled" by the fact that Strider was kept on the campaign.
Strider was also hired during Clinton's 2016 campaign, to lead the independent group "Correct the Record." He was fired from that position after a few months on the job for "workplace issues." One of those issues was the allegation that he had sexually harassed a young female staffer.
The report emerges in an environment much more amenable to women's stories of sexual harassment, following the months-long #MeToo movement.
Clinton faced criticism during her 2016 campaign on the feminist front, including how she had handled allegations from several women against her husband. Some Democrats struggled to defend Clinton's past comments and actions towards the women, particularly those who had come forward with allegations of sexual misconduct against Bill Clinton.
For many would-be supporters, the emergence of then-candidate Donald Trump as her opponent required a firm offense on the topic of sexual harassment and assault. (Trump has been accused by 19 women of sexual harassment or assault. He denies all of them.) But Clinton's past support of her husband sometimes seemed to hamper her ability to aggressively take Trump on over the issue.
The Times also notes that Lena Dunham claims she warned Clinton's campaign on the dangers of Harvey Weinstein, who was an outspoken supporter and donor to Clinton. "I just want you to know that Harvey's a rapist and this is going to come out at some point," Dunham says she told two campaign aides. Clinton's proximity to Weinstein drew attention after the Times and the The New Yorker published allegations from several women of his disturbing sexual misconduct.
Explaining this latest revelation that she kept Strider on her campaign even after learning of the sexual harassment allegations against him seems to pose a quandary for Clinton. There don't appear to be any easy or obvious, let alone acceptable, explanations.
Disclosure: Hillary Clinton's son-in-law Marc Mezvinsky joined Social Capital, an investor in Bustle Digital Group, in mid 2017 and joined the Board of Bustle Digital Group in early 2018.