This Photo Of A Little Girl Wearing A Tiny White Pantsuit To Meet Hillary Is Adorable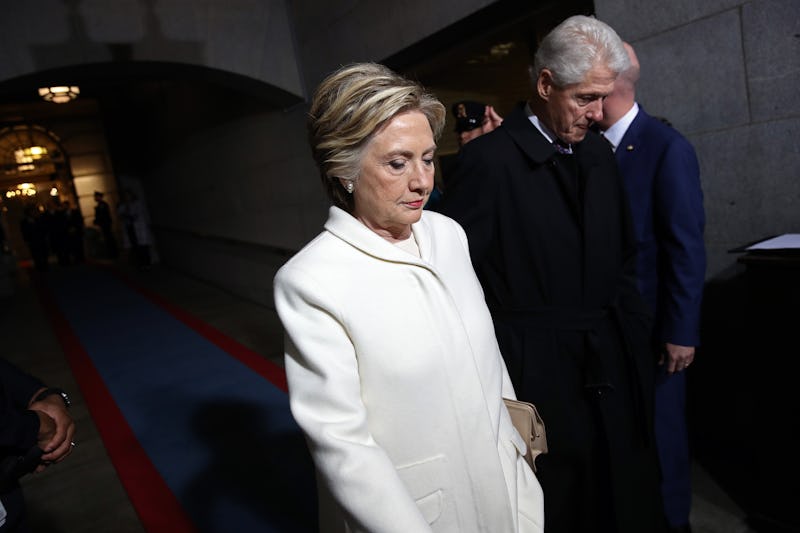 Win McNamee/Getty Images News/Getty Images
At a book signing in Brooklyn, New York, on Wednesday, an adorable little girl channeled Hillary Clinton by wearing a pantsuit to the event. You've maybe been dreaming of doing the same at the national What Happened book tour's stop nearest you, but this young girl beat you to it. She was wore a white pantsuit and pearls, a signature Hillary look, and the former secretary of state liked it so much that she retweeted a photo of her with the fan.
Clinton commented on how it's "great to be back in Brooklyn sharing #ItTakesAVillage with readers of all ages," a reference to Clinton's other book, this time geared toward children, that was first published this fall. Clinton seems to have signed both books at the event, at Greenlight Bookstore in the Fort Greene neighborhood.
The look the girl wore is reminiscent of Clinton's inauguration outfit. The pantsuit is all white, and the pockets are very similar. If you'll trust my fashion ignorance, I would argue that the child had hers tailored just for the book signing. In the Vanity Fair article about Trump's inauguration, Clinton's wardrobe choice was described as intentional:
Hillary Clinton's choice of white is especially notable and likely not coincidental; it was one of the colors worn by the suffragettes in the early 20th century, standing for purity, in an effort to protect them their opponent's claims of immorality.
It's not surprising that a fan did this — Clinton is an inspiration to women and girls across the country — nor is it a surprise that she would be moved by the gesture. Clinton dedicated a big part of her concession speech speaking to the likes of the girl featured in the tweet:
To all the little girls who are watching this, never doubt that you are valuable, powerful, and deserving of every opportunity in the world and every chance to pursue your own dreams.
A tweet-sized version of this remains pinned to her profile on Twitter.
Her book tour has been received equally as positively by some adults — although extremely negatively by others; some in the press have criticized that she even wrote a book at all.
Even some Democratic-leaning politicians have commented on it negatively. When asked about it on The Late Show, Clinton's primary challenger Bernie Sanders said that "our job is not to go backward. ... I think it's a little bit silly to keep talking about 2016." Then Amazon even removed some negative one-star reviews of the book from people who in all likelihood had not read it.
Meanwhile, Clinton's fans have gone to the book signings in droves. The first stop on her book tour in Manhattan saw her voters and fans stretch blocks waiting in line for a second with the woman who won the popular vote for president. Slate described it as "much-needed" therapy for her fans given how difficult the election was, and how hard it has been to watch the Trump administration role back rights for women and other minorities.
In any case, the attention seems to be working with regards to sales. The book has sold more than 300,000 copies since its Sept. 12 release date. That made it the most popular non-fiction book launch in five years. It's more than her last book, Hard Choices, about her time as secretary of state, the Guardian reported, though less than her 2003 book, Living History.
So if you're also in need of some Clinton book tour therapy, consider putting on your own pantsuit and heading to the book store nearest you. It worked for this young Clinton fan, and it very well could be cathartic for you.