Hillary Clinton Just Commented On The Suspicious Package Sent To Her Home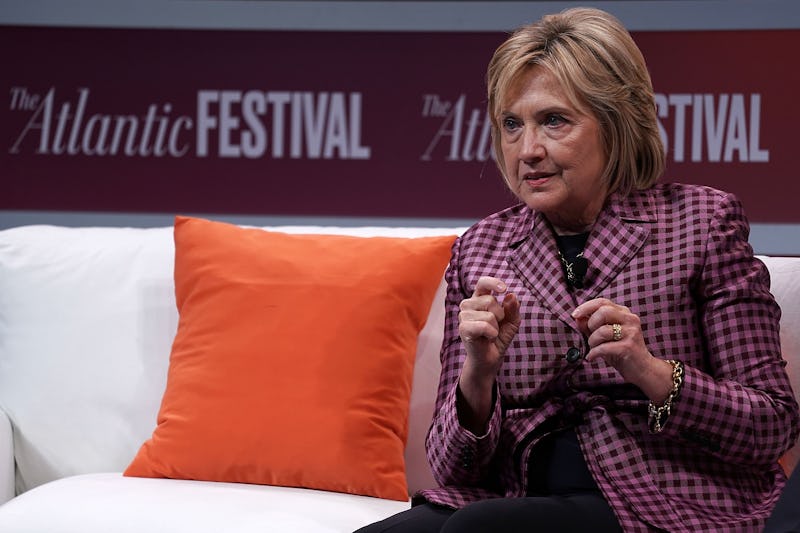 Alex Wong/Getty Images News/Getty Images
Suspicious packages were sent to multiple politicians across the country this week, from New York to Florida. Hillary Clinton responded to reports of a suspicious package sent to her home in Westchester County, New York while speaking in Miami on Wednesday, assuring the nation that no one in her family was hurt.
"But it is a troubling time, isn't it?" Clinton said about the attempted violence, according to a tweet from BuzzFeed News' Mary Ann Georgantopoulos. "And it's a time of deep divisions, and we have to do everything we can to bring our country together."
The Secret Service intercepted a suspicious package addressed to Clinton late on Tuesday, according to a statement the agency released Wednesday morning. A second packaged, addressed to former President Barack Obama at his Washington D.C. home, was recovered the following day, and both were identified as "potential explosive devices." The packages didn't make it to their intended targets, and as Clinton confirmed from Florida, no one was injured. The Secret Service has already begun a criminal investigation.
The Florida office of Democratic Rep. Debbie Wasserman Schultz was also evacuated on Wednesday following reports of a suspicious package, which the Sunrise, Florida, police are looking into, according to the department's Twitter account.
Across the country in California, The San Diego Union-Tribune's building was evacuated over a suspicious package not long after news broke about the other attempted attacks. A branch of California Sen. Kamala Harris' office is in the same building, according to San Diego Union-Tribune reporter Kate Morrissey. CNN's New York City offices were evacuated over a similarly suspicion delivery on Wednesday morning.
While all this was going on, Clinton was in Florida campaigning for Democratic congressional candidate Donna Shalala. The two women are close friends, according to CBS Miami, and Shalala served as Health and Human Services secretary under President Bill Clinton and previously led the Clinton Foundation. On Wednesday, Hillary was at the Coral Gables Woman's Club for a luncheon and fundraiser in support of Shalala's bid to fill the U.S. House seat left open by Republican Rep. Ileana Ros-Lehtinen's retirement. The previous day, she visited an early voting site with Shalala.
"We are fine thanks to the men and women of the Secret Service," Hillary said on Wednesday in response to reports of a suspicious package sent to her home, per MSNBC's Kyle Griffin. "Every day, we are grateful for their service and commitment. And obviously, never more than today."
Bill was at the Clinton's New York home this week, a spokesperson told NBC News, but the Secret Service confirmed that the suspicious package was intercepted by its agents before it reached the house. Bill has not publicly commented on the attempted attack, though Hillary retweeted Griffin's post that quoted her thanking the Secret Service for protecting her family.
The couple's daughter, Chelsea Clinton, posted a similar tweet on Wednesday that read, "Every day, I am grateful to the women and men of the United States Secret Service. Thank you." Chelsea lives in New York City, where it seems she was on Tuesday night when the package addressed to her mom was intercepted.