Hillary Clinton Still Supports Bill's Decision Not To Resign After The Lewinsky Scandal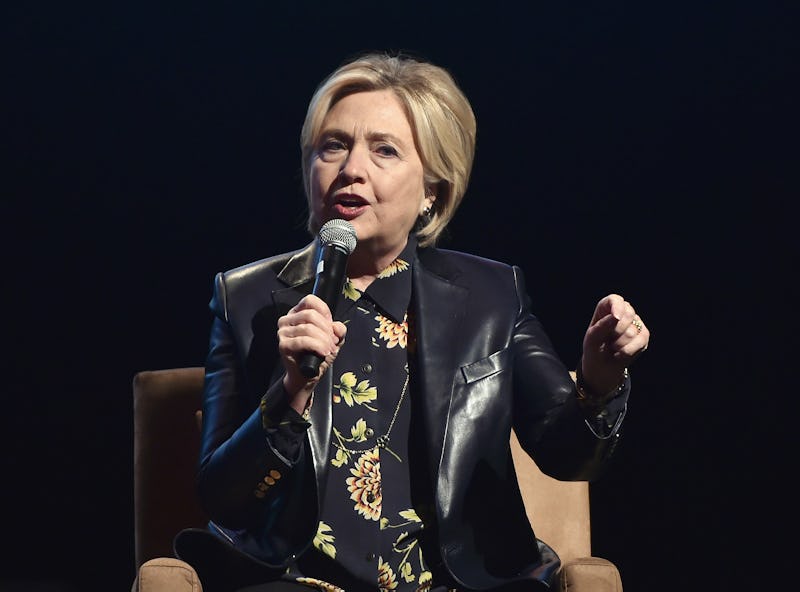 Alberto E. Rodriguez/Getty Images Entertainment/Getty Images
The redux of the 1990s continues. In an interview with CBS's Sunday Morning, Hillary Clinton said Bill shouldn't have resigned during the Lewinsky investigation, standing by her comments many years ago. The investigation into Bill Clinton's affair with Monica Lewinsky, a former White House intern, led to his impeachment by the House and acquittal by the Senate. He then finished serving his last year as president.
In an interview for a story about the rise of women in politics, CBS reporter Tony Dokoupil asked Clinton if her husband should have resigned during the resulting scandal.
"Absolutely not," Clinton replied.
"It wasn't an abuse of power?" Dokoupil asked.
"No. No," Clinton said.
"There are people who look at the incidents of the '90s and they say, 'A president of the United States cannot have a consensual relationship with an intern,'" Dokoupil said. "'The power imbalance is too great.'"
Clinton replied that Monica Lewinsky "was an adult" during the time of the affair.
Then, Clinton pivoted, calling for an investigation into the numerous sexual assault allegations against President Donald Trump (all of which he denies). "But let me ask you this: Where's the investigation of the current incumbent [Trump], against whom numerous allegations have been made, and which he dismisses, denies, and ridicules?"
Clinton said her husband's conduct was investigated. "So, there was an investigation [of President Clinton], and it, as I believe, came out in the right place," she told Dokoupil.
Democratic New York Sen. Kirsten Gillibrand became one of the first prominent modern politicians to say Clinton should have resigned when she spoke with The New York Times in November 2017. "Yes, I think that is the appropriate response," Gillibrand told the newspaper.
"Things have changed today, and I think under those circumstances there should be a very different reaction," she continued. "And I think in light of this conversation, we should have a very different conversation about President Trump, and a very different conversation about allegations against him."
Former President Bill Clinton has a bit of a different take. Clinton said he disagreed with Gillibrand's comments during an interview with CBS's Sunday Morning in May. "You have to — really ignore what the context was, but, you know, she's living in a different context. And she did it for different reasons," Clinton said. "So, I — but I just disagree with her."
Bill Clinton said he's glad he fought to stay in office. "Well, I knew it wouldn't succeed. It wasn't a pleasant experience," the former president said during an interview about his novel co-written with author James Patterson.
"But it was a fight that I was glad to undertake after the elections, when the people had solidly told, by two-thirds or more, the Republicans to stop it. They knew there was nothing impeachable," Bill Clinton continued. "And so, we fought it to the end. And I'm glad."
In another interview with NBC News, Bill Clinton maintained that he wouldn't have resigned, if he could go back. "I think I did the right thing," he told NBC News. "I defended the Constitution."